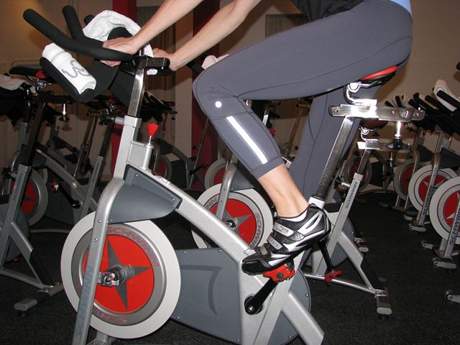 If getting in shape, or a living healthier life was part of your New Year's resolutions, here are five ways to make good on your promise.
Ride On
Park Slope's brand-new Cycle Bar at 274 5th Avenue near Garfield offers a welcome cardio alternative to the Slope's abundant yoga classes and crowded gyms. The indoor cycling studio holds 25 state-of-the-art stationary bicycles, and offers a variety of ride styles and durations for the beginner rider and the competitive cyclist/triathlete. There's the 45-minute Full Body ride, the 60-minute Endurance Ride, and the 90-minute Road Ride, all led by instructors. They even provide complimentary cycling shoes to enhance the ride experience, plus towels and water refills. Through January you can try one class on the cheap with a friend: Just mention Brooklyn Based, and your cycling partner rides free. There's also a month-long deal on passes: you can save $40 on a 20-class pass series and $60 on a 30-class pass series. Just reserve your classes in advance at cycle-bar.com–they offer 4 to 5 classes every day of the week, all pay-as-you-go with no membership fees.
Captain Quinn's Hour of Awesome
Combining humor, fitness, fun, and esprit de corps, Captain Quinn's Brooklyn Fitness Boot Camp is "the anti-bootcamp" according to one healthier recruit. "This is the place to come if you want to get in better shape and feel better about yourself; no matter your size or physical strength (or lack thereof)." The boot camp–which offers packages as low as $10 per session–is led by Certified Fitness Trainer "Captain" Jon Quinn, who has helped make many a Brooklynite healthier, happier, and hotter. Said one member, "Boot camp has totally transformed my life…Oh and my ass is back to the way it looked in college." Another veteran raved: "Captain Quinn is so enthusiastic and positive (and very funny) that I actually look forward to getting up at sunrise!..and I'm able to fit into my Elvis shirt I got at Sun Studios in Memphis 10 years ago." Even more reason to skip the gym and join Captain Quinn's team: you can get a zero obligation, free week trial when you register at captainquinnsbootcamp.com. Morning and evening classes are available in Park Slope and Brooklyn Heights.
Healthier Eating Habits
If you've had enough of quick-fix diets or are battling chronic low energy, digestive problems, debilitating stress, or uncontrollable cravings, it's time to meet Jennifer Schonborn. The certified holistic nutrition counselor will help you make real, lasting changes to your life in a way that is fun, flexible, and free of denial and discipline. She always offers a free, one-hour consultation, but if you sign on for her program, you'll also get a free counseling session when you mention Brooklyn Based. Details here»
On and Off the Ice
The ice skating rink at Prospect Park is closed for the winter, but there's an even bigger ice rink, and a ton of non-wintry activities to take in at the 170,000-square-foot Aviator Sports & Events Center at Floyd Bennet Field (accessible by the 2 or 5 train to Flatbush Ave., and a 5-minute bus ride). Now through the end of the year, you can get a pass for a day of ice skating with rentals, two sessions to scale their indoor 35-foot rock climbing wall, a "Sky Jump" on their a 12-foot bungee trampoline, and an hour in their kids' center for $20 (a $33 value!). Other deals for BB readers include a 10% discount on kid's birthday party packages, soccer camps, and children's holiday camps, and a buy one get one free ticket to see an Aviators pro hockey game. To redeem the day pass, print or present this deal in person; for all other deals, call that department at Aviator Sports (718-758-7500) and mention Brooklyn Based.
Mommy and Me Workouts
Stroller Strides–a fitness program that allows moms to work out alongside their baby or stroller-age child(ren)–is a playdate that will get you in shape. The 50-minute workout includes cardio training and intervals of body toning, using exercise tubing and the stroller, and it's taught by certified instructors trained in pre- and post-natal fitness. The first class is always free–enter your zip at strollerstrides.com to find a one near you and to learn about other New Year's deals. Classes are offered every day of the week at one of three locations: BAX (421 5th Ave.) and St. Saviour Church (611 8th Ave.) in Park Slope and Plymouth Church (75 Hicks St.) in Brooklyn Heights. Email annacatherine@strollerstrides.net for info on Park Slope classes and melissapipitone@strollerstrides.net for info on Brooklyn Heights classes.