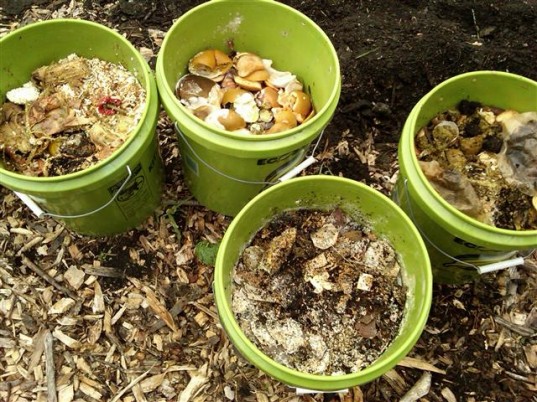 Fruit flies, rotting leftovers and the long trek to a community garden with a plastic bag leaking garbage juice can deter even the most green-hearted from composting. Now, a new business is coming to the rescue of the slightly lazy and the mildly squeamish who have always wanted to compost, but have never quite gotten the hang of it–or been willing to install a worm bin in their kitchen.
Vandra Thorburn looked at the gag-inducing side of composting and saw a business model. After she lost her job in the winter of 2009, the 63-year-old Clinton Hill resident found opportunity in an unexpected place—her roommate's kitchen compost bin, and founded Vokashi. "People are not going to do something if it's got yuck in it," said Thorburn. "I'm taking on the yuck factor."
With her system, there's no smell, no flies, no worms, and no clean up, she explained. Thorburn recycles her customers' food waste by fermenting it, a process that preserves scraps rather than decomposing them. The result is the same as composting—less trash, good feelings, and good fertilizer. Customers can either keep their fermented waste and use it on their gardens, or, the more popular option, have Thorburn cart it away to East New York Farms, where it enriches the compost pile.
The process works like this: Thorburn supplies neon green buckets to her customers, who fill them with their kitchen scraps along with a special "bran" substance which ferments the waste. Then she picks up the waste and leaves a fresh bucket. The full buckets rest in front of Thorburn's house for at least two weeks to finish fermenting. Thorburn's use of the "bran" is not unique, but her business model is.
The bran is a mix of molasses, wheat grain, and a microbial agent containing lactic acid bacteria and yeast fungi. Lactic acid stops the process of immediate decomposition, or rotting, and holds the waste in stasis, like a pickled onion in a jar.
In the late sixties a Japanese scientist, Dr. Teruo Higa, invented EM-1, the bacterial agent Thorburn uses. Different forms of EM-1 are used in the U.S. as fertilizers, in cleaning agents, and even as human digestive aids. The chemical process is similar to vinegar-based pickling, said Dr. Yong Deng Hang, a food science professor at Cornell University. "The process is to acidify the food," said Hang. Yeast converts food sugars into alcohol and lactic acid bacteria convert sugars into lactic acid. Combined, these create a vinegar-like acid that ferments the waste. Like a picked cucumber, it can sit, preserved, on a shelf—or in your front yard—until you are ready to use it, Hang added.
On a small fenced-in patio in front of her home on Classon Avenue, Thorburn pulled back the lid of one five-gallon bucket to reveal orange peels, artichokes, and turnip tops that looked like first-day garbage, not leftovers that had been sitting for weeks, and a sweet, citrusy perfume. But another bucket revealed bread covered in fluffy white mold and released a nauseating stench. The smell is dependent on what is in the bucket, said Thorburn–if the contents start to stink, you just add more bran.
Thorburn's original business plan called for a "planting" process or trenching, burying the waste product so that it can decompose and enrich the soil, creating something like an underground compost pile. But at first she had trouble finding a place to trench all the waste, even in this land of community and rooftop gardeners. "It was a bit of a crisis," said Thorburn. "I didn't have actually a stable place to plant." East New York Farms provided a solution, and in December, Thorburn added 50 buckets—about 250 gallons of waste—to their compost heap.
While most of Thorburn's customers are content to have the waste taken away for good, Abby Scher, a Vokashi customer since its inception in June 2009, is holding onto hers.
Decades ago an oil spill contaminated the backyard of Scher's apartment building in Windsor Terrace. So Thorburn buries the compost in a corner of Scher's backyard. After a month she digs it up—like a garbage time capsule—revealing a nitrogen-rich, homemade fertilizer. "It's like a miracle. In, like, just a month, you look at the soil and it's beautiful," said Scher, who then distributes the reclaimed soil on her garden. Though Scher had long been interested in composting, she never actually did it until Vokashi simplified the process. Now she considers the $25 monthly cost to be like a utility bill. "We get the joy of giving back to the earth without any of the trial," she said.
Vokashi's success depends on Thorburn making it easy for her customers. Her operating costs are low, but business is tough. Though she's has some help with promotion and manual labor, she can't afford to hire even a part-time employee until she has 100 customers. Currently she has just over thirty clients, predominantly in residential apartments, but also at three small businesses. Thorburn has ambitious plans to get those additional 70 clients—colleges, organizations, community gardens—and dreams of franchising across the country. Both practical and an idealist, she sees fermenting food waste as a solution in the home, at work, and in the reduction of waste sent to landfills. "I tend to want to put it in the bigger picture," said Thorburn. "I'm talking baby steps."
Vokashi starts at $25 per month and prices vary, depending on the volume and frequency of pick-up. Click for a list of services and prices.