Maybe it's our Mad Men obsession. Or maybe we've eaten one Swedish meatball too many at the IKEA cafeteria, but lately we've been drawn to mid-century design.
We chatted with vintage furniture experts to put together a buying guide for newcomers to the market. Mid-century furniture, especially pieces designed by icons like Herman Miller, George Nakashima and Charles and Ray Eames, is highly collectible and can be quite pricey. There are plenty of beautiful items out there that aren't signed by designers and don't carry the higher price tag that goes along with that, though. And, as Richard Wright, founder of Wright, Inc. in Chicago, one of the best-known mid-century auction houses in the country, points out, even with high-end mid-century furniture, "$10,000 buys a lot in this world. You get a lot of value for that investment."
This guide is primarily for people who are starting to collect, are looking for one special piece, or, who love the look of mid-century design and the fact that vintage furniture is far more eco-conscious than today's mass-produced tables and chairs. But, even if you already have your Herman Miller desk and your Nakashima credenza, maybe you'll pick up a few new tips–or hear about your next must-have item from our experts.
Be prepared: The mid-century market is all about knowing who designed what. Now, if you're just looking for an aesthetically pleasing, well made piece of furniture, you don't have to delve too deeply into this world. It does really help though, to know what you're looking for and what price range it tends to be in.  Russell Boyle and Carl Grauer, owners of RePOP in Clinton Hill, suggest looking on 1stDibs to determine the value of almost anything vintage, from a credenza like Don Draper's to a Polynesian-inspired carved bar. "The prices are on the high end of fair," says Grauer. Wright also suggests looking at past auctions on auction house websites to determine value for designer pieces.
Pricing: High-end mid-century furniture tops out at around $5,000-$7,000 per piece. Those items are generally signed by their famous designers and are in pristine condition. Most furniture in this category was copied by other manufacturers for less expensive knock-off versions that were still of very high quality. "An anonymous piece done in the manner of a more famous design should be no more than half the price of the original version," says Wright.
Bargains: Boyle and Grauer try to keep the prices at RePOP very competitive so that their inventory keeps moving. "It's much more fun, for us and for the customers, when there are constantly new pieces," explains Boyle. They do that by finding the anonymous, but designer-inspired pieces Wright was talking about, by traveling all over the country buying, and by seeking out high quality items that may not have name-brand appeal. Furniture built by mid-market companies like Lane and Broyhill, both of which are still in business, can be very well-priced. "They're really high quality," says Grauer. "And they're durable and easy to refinish."
Wright suggests that good condition vintage couches and mid-century cabinetry are almost always going to be better quality for the money than you could get for a new piece, though he cautions that re-upholstering can be very expensive. Upholstery foam, though, the stuffing in virtually any couch or chair cushion, is easily and cheaply replaceable. And Mike Koleman, owner of I Like Mike's Mid Century Modern Furniture in Bed-Stuy, suggests that no-name, but good condition dining chairs, especially Scandinavian ones, are usually available in a price range similar to what you might see in a big-box furniture store, but are of much higher quality.
Testing quality: Koleman says that a careful assessment of the construction and condition of the piece should help determine value, especially if you're in a dusty shop or estate sale where the worth may be in question, or if it's a no-name item. "Look at the condition–is it wobbly?" Koleman asks. "Look at the interior finishing, look at the joinery, the way it was put together. Is there dovetailing? A mitred edge is a dead giveaway of quality. I always look at the inside of drawers for the joinery and construction for quality." Often vintage items are made out of much higher quality wood than modern pieces in a similar price range. Teak, walnut and oak are all common materials in the mid-century market, and many Scandinavian pieces are made from rosewood, or rosewood veneer, which is now endangered, but was prized for its color and luster.
And, don't be scared away by a plywood or particle board backing on a credenza or buffet–even top designers used lighter, cheaper materials for sides intended to face the wall.
Industrial design: You'll often see items that came from office buildings, schools and other businesses, like library card catalogs, locker room benches and school desks and chairs at flea markets and vintage shops. Wright cautions that these items are generally not collectible and will not appreciate in value over time, unless they can be traced to a famous building, office or person, while Boyle and Grauer enjoy the industrial aesthetic and the solid construction of such pieces. They do caution though, not to overpay, especially when it comes to desks. "You can find mid-century office desks for anywhere from, well, free to $700 or $800 dollars," says Boyle. Make sure the item is in good condition and that it will serve a purpose in your home, not just take up space as a curiosity–unless that's what you're after.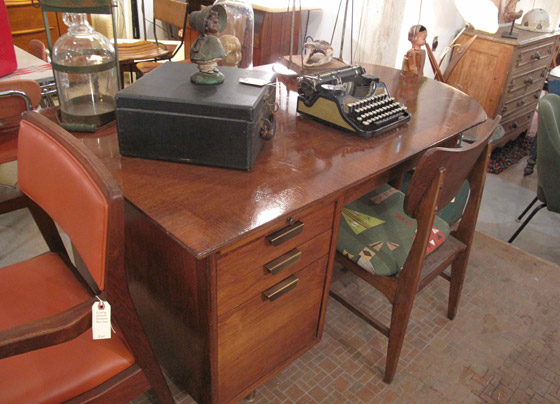 Decorating your home: When adding vintage items to your decor there are two major aesthetic concerns, 1: Your home will look like a thriftstore hodgepodge of different styles and eras, 2: Your home home will look like a perpetual costume party. Koleman suggests starting with, "your largest piece first, the one with the most presence and then finding other pieces to complement it." Usually a sofa, room divider or media console will be the focus of a room. He advises not to worry too much about getting every piece from exactly the same era. "People are used to seeing a mix of design, and I think it's nice," he says. "It's like, if you go to someone's home and every single thing is Victorian era you feel like you should have paid admission."
Boyle and Grauer suggest either starting with a large piece, or starting with an "inspiration piece"–an accent like a mirror or a painting and then choosing your color palette and feel from there. "Choose motifs and you can mix from different periods," says Boyle. "Follow through with line, or color or materials, but be careful not to go too heavy with wood."
RePOP also does interior design consultation, and Boyle emphasized that one of the advantages of shopping at place with a knowledgeable staff is the ability to ask for help. "Don't be afraid to ask for advice," he counsels. "Please, just stay away from beige. No one wants to be beige."
DIY tips: Koleman suggests that rewiring a lamp is a good DIY project for beginners, though he generally recommends buying pieces that have been repaired and are home-ready. Boyle and Grauer say that when something is the right price, don't be scared away by a scratch or a chip, and that many cosmetic problems can be solved with a filler, glue, or sanding and refinishing. They do recommend thoroughly researching the repair process before you launch into a repair, though. "Ask for help and you can do almost anything," says Grauer.
The RePOP pair also enthusiastically recommended seeking out DIY furniture building books from the 50s and 60s. These craft books are often available at used bookstores and on eBay and offer an affordable and, if you're handy, fun way to furnish your apartment in style.
Keep an eye out for: Each of the experts we spoke with mentioned an item or designer or style that was one of their favorite weird relics from the 20th century, worth seeking out, and often very well priced. Koleman is a huge fan of Paul McCobb furniture, which slightly pre-dates mid-century. "When newlyweds moved into their homes in Levittown, they bought furniture designed by McCobb," he explained. These pieces are still around and are great for refinishing projects. Richard Wright suggested that wannabe-collectors on a budget look at the American Craft Movement which includes designers like Wendell Castle, who still lives outside of Rochester, New York. "The look is almost zoomorphic," he says. "There are animal-like qualities, a lot of sinewy forms. It's visually a more hippie look."
And at RePOP they're always on the lookout for Castro Convertibles tables–coffee tables that elegantly unfold into dining tables. We can't figure out why we've never seen one in a tiny New York apartment before, or why there's not a beautiful modern version.
If you decide you want to be a collector: Get to know a dealer. "I'm a big fan of starting to buy with dealers," says Wright. "It's their job to help educate you and to be getting you something real. If you start out with advice from experts, then you can go out and find those bargains." Beware–even if you've never heard the siren song of designer-signed pieces, just searching for vintage furniture may become addictive. It's not about going online and ordering six matching dining chairs, Wright warns. "Certain items may be hard to find and patience is needed. But, maybe you enjoy the hunt. That's when you've become a collector."
Check out the list of local mid-century resources we've compiled on our blog.