Introducing our new (anonymous) wedding blogger, easybrider, who'll be updating us with her Brooklyn wedding plans till the big day in September. (For more planning inspiration, check out our wedding fair on Feb. 27!)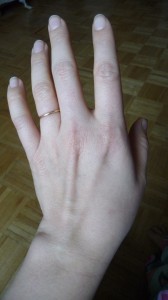 There is an alternate universe in which my boyfriend and I never marry each other. We have been and are still very happy together. We are not religious, and not terribly rooted in tradition, so we saw no need to change our status quo. In my mind "I want to" is as good a reason as any, but for many years neither of us wanted to.
As we went about our life together, little reasons slowly stacked up in the background. We were clearly life partners, so why not make it official? What if there's an accident and someone needs to make decisions at the hospital? I want to stop pretending and REALLY be family. Is it time to buy a house together? I am getting older – I want my hot years captured in a wedding album. My grandmother is turning 90. I would regret it forever if she, too, were outlived by our lackadaisical attitude towards becoming husband and wife.
So after some negotiations, we decided that 2011 was the year. We would have a long and peaceful engagement, followed by a celebration in the fall. In my mind it was so romantic. I haven't spent my life imagining a gigantic, decadent affair, so planning would be relatively simple. We could leisurely enjoy our deepening relationship in a season punctuated by parties to celebrate our love. (Some of you may insert a knowing laugh here.)
Over the weeks previous to the momentous decision, we had idly worked out many of the important details. We are both over 35, Groom is an audio engineer, and I am a longtime professional singer. Stemming from these circumstances, we have been to and participated in enough weddings to know what we like and what we don't like.
We feel in our hearts that only a few elements really matter to us: there must be a great band, there must be an open bar and we need enough food so no one gets accidentally, irrevocably hammered.
We want to be married at home, in the LIC-Greenpoint-Williamsburg corridor. I am an avid sewer, so I will at least attempt to make my dress. (It can always be turned into a throw pillow if things go terribly wrong.) I start to emotionally shut down at the thought of interviewing a series of caterers or carrying anything except flowers to and from the wedding. Because of that, we need a space that is beautiful without extra decorations and that can also provide food.
We don't want a long ceremony. We want a friend to officiate. We don't want to be too restrictive with the guest list, but don't want more than about 120 people. Steve needs some great artisanal beer. We want the feeling of a Brooklyn warehouse. I must have fabulous shoes. I want to make flowers out of paper and fabric. We don't want to spend an insane amount of money, but we don't want to be cheap about it either. No 60-inch tables please, we prefer a casual party atmosphere. At some point we need to figure out what to do about a ring. We want a venue with a patio, and to be married no later than mid-September to take advantage of the weather. August is simply too hot.
Just a few little things.
Between now and September, I'll chronicle our planning process here, and share as much as I can about what we learn along the way… Starting with the search for a venue.