We're throwing a Valentine party in Bushwick with dress designer Karina Cousineau–and you are invited. Whether you're looking for a Valentine for yourself, or for something that will make you feel extra lovely on a Valentine's Day date, there's a karina dress waiting for you in the design studio.
And dudes, listen up: these dresses will make your special lady even more gorgeous, and she'll be totally impressed that you got her such a great gift. Karina and her assistant will be on hand to help you pick the right size and cut–all you have to do is look in her closet and figure out what colors she likes best.
Karina dresses are handmade in New York City from limited edition microfiber fabrics.They're curve-hugging without being overly revealing and there's a cut to flatter every body type and size. They never need to be ironed and you can throw them in the washing machine when they need a refresher, which they will, since you'll want to wear yours every day.
Ladies, there will be an area for trying on dresses behind a screen, but if you come prepared, wearing leggings and a camisole, you'll make it way easier to try on dresses quickly. The karina studio is so filled with dresses in different cuts and colors that you'll definitely want to try several.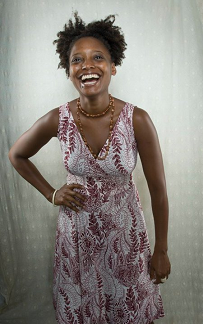 BB readers get a 20 percent discount on everything in the studio during the party, and we'll have chocolate snacks and Brooklyn Brewery Local 1 and Local 2 to sip while you browse. The evening is a perfect lady date–go get a new dress, then head around the corner to Roberta's or Momo for dinner.
We do have to warn you though, karina dresses are so comfortable, easy to take care of and make you look so hot, that you might become addicted and just want to fill your closet with them. Just saying.
Karina studio and party details:
56 Bogart (entrance on Grattan St.)
just off the Morgan L stop
Buzzer # 23
6 – 9 pm
Saturday, February 12
RSVP here