The name of Betsy Thorleifson's cake studio, Nine Cakes, refers to her initial nine signature flavors when she began Nine Cakes in 2008. Since then her flavor profile has gone seasonal, and her success has skyrocketed. Here she talks about the inspiration for her gorgeous cakes and her most decadent creation ever.
Your cakes are beautiful! Where do you get inspiration for your designs?
I like to find beautiful elements everywhere. Walking through the park or the botanic garden, museums, pictures and photographs, stacks of dishes in the sink, store window displays, colors. Going for a long walk and then doodling around on scratch paper afterwards. Lots of doodling and scribbling. And just sitting down on a quiet day and playing with gum paste. It reminds me of being a kid and playing with playdough. It's fun to just see what happens, to start with one idea and see where it goes. I also get completely inspired from the creative and talented people I've met along the way–I love collaborating and working with other vendors, it makes everything delightful and gorgeous. There is such creativity out there, how can I not be inspired?!?
How did you develop your nine signature flavors? Do you make special request custom flavors?
I started with a menu of cakes (that happened to be nine different flavors, hence the name), and after a few months I kept trying other cakes and wanted to offer different choices every season. There are so many delicious flavors, and it keeps it interesting to switch up the nine flavors every so often. It's nice to have an apple or pumpkin cake in the fall, a lemon strawberry cake in the summer, an earl grey infused cake in the spring for a tea party. So now I have four seasonal menus. At a wedding cake tasting I'll put out a table full of different flavors of cakes and fillings and buttercreams, and the couple gets to mix and match and create their own delicious combination.
I've also added some flavors to the menu that I fell in love with after clients requested them: I think of them as Sue's hazelnut cake and Whitney's banana cake. It's one of my favorite aspects of Nine Cakes, how it's grown and taken shape from all of my interactions with clients. (Even the ceiling fans in the bakery I think of as "Jon's fans.")
You've had a very quick rise to fantastic success, appearing on the TODAY show and being hailed on many prominent wedding sites. How has your business changed since you started in 2008?
It's been a wonderful two and a half years. I started out with birthday cakes and cupcakes, and four months later a wedding blogger came across my website and posted that Nine Cakes would be great for showers and weddings. Several couples contacted me, and it grew from there. I participated in a handful of wedding events, and essentially jumped head first into the wedding world. It's been the perfect direction for me, I've worked with so many incredibly creative people, and I never realized I'd get to have so much fun with cakes, either. It's been the hardest I've ever worked, and the most rewarding work I've ever done. I absolutely love it.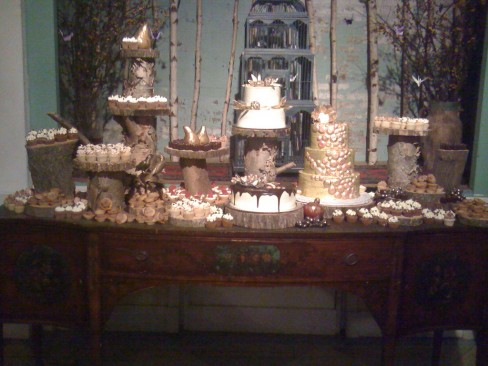 What would you recommend for couples who don't like the traditional wedding cake?
Some couples are opting for a dessert table instead of one tiered cake. It's a fun way to include many different types of desserts. For a summer wedding I'd include little tartlets with lemon curd and fresh raspberries, strawberry macaroons, chocolate truffles infused with lavender, an assortment of mini cupcakes, and a variety of cakes. I also like to include a smaller tiered cake for a focal point, and couples still like to have something stand out as "their" cake. I love how dessert tables, or a table full of different cakes look so lavish and decadent. And it is definitely the direction I like to take with my desserts and cakes–to create something beautiful and special, that still looks like something you'd want to devour and dive into! I want everything to look irresistible, and deliciously decadent! It's dessert!
What if couples have differing tastes–say one is a die-hard chocoholic, and another swears by mango?
Cakes with more than one flavor, or combine the two favorites into one cake. There are so many delicious options, why choose just one? Doing a chocolate tier for the chocoholics, and another tier vanilla cake with a mango filling. One of my favorite options is to choose all the same cake, but each tier has a different filling flavor. I like the variety, and one component to tie everything together. One of the most decadent cakes I made last fall was a four tiered chocolate variation: chocolate cake with earl grey ganache, chocolate cake with peanut butter filling, chocolate cake with caramel buttercream and fleur de sel, chocolate cake with maple buttercream. It was also covered in a shiny chocolate glaze. It was ridiculous.
Do you cater to special orders, such as vegan or gluten-free cakes?
Not at this time.
What have been some of your favorite wedding cakes you've made? What made them memorable?
My favorite wedding cakes are those that couples gave me some elements for inspiration, pointed to some pictures they liked, and then just let me do my thing. I think the cake ends up being a bit more inspired that way, takes on a life of its own, and is perfectly unique to the couple's wedding.
Nine Cakes is one of the many fabulous vendors at our wedding fair, Wedding Crashers. Sample Betsy's cakes in person this Sunday February 27th!