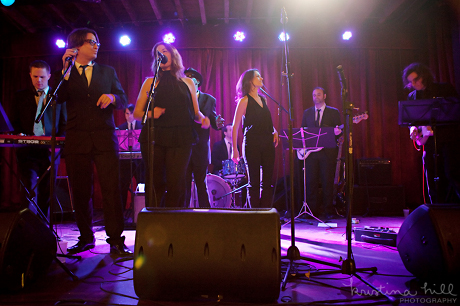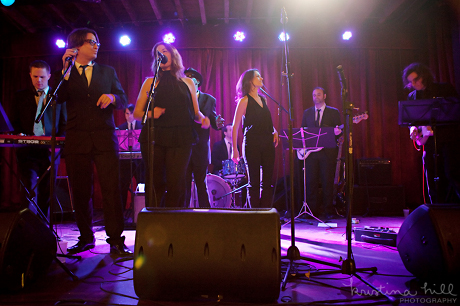 I don't know of any bride who hasn't put at least as much effort into choosing her reception music as she did into choosing flower arrangements or table settings. As I mentioned in my first post, having a great band is absolutely the most important item on our lengthy to-have-and-to-hold list. When the wedding was over 8 months away, I had a contract with The Engagements.
Last winter, my own band participated in the inaugural Wedding Crashers fair. After we played our mini-set, we hung around to enjoy the afternoon and chit chat with the mingling betrothed. After a performance by a 30s-style swing combo, The Engagements took the stage.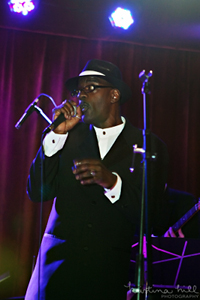 Understand me…I have a crippling fondness for excellent 80s music. I have foisted my personal 80's playlist on a more than a few brides so I can jam out to it when our sets are over. As The Engagements launched into Hall and Oates' "I Can't Go for That," I was immediately over the moon. Unlike so many of the rad little bands about town, these guys don't mess with creating cute arrangements for ukulele (a favorite move of my own). The Engagements perform 80's hits faithfully and loud. The band features two keyboards, a horn section, 3 singers, drums, bass and guitar. Right after hearing them for the first time, I told one of my girlfriends that I HAD to host an event for which I could hire them. In a way, I think I can thank The Engagements for sparking the idea of really getting married. Before Wedding Crashers, I hadn't been thinking about marriage as anything beyond a vague fantasy. After Wedding Crashers, I had already chosen the band!
I have learned a lot about and hiring musicians through my history as a professional singer. Here's my best advice:
First of all, don't leave choosing the band until the end, and don't assume that you'll be able to get exactly what you want for whatever you have left over in your budget. As fun as it is to make music, even the easiest wedding involves a lot time, heavy lifting and concentration from your musicians.
There are no hard and fast rules for pricing. Pick your live music early, and start talking to them about money right away. An experienced musician or band will always quote you the ideal number that they would like to receive. In order to simplify things, many bands will have a contract that covers the whole event from ceremony to the Electric Slide. If that number is way off from what you can afford, be sure and let them know what you are hoping to pay. Every couple and every band has a cutoff point beyond which things are not going to happen, but I can tell you that just about every band wants the event to work out in a way that makes everyone happy. Keep talking!
I think it's important to have a pretty good idea of your schedule before you contract the group. Try to keep the music localized in large chunks of time. It is hard for any band to effectively realize a schedule that includes 15 minute blocks and several breaks for cake, toasts and food. If you organize things that way, you'll find that a lot of contracted time in which a band could be playing gets eaten up just by shuffling on and off the stage. My fiancé and I are having a short ceremony after guests arrive, then we're leaving 45 minutes so the guests can get a drink and start snacking on the hors d'oeuvres. After that, The Engagements are going to play for an hour or so while we all stuff our faces, begin the dance marathon and sip bubbly. They'll take a 20- minute break while we unveil the cake, then come on for one more long dance set.
I have observed that at almost every wedding in the history of the human race there comes a time when you can play any old thing off your iPod, and folks are going to keep on partying like there is no tomorrow….usually that's the last 45 minutes to half hour. I would also like to mention that during this phase of the party Salt n Pepa's "Push It" or anything by Journey has a hilarious effect on 99% of all wedding parties.
"Fly Me To the Moon" and "It Had To Be You" are not actually required on every wedding playlist. Don't be afraid to call up a favorite local musician of any genre and ask them if they would consider playing at your wedding. Whatever makes the bride and groom happy will make everyone else happy. In my experience, most musicians live on extremely limited budgets, and are happy to play private events. For some mid-level touring musicians, a wedding can be a real boon. My band booked our first tour ever around a wedding booked in Dallas!
Lastly, if you hire a jazz vocal trio, don't expect that they'll be able to pull out a Hora at the last minute. Don't expect a 70's cover band to have some Lady Gaga ready to go. Almost every band will expect to learn a few songs special for you, just be sure to give them at least a few weeks notice so they can get them figured out. Find a band you love, hire them for what they do best, give them a pretty decent approximation of when and how long they'll play and you'll get the best out of everyone.