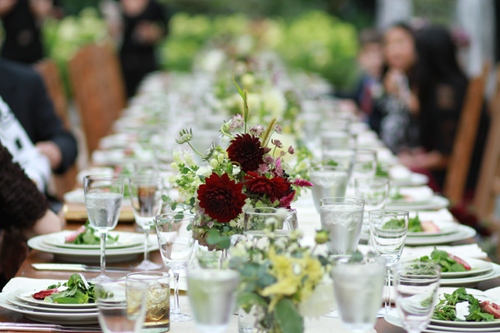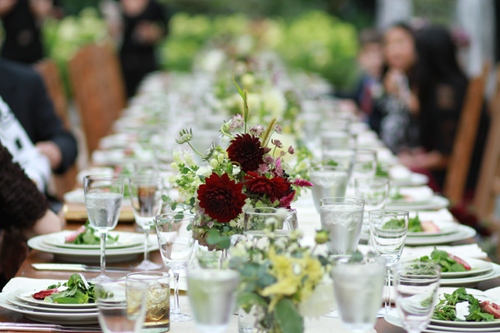 Melanie de Coppet founded the Williamsburg-based Red Table Catering in 2001 and a year later Brooke Costello joined her. The two talented chefs have since catered hundreds of events, from weddings to intimate dinner parties, all with an emphasis on fresh, local ingredients. Here they share their influences and inspiration for their menus.
You both have such diverse and interesting backgrounds, both in and out of the culinary world–you've worked in Buffalo, London, Austin and Santiago. How do your backgrounds influence your catering approach?
I love food. And to me there is nothing more exciting than to experience the foods that have grown out of a culture in the place that they originated from. This to me is authentic food. And what we try to do is reproduce that food for our clients authentically. No corners are cut.
Tell us about the process you go through to create customized menus for weddings.
It's all about feedback. Clients come to us with menus in their heads. They bring us favorite dishes from nights out or food that represents their cultural background, and we start to build the menu from there. Then we have the tasting and get feedback on the tasting so that by the time they're eating the food at their wedding they are experiencing their perfect meal.
What would you consider your signature dish or style of cooking?
Brooke: If I have a signature dish it's probably ceviche. My ceviche made me a lot of friends in Chile. Style wise I'm pretty pure. I love to get out of the way of superior ingredients and let the food do the work.
Melanie: Although I love discovering and experiencing new cultures and dishes, I would say that my biggest influence, thus far, has been from Asian and North African cuisines. As far as a signature dish goes, I would say either a Moroccan tagine or Japanese sashimi or salad. On the other hand, my sticky toffee puddings have been one of my most requested desserts since adolescence, stemming from my English upbringing and heritage.
What's the most important factor couples should consider when choosing a caterer?
It's really a combination of factors: great food, the right price, responsiveness, and of course a connection between us and the clients is a big plus.
How are you influenced by different venues, other vendors, and the couples themselves when working a wedding?
The venue is an important consideration. And the main factors are: is there a real kitchen there or will I be working with rental equipment? Does the venue have a bar? (Important for set up time). Coordinating with other vendors has never been an issue for us.  As far as the competitive aspect is concerned we like to be pushed by other creative and dedicated professionals.  We love our couples and their diversity.
What are the pros and cons of different service styles: sit-down, buffet, stations, passed hors d'oeuvres?
The main issue for service is that the guests be served their meals promptly but unhurried. It's pretty simple math. To do a sit-down meal you need adequate space to be able to plate and as many servers as the guest count warrants. There is not much point in paying for great food and not paying for the service.  Buffet and station service is all about space on the floor; that there are enough stations and enough space to avoid the unpleasant sense of crowding.
You value local and fresh foods in your cooking; tell us a bit about where the food generally comes from and how seasonality/locale affects your menus.
Ingredients have to be fresh and there is nothing fresher than food from your local farmer. We did a wedding Upstate last year and 90% of the ingredients came from the venue/farm where the wedding was held or from farms in the immediate vicinity. The venue grew chickens for the meal and slaughtered them the day before. Best chicken ever! We buy as much as the season allows from farmers near the city.
What's the weirdest food request you've ever gotten for a wedding?
Brooke: I'm drawing a blank here.
Melanie: While I would never call them "weird" we are asked frequently to combine extremely different cuisines to reflect the background of both bride and groom. It's never weird—more of a fun challenge to create a fun and cohesive menu that satisfies and reflects both families.
What's the best idea you've ever gotten from a client?
Brooke: Not sure a dish suggestion qualifies as an idea but, we got a recipe for a yuba salad with green beans, parmesan and green olive dressing. And I never would have thought of that.
Melanie: Dish-wise I love Theresa's aunt's Panjun.
What is one big mistake you'd like to see couples avoid when it comes to catering?
Brooke: I think couples are sometimes torn about who they are trying to please with their reception and my advice is to please themselves first and foremost.
Melanie: I worry when couples say they want their weddings to be relaxed and casual at the expense of having too few staff there to accommodate that. We always try to achieve a perfect balance where there is not a surplus of staff yet enough servers and bartenders there to make sure that the event runs smoothly and efficiently.
What's your favorite part of this business?
Brooke: It's a toss-up between meeting with the people and figuring out new dishes.
Melanie: I enjoy the variety of events and clients. I like to use my experience to ensure groove and fluidity while keeping each event fresh and exciting.
Red Table Catering couldn't attend Wedding Crashers 2011 but is planning a group tasting for couples who would like to sample their food. Email us to stay posted on their upcoming tasting.