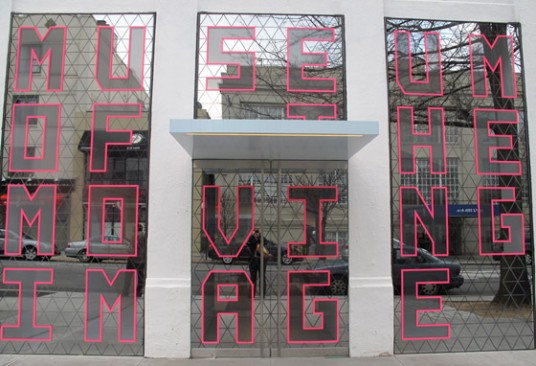 Every so often we like to break with our borough-bound existence, head somewhere exotic, like Queens, and then suggest a flexible itinerary for a visit. As a day trip, Astoria has plenty to recommend it, especially in the summer. Astoria Pool is the largest public pool in the city and a real WPA-era beauty. The Bohemian Beer Hall is enormous and a perennial summer gathering place for birthday parties and afternoon drinking. In nice weather, hitting either of these spots then getting dinner at any of the places we highlight below is worth a trip to Queens in and of itself. The plan we've come up with below is more like a great lazy Sunday (it could also be a sweet excuse to play hooky on a weekday) but in a new neighborhood. It's best done during mild weather so you can stroll Astoria's pleasant streets.

Get off the N or Q train at 30th Avenue and head to Sweet Afton or Vesta for brunch. These two places (along with Pachanga Patterson, a Mexican spot from the same owners as Vesta, Butcher Bar, William Hallet and Basil–a new pizza place) have created a little local food scene in Astoria. Vesta uses in-season produce from the Brooklyn Grange, when available, and Sweet Afton serves LaFrieda beef, McClure's Pickles and other ingredients sourced around the city. We love a breakfast pizza and Vesta's comes with pancetta, a fried egg, potatoes and spicy tomato sauce. From the soothingly dim lighting to the pub food, Sweet Afton seems designed to nurse your hangover. The burger, or the grilled cheese with Irish bacon, will soak up any booze left in your system from the night before. We had our doubts about the deep fried pickles, but they're strangely delicious. We did not venture to try the oatmeal martini, with oatmeal infused vodka and raisin puree, but we will warn you–the bloody mary, though perfectly serviceable, is not made with McClure's bloody mary mix.
After brunch, take a stroll through the neighborhood to stock your shelves. Astoria is home to ethnic grocery stores galore, selling all sorts of exotic jams, jellies, cured meats, crackers–even Uncle Ben's curry sauce, no joke. Titan Foods is one of the biggest and best of these, and is particularly well regarded for its huge assortment of olives, feta and olive oil. If you're cool with schlepping this stuff around pick some up to carry home. Or, just grab some lightweight baklava for breakfast-dessert.
From Titan, head south to the Museum of the Moving Image. It's a bit of a walk, and we suggest you take 32nd, 33rd, or 34th Street down. The elevated train runs along 31st Street, making it a noisy conversation stopper, and Steinway Street, at the eastern edge of the area, is a commercial strip stuffed with chains like Victoria's Secret and Starbucks. The streets in between are lined with a mix of pre-war apartment buildings and row houses, and offer a glimpse of neighborhood life in Astoria.
The Museum of the Moving Image re-opened winter of 2011 after a makeover, and for film and TV buffs it's a low-key delight to visit. Admission is just $10 and includes entrance to any screenings going on that day (with the exception of special ticketed events) and free coat check. Interactive exhibits allow visitors to play around with stop-motion animation and sound engineering–fun on a date, or with kids. A well-curated collection of cameras, television sets and other film equipment line is interspersed with strangely thrilling movie props, including the Linda Blair doll that made it possible for her character's head to spin 360 degrees in The Exorcist. There's also an arcade with vintage video games, and a costume collection including–wait for it–a Cosby sweater. Oddly, it's the vintage film footage playing in loops that proves the most arresting. We were held captivated by a 12-minute clip from Nanook of the North, a silent film from 1922 considered to be the first documentary.
If there's not a screening at the museum to your taste, walk across the street to the UA Kaufman Astoria movie theater, which feels like a huge suburban movie palace. The theater and the museum are in an arts district that includes the Kaufman Astoria Studios–a film and television production center that has been around since the 1920s, and has been home to Sesame Street for many years. The Frank Sinatra School of the Arts High School is just down the block as well.
With more than 20 beers on tap, Sunswick 3535 Bar (located at 35th Street and 35th Avenue, a Queens address if there ever was one) is a sweet spot to stop in and argue about the movie over a pint or two. Or, if you've worked up an appetite watching all those images move there are plenty of dinner options around. While there's a Pizzaria Uno, Applebees, Panera Bread and 5 Napkin Burger all within two blocks of the theater and museum, we'd recommend walking back toward the 30th Avenue train station for something a little more homegrown. Unless you want to get your suburban fantasy on–we won't won't judge.
There's also The Astor Room in Kaufman Studios. Once a silent movie star haunt, it still serves up classic fare like oysters Rockerfeller and beef Wellington–we're talking mahogany bar and marble staircases here. It's a great secret date spot. And, every Wednesday this summer they're hosting an oyster and beer happy hour from 5pm to 7pm with unlimited oysters and Stella Artois for $15. See you there!
Pachanga Patterson, from the owners of Vesta, is a 15-minute walk from the theater. It's been open less than a month and uses tortillas from Tortilleria Nixtamal–the cult taco spot out in Corona. We were a little bummed that we couldn't mix and match our taco selections, (How do you choose between Genesee-battered shrimp with chipotle crema and spice- rubbed carnitas?) but the Pachanga margarita, made with P&H Soda hibiscus syrup, took the edge off indecision. If it's burgers, not tacos, you're after, Bare Burger next door is one of the most popular burger places in the neighborhood. Or, to really go for the Astoria Greek food experience without breaking your budget, check out Uncle George's Greek Tavern. Don't be fooled by the checkered plastic table cloths, there's good Greek to be had at Uncle George's.
If you're headed home and the train seems like it might take forever, a recent taxi trip from Astoria to Bed-Stuy clocked in at around $20 with tip, which may seem like money well spent at this point. Or, you could just head back up to the beer garden and see where the Queens night takes you.