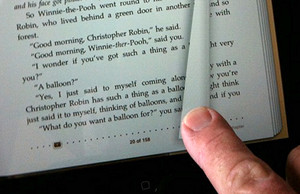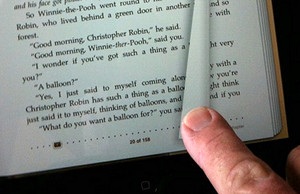 If you're still reading your books in print, you're, uh, still in the majority. But I've been trying out "eBooks" and digital journals like Electric Literature on the iPad, and I have to say, it's a pain. The downloading bit is easy of course, it's holding up the clunker in bed that gets old after the 10th page swipe. So I polled a few literary folks for better suggestions on a device. Surprisingly, the iPhone trumps most. And in general, local bookstores (and supporters of them) are averse to the Kindle, which only lets you buy books through Amazon. Nearly every other tablet/eReader offers books from multiple platforms like Google Books, which you can buy from indie booksellers like WORD and Greenlight.
Christine Onorati, owner of WORD: I read on my iPhone or iPad, or maybe occasionally on my laptop. My staffers have a Sony Reader (which is barely ever used) and a Nook (which is liked but not used often). I personally think that eReaders are going to be outdated very fast and tablets are the way people will be reading ebooks. It just seems weird to carry around a piece of equipment that does only one thing when a tablet can do so much more.
Jessica Stockton Bagnulo, owner, Greenlight Bookstore: I have an iPhone, which I use for reading books among many other things–which is its major attraction for me. I covet an iPad, a little bit, for a more page-sized reading experience, but either way I like having the option of pulling out (virtually) a book on my device after checking my email and Facebook and the weather and my calendar. I still opt for print books in most situations, but it's lovely not to have that sense of desperation in the post office line or on the subway of having nothing to read!
Jim Hanas, author, Why They Cried (one of the first digital books from Joyland eBooks): I started reading e-books off a Windows Mobile flip phone (a Motorola MPx200 for any gadget historians out there) in 2004, and I've yet to kick the phone-reading habit. I read most of my e-books–and therefore most of my books–on my iPhone. I got an iPad the day it came out, but I don't use it to read books the way I thought I would. I think it has to do with the portability of the iPhone and the New York commute. I don't have to carry anything, yet my books are always there. [Note: Jim is part of tonight's "Read Only" evening of readings with Electric Literature and other digital publishers at the Bell House. One lucky guest gets a Kobo eReader!]
Sarah Codraro, Managing Editor, Electric Literature: Our publication publishes to every eReader except the Nook right now so we have one of each. In the office we use our iPad and Kindle most often to read through and test the publication. Personally, for home use, I don't actually own an eReader right now. (So sad!) But if I had the choice I would probably choose the iPad. And Andy Hunter and Scott Lindenbaum [co-founders of EL] read on their iPhones but mostly utilize the eReaders in the office.