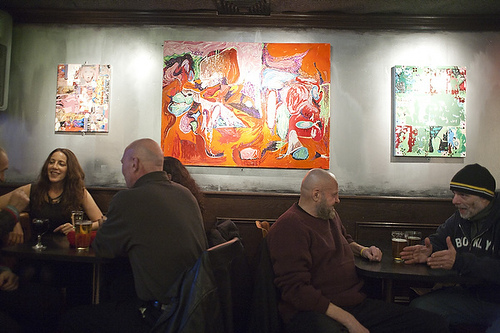 Officially bounded by 4th and 8th Avenues to the west and east, and 15th and 24th Streets to the north and south, the South Slope is Park Slope's laid-back cousin, and a stepping stone to Sunset Park. You'll find less strollers and a few taco and torta joints, and a ton of secret gems.
Take the G or F train to the 7th Avenue stop or the R train to the Prospect Avenue stop, and start your South Slope adventure with a hearty meal at Thistle Hill Tavern. Chef Rebecca Weitzman worked with Bobby Flay for years, and the Iron Chef's Americana influences are apparent on the menu here. You can't go wrong with an order of the infamous "Breakfast"—ricotta-herb pancakes with peppered maple syrup, farm fresh eggs and bacon, with a French press on the side. Another Thistle Hill claim to fame: NOFX frontman Fat Mike is part-owner of this cozy corner joint.
After brunch, continue south down 7th Avenue to Homebody Boutique, an eclectic shop of home goods and accessories featuring unique handmade pieces from over 50 local, independent artists. Browse black and white totes with silkscreen photos of Brooklyn, chunky bracelets, delicate silver necklaces, whimsical pillowcases, ceramics, and quirkiest of all, brightly colored octopus toilet cover seats created by owner Kate Silver. Just one door down, pop into m.a.e., a vintage and luxury consignment shop with a wall of gently used or new Manolo Blahniks and a well-curated selection of high-end designer clothing and bags. Our recent favorite steals: a patterned Betsey Johnson dress and a discounted leather Dooney & Bourke messenger bag.
For a breath of fresh air and an old school Brooklyn history lesson, continue down 7th Avenue over the Prospect Expressway to Green-Wood Cemetery—a Revolutionary War historic site with almost 500 acres of rolling green hills, valleys and lakes. Head to the main entrance on 25th Street and 5th Avenue where you'll pass below the spired brownstone archway into this National Historic Landmark, home to one of the largest outdoor collections of 19th and 20th century mausoleums, a flock of green parakeets, and the highest point in all of Kings County. Ask for a free map from the guard at the gate, and head left up the road to Battle Hill, the site of America's first battle with the British in 1776, for the best view of the Statue of Liberty and Manhattan skyline. Here, you'll find Leonard Bernstein's gravestone and the statue of Minerva, the Roman goddess of wisdom, who points across the water to Lady Liberty—just 3.5 miles away.
Head back out the way you came in and pop into RHV Fine Art on 6th Ave. It would be easy to walk past this small storefront and assume it's closed, especially since the windows are covered in paper to darken the space and set the mood for the current installation by Brooklyn artist James Clark–a sculptural object of iridescent helium balloons and luminescent wire on display through April 17. Next, wander through South Slope's other art gallery, Under Minerva, before taking a break on Quarter's back patio in the afternoon sunshine with a seasonal cocktail like house-made rhubarb syrup with gin, orange and almond bitters.
If it's gin you're after, the only logical next stop is Breuckelen Distilling, Brooklyn's new artisan gin distillery. While technically located in Sunset Park, it's just a block out of the 'hood on 19th Street near the Gowanus Canal—and well worth a visit. Tour the facilities (Saturdays only) and taste their spirits, made with grains from Ithaca, NY, plus juniper berries, rosemary, grapefruit peel. However, if vodka's more to your liking, make a pit stop at Adam's Wines & Liquors (620 5th Ave. at 17th St., 718-768-1521). This neighborhood store, run by a friendly Polish couple, has become a well-known destination, even among New Yorkers from as far away as the Upper West Side, mostly because of a honey vodka known as "Old Krupnik." If you want a sample of this syrupy sweet liquor, just ask casually for Absolut (it's a dirty word here). After making a face, Adam himself may be pouring you tastes of several of his favorite Polish vodkas—the legendary honey variety, Sobieski, and perhaps a smooth buffalo grass-infused concoction—to prove they're far superior.
Curious about British banana bread beer or creamy coffee stout from Vermont? Visit Eagle Provisions (628 5th Ave., 718-499-0026) just down the street. This unassuming grocery store has a side room devoted to craft beer with hundreds of bottles organized by location, including a selection of brews from places that don't necessarily leap to mind when you think of beer: Latvia, Estonia and Lithuania, to name a few. This place closes at 7 pm, so mix and match a six-pack and throw it in your bag to take home as your South Slope souvenir, or grab some cold ones from the fridge to crack open at Roots Cafe (639A Fifth Ave., 205-246-2149), a cozy coffeeshop where you can B.Y.O.B. and hear local musicians on Wednesday and Friday evenings.
For dinner, you could opt for the neighborhood's biggest and best $5 burritos at hole-in-the-wall Girasol Bakery (690 5th Ave., 718-369-0251), though we suggest the intimate and affordable Java Indonesian Rijsttafel (455 7th Ave., (718-832-4583), one of the few Indonesian restaurants in Brooklyn. For the best introduction to this Southeast Asian cuisine, ask for the "Rijsttafel"; this Dutch word means "rice table," but the meal consists of much more than just rice. This classic Indonesian feast is meant to feed two, with 11 small tasting dishes, including a chicken soup with rice noodles, fried baby shrimp in herbs and coconut milk, and grilled beef skewers flavored with tamarind and turmeric, served with a peanut dipping sauce. The two-person spread is an easy $39.95 including coffee or tea and dessert—likely a bright green coconut pudding.
For an after-dinner drink, make the short trek to Freddy's, the newest addition to the South Slope bar scene, though not a newcomer to Brooklyn by any means. Last year the Prohibition-era bar was forced from its Prospect Heights location because it was in the footprint of Atlantic Yards, but it recently reopened at its new home on 5th Avenue near 17th. With the same red mahogany bar from the original Freddy's, plus funky lamps, vintage wallpaper and plenty of found art objects (like a mounted swordfish and video collages on the screen) this well-worn saloon is an instant classic. Most nights you can drink cheap booze while checking out live music, art, or comedy. (Take your pick from the calendar.)
Next door is South, another favorite neighborhood pub with over 50 bottled beers, a jukebox, Big Buck hunter and a backyard for lounging. After you've had a few beers and are feeling snacky, ask for "The Ryan," a grilled cheese with strawberry jam, or "The Southside," a no-berry version with kielbasa and jalapeños. For a slightly more upscale end to the night, head over to Korzo, a Euro bar with a rotating selection of 16 beers on draft, with lots of German and Czech options. If you're still in the Slope come morning, don't miss Korzo's brunch. Think giant potato latkes, kielbasa, sausage hash with roasted red peppers and carmelized onions–hangover food at its best.
Add a few more stops to your day trip (including Toby's and Southside)–check out our past email, "Microhoods: A Surprising South Slope Stretch"»