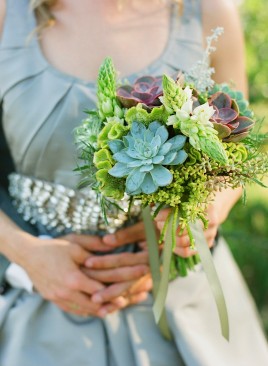 Kimberly Sevilla of Red Rose & Lavender in Williambsurg began her career by designing event decor and window displays for luxury retailers like Calvin Klein and cultural institutions like the Whitney. But "designing and installing decor for weddings and events," she says, "is a natural extension of what I do best." Here she explains her design influences, her favorite flowers and venues, and how she pairs the perfect floral designers and flowers to fit each couple's individual style.
How and when did you begin doing floral design for weddings?
I have been a designer for about 15 years, designing and building Exhibits, Event Decor and Window Displays for luxury retailers like Calvin Klein, Mac Cosmetics, Chanel, and Barney's as well as the Smithsonian the Whitney Museum the American Museum of Natural History.  I opened my shop because I really loved working with flowers and natural materials and I wanted to stay a little closer to home. I am used to coordinating teams of people and working with other designers and tradespeople to create what I design. Designing and installing decor for weddings and events is a natural extension of what I do best. We are in our third year now doing weddings and I love them. If you look at our book, each wedding is very different. We tailor everything specifically for the couple. I like that challenge. I also enjoy the process and try to push the envelope with each event that we do.
How would you describe your style of floral design? What kind of bride or couple is best suited for your style?
Personally, I prefer a more organic, natural style, Flowers are beautiful and should be displayed in ways that enhance that beauty. Brides who appreciate flowers and their natural beauty as well as brides who appreciate good design and the work that floral designers do are best for us.  I have turned away people who I think may not be a good fit for what we do, and thats ok, New York is a big town and there is something for everyone. I have a team of floral designers who work for me, who each have about 20 years of experience and are trained in many design techniques including Ikebana and Classical European styles so we can create almost any look that our brides prefer. My designers also do work for some of the bigger houses like David Beahm and David Tutera so they are very versatile, know how to make anything work, and follow design direction very well. I choose who I work with based on the style that the bride prefers. The mood boards that we put together are a very important part of the design and build process.


How do you work with brides to determine their bouquets and arrangements?
I love to look at pictures the couple has collected and talking to the brides. I use a lot of the same design techniques that I used with my fashion clients. With them, I would look at the lines and talk to the designers and merchandisers about the feeling that the clothes had and the message that they would want to convey, and then I would design something physical that would set the mood and the tone for that line. With brides I look at all the images that they like, and find commonalities in them. I look at their dresses, bridesmaid dresses, and the venue to determine what I think they would really like for their wedding I also think about their personalities and who they are as a person. Words are very important and we talk a lot about the mood that they would want to create and adjectives to describe it so it goes a little beyond, "I like anemones" or "I like purple." I think this approach is evident in our work, each wedding is very different and really does reflect the couple and who they are. Budget is also a big factor so I like to be as upfront as possible so I don't make suggestions that may be appropriate for their vision, but not appropriate for their budget, I also don't want to waste anyone's time, theirs or mine, if there is no budget for flowers or decor.
Do you think a bride can or should take on the floral design for her own wedding? Do you offer classes on floral design for weddings?
I did the flowers for my wedding, before we opened the shop and my first answer would be a big no. I am used to directing teams of people who are trained professionals, so I can show them a sample or describe something verbally, and they make it and it looks exactly how I want it to look, and if I make changes, they never take it personally. With friends and family it became a little more complicated and I found that I was really stressing out with all the questions people had about very basic things, and the "design decisions" that people made because they thought it looked better that way. I ended up re-doing what they put together and not relaxing, and not enjoying the night before my wedding. I also realized how much I do rely on the experience of others to create pieces that work and to figure out the mechanics of everything and the value of a trained professional. I did have a professional make my bouquet and other personal flowers, that was great. That being said, we do offer classes in floral design for weddings. I think if someone (who is not the bride) wants to make a bouquet or some boutonnieres or even centerpieces if it is a small, informal wedding of about 30 people that would be OK, and I would be happy to show them how. There is a lot more to floral design than chucking some flowers into a vase.
Where do you get your inspiration for your floral design?
I get a lot of inspiration from Flemish Still-Life paintings because they seem to cherish each blossom in an almost fetish-like way. I garden and own a garden center and have a lot of respect for the material I am working with and the time it takes to create each flower. I also love, love, love some of the more structural pieces that European designers are creating and have a collection of French and Dutch design books that I often refer to; they remind me of Andy Goldsworthy and Ingo Maurer who are als  big inspirations of mine. I also look at what other people are doing, especially British and West Coast designers.
Are there any particular types of flowers, or colors, or elements that you love working with? Does that change from year to year?
Yes it does change from year to year, season to season. I have always loved and will always love garden roses. More and more varieties are becoming available and they are great to work with, they are beautiful and some of the varieties have a wonderful smell, as a cut flower, they don't last as long, but for weddings they are fine. Last year we used a lot of succulents in our designs, as well as locally grown wild flowers and grasses, purple was an important color, monochromatic schemes were also very important.
Everything sort of works together, flowers follow fashion, fashion follows mood, the mood is set by influences of economics, popular culture, art and design. Growing up, I used to skip school and go to the Smithsonian Museum, there I would spend hours looking at the First Ladies Costume Exhibit. If you haven't seen it, you should, it has every dress worn during the presidential  inauguration by all the first ladies. It is interesting to see the transition in fashion over the years, and to analyze how how big changes, like civil wars, world wars, and the economic recessions fostered big changes in fashion. We are going through some big changes now, with global powers shifting and monies shifting, and one of the biggest generations ever, who grew up in a digital age with instant information, entering the workforce during a recession. I see this influence in my design and in what my younger customers are asking for. Mason jars and terrariums are a perfect example. All the access to information has helped to speed up the folksy, outsider aspect to modern design–anyone can put a picture on the internet for anyone to see. This is a very different experience from what I had before when designing, where the editorial images available were driven by a small group of people at 4 Times Square and on West 26th Street.
Some trends that I see on the horizon are very romantic, and a nod to the 20's, thank you Boardwalk Empire. I see the shapes of bouquets changing as we are moving away from the tight lolly pop sort of designs to more flowing, cascading shapes. I also see colors softening and pastels becoming more popular. Dahlias are very trendy right now as are anemones and ranunculus, and of course succulents. I think that as people lean more towards loose and flowing we will see more clematis and jasmine used in designs. There is also a trend to more formal and elegant, thank you Mad Men, as a result I am using more peacock feathers and antique broaches in my work. My favorite trend though is the DIY, barnhouse aesthetic, thank you Etsy and Design Sponge. Its fun and flirty, and being a DIY sort of gal, it is near and dear to my heart, I love to incorporate found items and vintage pieces and it fits in perfectly with that movement. Birdcages, terrariums, old medicine bottles, stacks of books, and potted herbs are all very important this year.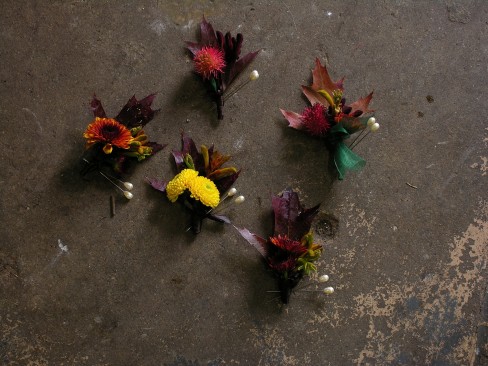 You do very creative boutonnieres–is this something you find that grooms respond to?
Thank you. I love making unusual boutonnieres and have found that grooms respond very well to them. The boutonnieres show up in all the pictures so they are an important element. I like to use a lot of unusual elements and create something with a masculine feeling. Each one is a little work of art that is only around for a day, they are very poetic. Almost every groom I have had has said "Wow" and has a big smile when I pin it on, I especially like making them for guys who say "Do I have to wear a flower?" They are usually the most appreciative of my work and enjoy them the most. More and more I have had requests for boutonnieres from guys who just want to wear one for a special occasion, you guys rock!
Do you have any favorite venues that you love working at? Why?
My two favorite venues are The Foundry and The Green Building. They both have great bones and are beautiful spaces and are very versatile and have easy parking available. (Don't laugh, your out-of-town guests will appreciate it!) I also like Frankies Spuntino for smaller weddings because it feels like you are having wedding at a cousin's country house; My Moon, because the owners are super nice, and it is a cool space; and the Angel Orensanz Center, for the jaw-dropping interior.
Red Rose & Lavender was one of the fabulous floral designers at Wedding Crashers 2011.