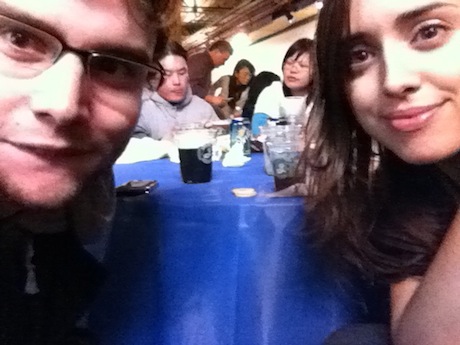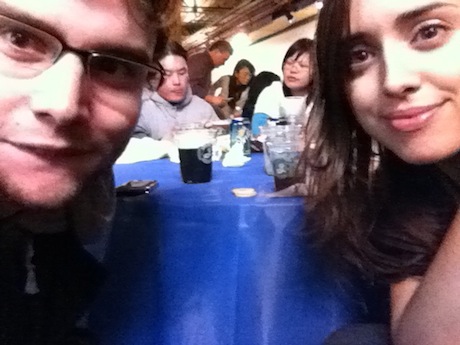 Name: Christen Cappello (top right)
Age: 24
Neighborhood: Bushwick
Occupation: Musician
Status: In a Relationship
Friday Night: My boyfriend and I had a friend visiting, so we decided to take it easy Friday night to be rested for the weekend. I made dinner at my apartment with friends, cooked faux beef sliders, mac n' cheese and corn. Drank wine. Merriment was had.
Saturday: Woke up, got delicious Vietnamese sandwiches at Banh Mi in Williamsburg. We brought them to Brooklyn Brewery, ate them there and drank beer (Irish Stout & Lager). Three others came to meet us. A few hours later, the six of us moved to Fornino and ordered pizza and more beer (Brooklyn Lager). The best part though was dessert: vanilla ice cream with caramel, chocolate covered pretzel pieces and whipped cream.
The three that joined us went on their way to see a concert. We headed home to regroup and drink some coffee. We listened to music and talked. We geared up for the rain and headed down to Carroll Gardens, landing at Angry Wade's. We drank some more beer (Leffe) got some free Jameson drinks from the Jameson promotion girls. Another person joined us and we moved to Char No. 4 and drank whiskey (Makers Mark 46 for me) and wine. Then we, my boyfriend, our friend and I, finished off the night at Carroll Gardens Classic Diner. I got steak fries and Buffalo chicken wings, my boyfriend got a delicious cheeseburger, and our friend got a wrap. It was all delicious, especially after a day of drinking, and the service was great.
Sunday morning: We went to Teddy's Bar & Grill in Williamsburg to rehash the weekend's events. My boyfriend and I got eggs benedict with jack-cheese grits and home fries. Our friends got eggs with chicken sausage and huevos rancheros. The food was good but the service was pretty awful.
Rating: I knew the weekend would be fun, but it ended up being fairly epic. It's amazing what having a friend in town can inspire you to do. I would give the weekend a 4.5!