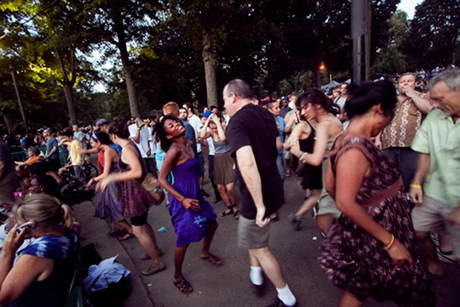 Typically we have to wait till June for Celebrate Brooklyn's incredible outdoor concert series at Prospect Park to begin. It's always worth the wait—this year the violin-ing, whistling singer/songwriter Andrew Bird opens the 33rd season with a free show. But this May they're bringing three, free Funk, Tropical and Bhangra dance parties to the Brooklyn waterfront as a warm-up to summer fun.
The live music and DJ sets at Brooklyn Bridge Park's Pier 1 begin May 12 with the legendary Maceo Parker and DJ Spinna, and continues the following two Thursdays. At each dance party you'll find awesome dance bands and DJs, dance lessons, a beer garden and bike valet, amidst the gorgeous backdrop of the water and Manhattan skyline.
This series (see below for the full lineup) is just a small sample of the cool programming Celebrate Brooklyn! brings us each season for free. Supporting them is totally optional, but becoming a friend includes a lot of perks like summer-long access to the VIP tent, so you can dodge lines, chill out in the lounge or grab choice reserved seats, center stage. And as you dance under the stars on Pier 1 this May, you'll know you're helping make fabulous evenings like these possible.
________________
Thursday, May 12, 7:00PM, Free
Celebrate Brooklyn! presents:
Funk Dance Party!
Maceo Parker and DJ Spinna
Pier 1 Brooklyn Bridge Park
One of the original architects of funk, Maceo Parker's gritty sax lines have graced some of the best party music in history in his collaborations with James Brown, Parliament-Funkadelic, Bootsy Collins, and Prince–who made a legendary, surprise appearance with Maceo at Celebrate Brooklyn in 2006. Maceo kicks off this new series with the tightest funk orchestra on earth, irresistible dance grooves, and the finest free show in town. Acclaimed DJ and producer, DJ Spinna has worked with an array of talents from Guru of Gang Starr to Mos Def. Spinning the best in old school funk to futuristic electro, he is on a mission to get you to dance. Plus, the full summer line-up for Celebrate Brooklyn! at the Prospect Park Bandshell will be announced at this show!
________________
Thursday, May 19, 7:00PM, Free
Celebrate Brooklyn! presents:
Tropical Dance Party!
La Excelencia and Que Bajo?! featuring DJs Uproot Andy and Geko Jones
Pier 1 Brooklyn Bridge Park
Revolutionary salsa dura ambassadors La Excelencia bring their bold new sounds to dancers and hardcore salsa fans worldwide. With free-flowing horns and lively percussion, Latin Beat Magazine calls the modernist big band "Young, raw, raging musical weapons of mass destruction…" NYC's hottest tropical Afro-Latin and electronic DJs serve up a pan-American, equatorial soundclash.
________________
Celebrate Brooklyn! presents:
Bhangra Dance Party!
Thursday, May 26, 7:00PM, Free
Red Baraat and DJ Rekha
Pier 1 Brooklyn Bridge Park
A South Asian dance party of epic proportions with Brooklyn's brass funk newcomers, Red Baraat. An explosive stage presence that blends fresh originals with Bollywood favorites. The set kicks off with DJ Rekha, founder of Basement Bhangra and Bollywood Disco.