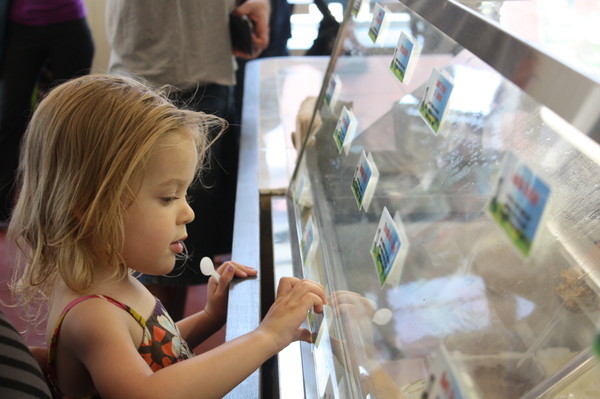 It has been a long, cold winter, but now it is finally, finally ice cream season. A scoop from the Brooklyn Ice Cream Factory or Blue Marble never gets any less delicious, but if you're looking to expand your ice cream horizons this summer, here are over a dozen new ways to bring on a brain freeze. Each of these suggestions is not just a place that sells ice cream—it's a full-on experience.
If you enjoy being on the cutting edge of dessert: Ample Hills, which opened last week in Prospect Heights, is a breath of fresh air in the Brooklyn ice cream scene. They buy their milk and eggs from family farms in upstate New York, and unlike any other creamery in NYC, they pasteurize the dairy mix and make it into ice cream in their own storefront. Ample Hills' 24 flavors include Bananamon (fresh banana and cinnamon ice cream with vanilla wafers) and Sunshine on My Chocolate (orange cheesecake ice cream with a swirl of milk chocolate), as well as more traditional options. Kids can make a mess in the play area in the back, or watch as Ample Hills employees make ice cream from scratch right before their eyes. The line here can get long, but it's more than worth it.
Other ice cream shops that will be opening in Brooklyn over the coming months include Steve's Ice Cream in Boerum Hill and the perennially popular Shake Shack in Fulton Mall.

If you like your ice cream old-fashioned: If you're looking for an egg cream, a root beer float, or a top-notch milkshake, head to Carroll Gardens' Brooklyn Farmacy & Soda Fountain, where a seat at their high-stooled bar is a step back in time. Order a sundae from one of their soda jerks, and swirl the ice cream around its glass with a long-stemmed spoon. Their ice cream comes from a family-run farm in the Adirondacks, and even their milk is fresh and all-natural. Perfect for kids, or for adults with an appreciation for aesthetics. Brooklyn Farmacy does standard ice cream creations, but it does them exceedingly well.
If you want those milkshakes with liquor in them: Franklin Park in Crown Heights uses Blue Marble ice cream for their bourbon milkshakes, then tops them off with marshmallows. This bar has a lot of events going on, so you can drink while playing trivia, listening to authors reading their work, or dancing to DJs. Or carry your milkshake out to the spacious yard, sit at a picnic table, and get drunk and sugar high in the fresh air all at the same time. Honestly, this is summertime in a glass. (Other bars that mix ice cream with booze include 61 Local, which serves beer floats using Steve's for its scoops, and the Manhattan Inn, which did a chocolate stout-Van Leeuwen combo last summer. It's not on the menu online but we suspect it's still available.)
One suggestion: Be sure to mix the ice cream and liquor thoroughly so you don't wind up drinking twelve ounces of milkshake followed by a couple shots of ice cream-colored bourbon. Not that we have ever made that mistake.
If you want ice cream without changing out of your pajamas: MilkMade Ice Cream creates small batches of two seasonal flavors every month and hand-delivers them to members' doors. May's flavors, for example, were Mint Julep (which tasted impressively similar to the cocktail) and Salted Caramel with Lavender Shortbread. Summertime flavors are still secret, but expect them to involve lots of fresh fruit. Membership is seasonal, with the next season starting in July. Currently MilkMade delivers to 150 ice cream lovers, so sign up for their waitlist to get notified when they have openings available.
If you like your ice cream with chutzpah: Chozen ice cream's flavors include chocolate gelt, matzoh crunch, and apples and honey (with actual bits of apple!). They are kosher and all-natural, and eating them is way more fun than getting guilt-tripped by your mother or trying to recall the names of the twelve tribes by humming Joseph and the Amazing Technicolor Dreamcoat to yourself. Chozen is sold by the pint at Brooklyn Fare, the Greene Grape, Union Market, and elsewhere throughout the city. It's not as fresh as some of the ice creams on this list, but it's still our number-one pick for ice cream to bring to Shabbat dinner.
If you want ice cream with a side of community pride: Bed-Stuy's Tin City Drug & General Store is a family business that sells over-the-counter drugs, eco-friendly household cleaners, and ice cream sodas, floats, and shakes using Van Leeuwen ice cream and Hershey's syrup. Their creations are inspired by 1920s and '30s soda fountain recipes, like Brown Cows and Black and Whites, and while they may not use the most unique ingredients, the space is a wonderful neighborhood hangout spot, where it's easy to strike up a conversation with your fellow ice-cream devotees.
If ice cream sandwiches are your thing: The Coolhaus ice cream truck, originally from Los Angeles, has just come to New York. They're serving up your choice of ice cream (including flavors like Nutella Toasted Almond or Wasabi) sandwiched between your choice of cookies (including flavors as common as chocolate chip and as exotic as lemon rosemary). It's hard to say which is more delicious: the ice cream or the cookies. So it's a good thing the sandwich comes with both. If you can't track down the truck, you can always buy Coolhaus sandwiches from Brucie in Cobble Hill.
If your taste in ice cream sandwiches runs more toward Northern California, stop by Pacific Standard, the 4th Ave. bar that serves the much-heralded It's It ice cream sandwiches. They're prepackaged, but displaced San Franciscans say they taste like home.
If you're an adventurous eater: Spoon'd experiments with unconventional (and often savory) flavors like Roasted Garlic, Black Sesame, and I Could Never Be Your Woman, a pink peppercorn ice cream with strawberry sriracha swirl and cocoa nibs. They suggest ice cream and food pairings, and especially ice cream and alcohol pairings. This is not ice cream for the traditionalist or the faint of heart, but if you're bored of plain strawberry, this is a good way to push the boundaries. Spoon'd, made in small batches in Brooklyn, are present at events throughout the borough, and they can create custom flavors for personal orders.
If you want to work and eat ice cream at the same time: The Russian restaurant/coffee shop Karloff in Cobble Hill carries homemade ice cream from a family farm in the Hudson Valley. Flavors change daily, but all have a wonderfully smooth texture. Favorites include Capuccino Kahlua Calypso, Lavender, Salty Pretzel and Peanut Butter Fudge—and, of course, Beets and Dill, which is made especially for Karloff. You can order your ice cream in a brilliant sort of cone that's more or less a wrap-around cookie, and enjoy it at the long communal table while working on your laptop or chatting with friends.
If you're into the "social" part of ice cream social: Ice Cream Club is exactly what it sounds like: a club for ice cream lovers and makers that meets at Brooklyn Brainery in Carroll Gardens. Generally a dozen or so enthusiasts show up to taste one another's creations and share cooking tips. Ice Cream Club offers ice cream-making classes, an ice cream CSA, and pint-swapping opportunities. Their next monthly meeting will be June 19, and the following meeting—July 17—promises to be a special one, with a number of surprises lined up. Sign up for Ice Cream Club's newsletter to keep abreast of their events.
If you're interested in the politics of ice cream: You may have noticed a pattern here–many of the ice cream vendors that we've profiled get their ice cream, milk, and/or eggs from small dairy farms in upstate New York. However, a number of family-run dairy farms have been driven out of business, in part by New York's prison industry. Milk Not Jails is a local organization that aims to educate New Yorkers on the urban–rural relationship. Their approach? Ice cream socials, complete with carnival games, puppet shows, free ice cream, and action stations to promote criminal justice and local farming. They've held past ice cream socials in Bed-Stuy and Bushwick; the next is coming July 24 during Dixon Place's HOT Festival.