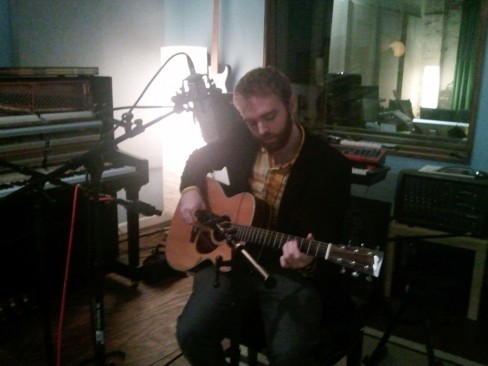 Every month or so, Brooklyn Based unveils an exclusive, new song by a Brooklyn band, recorded at Nadim Issa's state-of-the-art recording studio in Gowanus, Let 'Em In Music. This month's mp3, "When You Let Your Hair Down" is by solo artist Will Stratton.
Will Stratton is an acoustic folk singer-songwriter who spent his childhood in California, his formative years in New Jersey, and now resides in Brooklyn by way of a stint in Seattle. Last year, he released his third full-length album New Vanguard Blues, following 2009's No Wonder and  2007's What The Night Said. His next NYC live performance is scheduled for June 18 at Rockwood Music Hall.
What do you enjoy about being a solo musician?
I think if you can hold people's attention for an hour with an acoustic guitar and your voice in a scene that's so saturated with dudes with acoustic guitars, you're doing okay. Audiences have become much more attentive since I first arrived here, which is encouraging. About half the time I start playing and a loud room gets quiet pretty quickly, which is one of the best feelings in the world.
What's your songwriting process like?
It rarely feels like I have something specific and pressing to write about. Usually it is just an unshakeable feeling like triumph or dread that comes first. Then I'll start playing guitar, usually for a couple of hours, trying out different open and suspended/modal tunings until I come across a particular pattern or progression that I like, and then I'll start thinking about structure. Once I have a couple of different sections in my head on guitar, I'll start singing to myself, and then I'll get the lyric book out and start actually writing. Some songs take a half an hour to write, and some take months and months. Usually it is the quick ones that are the best, but not always.
How much of your lyrics pull from real-life experiences?
I tend to alternate between the autobiographical and the imagistic, because I never know which suits me better. This song in particular starts with a very real memory, of being with someone on the overpass in Carroll Gardens above the BQE, and it being very cold and windy, and her hands being full of groceries. I move her hair back from her face so that she can see where she is walking without putting down her things, but then things quickly get murky. There's a sort of burgeoning half-romance there, but it's only in my head, and there's also some spite mixed in with the affection.
What draws you to the acoustic folk style?
I like the idea that a song can sound very new but harken back to past decades of similar songs without sounding hackneyed. It is a thrilling balance to aim for, especially when there are so many other people trying to do the same thing. I went to school for contemporary composition, chamber music mostly, and so I have a small body of work in that vein — pieces for piano, for viola and tape, for woodwinds, etc. I am still interested in composing, but for the moment, I think it is more of a challenge to be a half-decent songwriter who still has some interesting things to say.
What were some of your earliest experiences as a musician like?
I remember playing with the upright piano at three and four, and making up stories on the piano about the adventures of Robin Hood. The beautiful thing about a piano when you're little is how spatial it is. I remember being transfixed by the patterns in the grain of wood on the front of the upright, and imagining landscapes. The lower and higher registers became different settings in the story. I had a much more vivid imagination when I was little, as I guess we all tend to. Then I think when I was four or five, I started taking piano lessons, which I continued until I left high school.
What do you like/dislike about being a Brooklyn musician?
I felt like an invader in Bushwick, but now that I live in a secluded part of Red Hook, I'm a little more at peace with city life. I like Brooklyn because of how humbling it is to be confronted every day with people who look like me and want the same things that I do. It's eerie and uncomfortable, but I think it's important for right now — to be constantly reminded of my redundancy because I then have to always be questioning whether what I am doing is important or worthwhile. What I don't like is the cost of living here.
What other up-and-coming acts deserve more love in 2011?
Zachary Cale, sort of a Townes Van Zandt-like character who lives in Gowanus, is quite good. I really like Sacred Harp; he and I probably share some influences in the American Primitive/Takoma Records vein. My friends in the bands Mountain Man and Bobby are going to have a big year ahead of them, which I am excited about. Both of those bands have started to make music that is truly inimitable, as far as I'm concerned. Flower Orgy, another friend-band, is sort of like a cross between The Shaggs and Bo Diddley, super raw and heartfelt, and they're onto something pretty awesome.
What's on your agenda for the rest of the year?
I'm recording a split EP with my friend Jesse Rifkin, formerly known as The Wailing Wall. Then in July we'll be doing a little Northeastern tour. In the next few months, I will be recording my fourth full-length in Greenpoint, and at home, and then trying to drum up some label/agent interest. All I want in life right now is a decent booking agent so that I have an excuse to leave my desk job, buy a flatbed truck and a sleeping bag, and tour North America for months and months at a time.
Interview and photo by Sarah Lynn Knowles, the Brooklyn-based writer and editor behind pop culture blog sarahspy.com and art/fiction/music journal storychord.com. Her favorite ways to fill free time include live music, bloody mary brunches, and fiction writing.