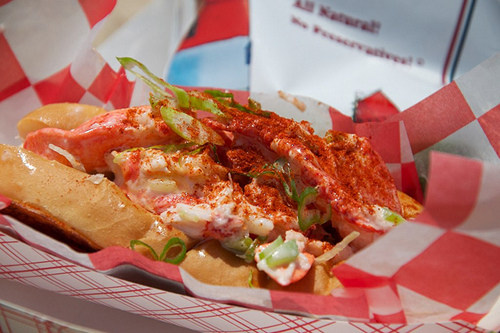 One family's attempt to entertain their toddler and themselves in a new neighborhood every weekend
Last week we decided to replace our beautiful 6-seat, handcrafted dining room table with a small Ikea one. It was a tough decision. We love hosting dinner parties, but the large table had started to get in the way of our 20-month-old's ability to run laps around the room.
I'll spare you the details of our trip to the Brooklyn Ikea except to say it's very tricky to exit the circular store and there were many crying babies (one was mine)… and we didn't buy a table. And I might start taking medication again. But the good news is we found ourselves in the very cool waterfront hood of Red Hook, which used to be a thrillingly desolate area where we drank pay-as-you-want beer at Sunny's bar but thankfully has matured along with us and now has many awesome, kid-friendly places. (Ikea not being one of them—unless your kids are old enough for the in-store day care.)
For example, Showboat Shazaam, perhaps the cutest circus on Earth, opens Sunday on board a tiny wooden railroad barge, aka the Waterfront Museum. Even for the circus-averse, seeing clowns, aerialists, and jugglers aboard a floating stage in the New York harbor is pretty magical. (It comes and goes quickly though–check the schedule for Sunday shows.) And one of the best places to swim with kids in Brooklyn is the Red Hook pool, which opens June 29. If you've never been, here's a primer on what you'll need to get in.
The pool can be a zoo on weekends, but your reward is the ball fields across the street, one of those institutions that attracts even my most Brooklyn-squeamish friends. There the Red Hook Vendors cook nearly every style of Latin American street food, and they sell their authentic pupusas, tacos, grilled corn, arepas, ceviche, and fruity agua frescas out of trucks along Clinton St. and Bay St. every weekend through October.
This time, however, we decided to head over to Red Hook's main drag, Van Brunt Street, for our regular weekend pizza expedition. Unfortunately the one place we had our eye on—Anselmo's that opened in 2009 and was being likened to DiFara's and Lucali's—had gone out of business. Apparently it wasn't the food that sent them under but the owner's other hobbies, as he explained on this website:
"My landlady is telling the people of Red Hook that i have been in prison and jail. She's right. I was in prison for manufacturing explosives… And I did go to jail this summer over a fight at my restaurant at 3am in the morning when Craig (i refuse to say full name) an ex drug dealer and (suspected child molester) that lived in one of my landlords building across the street was mad that i took his girlfriend…."
Yikes. Anyway, we tried the runner up, Mark's, also on Van Brunt Street, and tasted their decent but unremarkable slice. Ultimately, we happily gave up the pizza dream when we stumbled upon the Red Hook Lobster Pound. Although way more expensive than a slice, their lobster roll is so delicious I'd swim to Red Hook to eat it.
This place was opened by a Red Hook couple who were sitting around eating fresh Maine lobster one day when they had the idea: Let's open a lobster store. When does that kind of fantasy ever materialize? Well, it worked and it's now hugely successful with food trucks in New York and D.C., a market/casual eatery and a catering and retail business.
The lobsters come straight to New York from Maine, and no breeders (bigger than 2 pounds) are caught in order to preserve the supply. You can take home a live one or order what is probably the best lobster roll in the city. Made with a homemade mayo that just barely moistens the huge fresh-picked chunks of lobster, warmly spiced, flecked with celery and served on a toasted buttery JJ Nissen bun (brought down from Maine by the owners). There's also a Connecticut-style version—minus mayo, plus butter.
Our toddler loved the rich, creamy shrimp and corn chowder with small chunks of soft potato and a few baby shrimp. Next to the store is an airy barn-like seating area with long sleek picnic tables where you can bring your food on trays and eat casually and messily. Wash it down with one of the fantastic, slightly-sweet all-natural Maine Root sodas—we liked the orange flavor best.
Just a few blocks away on Van Brunt is Baked, home to the salted caramel brownie as featured on the Food Networks' "Best Thing I Ever Ate" and other fantastically indulgent sweets. We decided to share a slice of fresh chocolate banana bread, so delicious it ensured our son will never eat anything else. We also picked up a package of Baked's yummy homemade granola, the House Blend flavor with fat dried cherries and hazelnuts, which we brought home to mix with yogurt. After that kind of lunch, we needed breakfast for dinner.
Shana Liebman is a freelance writer living in Williamsburg with her husband and son.