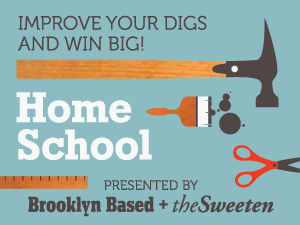 In April we offered to transform one lucky person's apartment in our first Home School contest, "Repaint Your Living Room," with theSweeten.com. When we posted the contest, we envisioned a winner who would be seeking a fresh color for a living room they'd already painted once before, or not at all. In reality the winner, Cristina Finan (whose entry got the most Facebook likes, our non-scientific selection process), hadn't even moved into her first apartment on Ocean Parkway. This would be the first mark she made in her new home, and she didn't want just any paint job. Inspired by damask prints, but put off by the cost of wallpaper and her ability to hang it, she started looking at stencils. "I spent weeks scouring the Internet, mostly Etsy, until I found the perfect damask print," she said.
Originally she planned "to paint all four walls the same green color and then add the print to one wall in a darker shade of the same green." Then she realized that was a bit much, and decided to make one wall yellow. This was a job she planned to do herself, but having ShurBuilt Construction do it for her was a pretty nice housewarming gift.
"I'm thrilled with the work," Cristina told us via email. "The room looks amazing and everyone who has seen it either in email or in person has been incredibly impressed with both how great the work looks as well as how amazing the design is."
We've got another Home School contest that ends tomorrow, June 9. This time the prize is a custom-built SIP window box and $75 in plants! The SIP is a special type of planter–kind of like a built-in, all-natural Miracle Gro–that is perfect for urban gardeners. And the first 25 entrants get 20% off at various nurseries in Brooklyn. Details are here, and you can throw your hat in the ring here.
Below are before, during and after pics of Cristina's new living room: