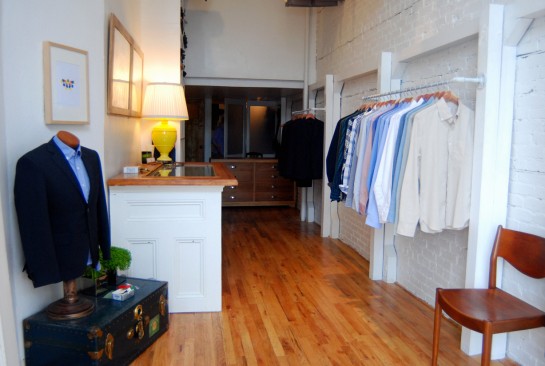 Like many things born out of passion, the story of Brooklyn Tailors began in an apartment four years ago. Together with his wife Brenna, Daniel Lewis, who has a background in menswear design, recognized a gap in the world of bespoke tailoring and began offering custom fit clothing on a word-of-mouth basis out of their Clinton Hill home. Their prices are less than what you could expect to pay for, say, a designer suit in a store, with the added bonus of a perfect fit and a greater selection of styles and fabrics. They also now offer a range of ready-to-wear and made-to-measure men's and women's clothing out of their new Grand St. store in Williamsburg, which soft opened this month. (Regular hours will be announced in early July, though you can make appointments until then.) We asked them about their inspiration, sources and process.
Why did you decide to start Brooklyn Tailors?
The world of bespoke tailoring seemed to exist for a certain crowd that we did not identify with. The style was either very conservative or very flashy, the experience more stiff and daunting than friendly and welcoming, and the price tag simply prohibitive except for the extremely well-to-do.
We wanted to do something different—creating a product and experience that would resonate with our friends and people around us.
Why tailored clothing?
Tailored clothing is all about the details—the subtle difference between one cloth and another, the way a buttonhole is sewn, the slight variation in the shape—these small things are everything when it comes to a tailored suit. It's millimeters, not centimeters that make the difference between a bad fit and a good one.
Where is Brooklyn Tailors' clothing/fabric sourced and made?
Brenna and I live and work in Brooklyn. Most of our suiting fabrics come from Italy and England.  Lately we're seeing more and more great stuff come out of Japanese and Indian mills, particularly cotton shirting fabrics.
All of our garments are tailored at our small workshop in Kathmandu, Nepal.  I've worked with the same small team of tailors for the past 6 years and we've got a great relationship with them.  It is important for us to work directly with individual craftspeople in this manner, not only to achieve the level of quality and control that we require, but also to know that the money we spend to produce our garments is going directly into the hands of the artisans that are making them.
Who is Brooklyn Tailors' market?
We have customers from all parts of the world, all walks of life, male and female, of all ages. We've been surprised by the number of people from far away that have made appointments to come see us when travelling to New York; it's flattering for us as such a small company.
Brooklyn Tailors is open by appointment only at 358 Grand St., Williamsburg. Regular hours will be announced soon.