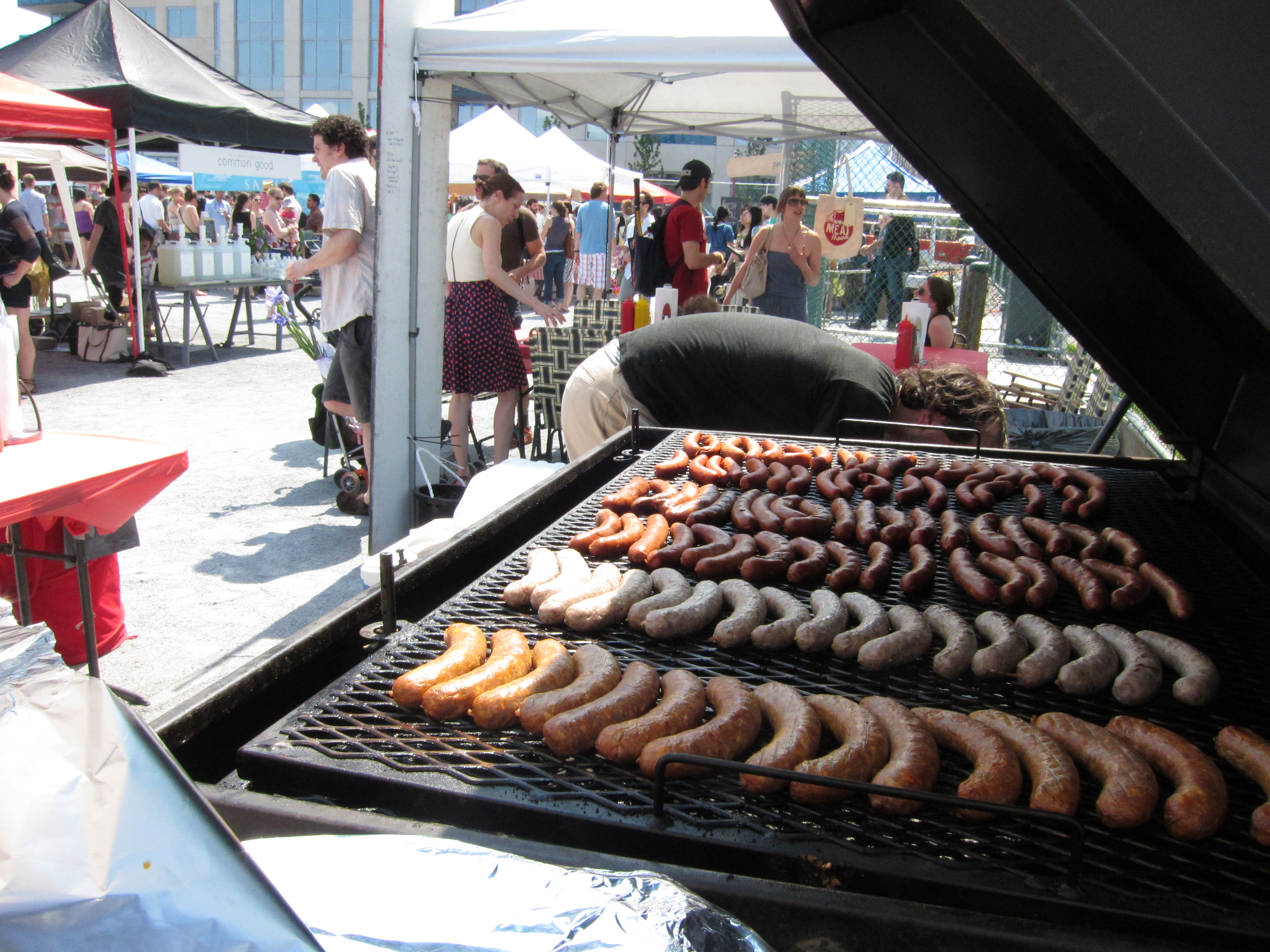 Summer solstice ushered in the official start to the season on Tuesday afternoon, and as temperatures, and humidity levels, rise, it's time to start finding things to do outside your apartment–you can only spend so much time with your face in the freezer. In between beach trips to the Rockaways and nights spent in Prospect Park or on the waterfront at one of this summer's outdoor concerts, we recommend spending an afternoon or two at some of Brooklyn's many flea markets.

The Dekalb Market is new to the scene this summer, and the Fulton Flea is a relative newcomer, while other markets are just enjoying a change of scenery like the Brooklyn Flea, which recently took up residence in Williamsburg. And because no two markets are exactly alike, here's a round up of what to expect from this summer's outdoor shopping assortment.
Northside Market
Opening this Saturday on Kent Avenue and North 6th Street, Northside Market is the latest weekend flea market to set up shop on Williamsburg's waterfront, though it sounds like it'll set itself apart from its biggest competition the Brooklyn Flea by focusing on new handcrafted and homemade items with little to no antiques and vintage. It's a 21-century flea market to be sure preferring to send vendor listing via Twitter and incorporating music, food, arts and crafts into its market mix. If behemoth markets are a little overwhelming, try Northside on for size, as it's currently at just over 30 vendors. Food vendors include local favorites like Le Comptoir, Cantina Royal, Lots O' Lobstah, Cookie Road, Arrirang Kimchi, Eton and Simply Fondue, so save room after brunch. Other highlights include hand-hammered steel jewelry and first-print art magazines. Expect it to evolve over the summer as new vendors are added throughout its 10-week run.
Dekalb Market
Your Manhattan friends who won't set foot in Williamsburg because they don't own Wayfarers and feel like Fort Greene is too far a trek for a flea market will be out of anti-flea excuses when Dekalb Market opens on the Fulton Mall, July 16 23. Permanent vendors, who participate seven days a week, will set up shop in storefront-like salvaged shipping containers, which offer "people the opportunity to have a permanent retail space they might not be able to afford otherwise," says Dekalb Market spokesperson Jessica Tolliver. Andriana Spence from Fort Greene, whose children's store Hank & JoJo opens at the market next month, is one of the 30 permanent vendors involved. Pratt Institute will also have a container selling student artwork, the cupcake wizards from Robecelli's will be on the scene (any votes for a Dekalbcake?), and Joe's the Art of Coffee will be slinging beans in Brooklyn for the first time when it sets up shipping container shop in the market.
A revolving list of weekend-only vendors will also be in attendance. Aside from retail offerings, internet radio station BBox Radio will stream live programming and an incubator farm whose produce will be used by vendors at the market will also be found. In essence, Dekalb Market, the latest project from Urban Space, is a manifestation multifaceted business savvy that Brooklyn has become known for, offering food, entertainment, retail and artisanal goods from this borough and beyond.
Fulton Flea
Newcomer Fulton Flea is open on Saturday and Sundays on Fulton between Fort Greene Place and South Elliott Place, and is a mix of old and new items from vendors and local craftspeople from the surrounding community. The Fulton Flea operates more as a series of community-centric events than some of the other outdoor markets in the borough, says coordinator Keith Getter, who describes it as an uncurated commons. Jewelry, fashion and accessories tend to anchor the space on a regular basis, as well as antiques and collectibles. Highlights include live entertainment from community musicians like folk singer Tuck Len Xiang. What the Fulton Flea lacks in size it makes up for in location–it makes for an ideal browsing experience before heading to a matinee at BAM's Rose Theater or a picnic at Fort Greene Park.
New Amsterdam Market
While we realize that the New Amsterdam Market is in fact in Lower Manhattan, and not in Brooklyn, we've decided to make an exception to our list–there's always the chance that you might want to take a subway or bike trip into the city this summer. And, we've always thought that the New Amsterdam would actually be more at home in Brooklyn, away from the mall-like atmosphere of the South Street Seaport and its Gap and TKTS booth. Held Sunday afternoons at the old Fulton Fish Market, New Amsterdam Market is the ideal place to find a butcher, a baker and a candlestick maker, as well as a monger or two.
Look out for Brooklyn businesses including Kombucha Brooklyn selling several flavors of its fermented tea by the cup or growler; Liddabit Sweets with its candy confections; Marlow & Daughters; as well as School House Kitchen, whose sales of schmears and spreadable fruits support educational causes; and BB pal, Sweet Deliverance with prepared foods, jams and candied citrus. An afternoon at New Amsterdam market won't help whittle your waistline this bathing-suit season, but it's will give you several delicious reasons to make you forget you wanted flat abs in the first place.
Smorgasburg
If New Amsterdam Market isn't enough for your appetite, head back to Brooklyn for a second helping at Smorgasburg. Brooklyn Flea co-founder Eric Demby says he had artisanal food markets, like those found in San Francisco and Seattle, in mind when conceptualizing Smorgasburg, the new food-centric addition to the Brooklyn Flea family. "Hopefully it won't turn into this thing that's just capitalizing on the trendiness of food but something that turns into a little be more of a world-class food market for eating, shopping and learning about the potential social impact of food," Demby says. To that end, Smorgasburg shares its space with New York State Greenmarket farmers–it's not all tacos and hot dogs. For much of Williamsburg, that means there's a new, closer alternative to the McCarren Park Greenmarket.
Smorgasburg can be found Saturdays on Williamsburg's East River waterfront (between North 6th and 7th) where it opened in May, and with some of the city's most salivation-inducing chefs and purveyors of food participating, Demby's dreams might well come to fruition. The vendor list has grown to over 100 participants, including Momofuku Noodle Bar chef John Husby whose joint venture King's Crumb serves homemade biscuits and fried chicken; Jean-Georges veteran Justin Basdarich making hand-pulled mozzarella at Speedy Romeo; and Casey and Gilley Tang who'll be serving their father Shorty's (formerly of Hwa Yuan restaurant on East Broadway) famous sesame noodles.
Brooklyn Flea(s)
The Flea officially began weekending in Williamsburg this spring after it moved out of its winter home at 1 Hanson Placee behind BAM. Here's how it works: Saturdays the Flea is in Fort Greene at Bishop Loughlin High School and the Smorgasburg is on Williamsburg's East River waterfront. Sundays, the Flea moves to the Smorgasburg spot between North 6th and 7th on the water.  Several of the same vendors found in Fort Greene on Saturdays will be taking their wares to Williamsburg on Sundays, though Demby says it's still worth a second look, as many are catering to the different crowd they're finding at their new digs. "It has a little bit different energy than the Fort Greene market," Demby says. "There's a little bit more of an edge there."
The Flea is still the place to put together your 70's silhouette from a veritable trove of vintage-clothing vendors, and to hunt down a working typewriter or workbench from one of its antique dealers. And while it goes without saying that The Flea is full of second-hand stuff, it also possesses an unrivaled assortment of artisanal and handcrafted items, like the street-art inspired lamp shades from Re-Surface and the anatomically-correct jewelry collections of Lillian Crowe–because nothing says love quite like a rose gold aorta.