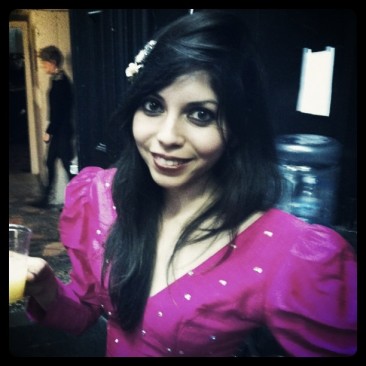 Name: Andrea Diaz
Age: 23
Neighborhood: Bushwick
Occupation: Vocalist
Status: It's complicated
FRIDAY: The second I walked into the dressing room at Joe's Pub, I knew it would be a great weekend. Champagne flowed freely, men waltzed around sporting eyeliner mustaches, and the ladies worked scandalous Lycra gear that would make even Lady Gaga blush. This of course, is to be expected when the concert is dedicated to the most baller of them all: Prince. The show was part of Loser's Lounge, a tribute show where locals pay their respects to the great artists in music. I sang "Cream" with a sultry flair in a fuchsia 80s dress. It seemed to go over pretty well.  All the performers in the show definitely would have made Prince proud. After Joe's pub, and a quick drink across the street with a friend, I rushed home to get ready for Kenny Scharf's party at Cosmic Cavern. Twenty-minutes and a car ride later, I emerged in the black-lit basement completely dunked in silver body-paint, ready to dance with my friends. Things got a little hazy after the fourth cup of tequila punch, although I do remember watching a semi-naked girl with neon nipple pasties dance to  "hey big spender." I ended up going back to a friend's place in Williamsburg. Needless to say, the night closed with me stumbling around in the shower attempting to scrub all the silver off my skin.
SATURDAY: Woke up early(ish). After debating whether or not to ask my host for a change of clothing, I opted to take the carnival route and take my space-stripper ensemble on the road. My friend and I stopped by a coffee shop around Metropolitan to try and revive ourselves via fluids and blueberry muffins. When the barista asked me if I always dressed like this, I simply smiled and said " only on special occasions." She gave a hearty laugh and made me feel good about giving people another show, albeit a more unorthodox one. Eventually, after a few more "where the party at" comments, I made it back to Bushwick all in one piece. In the afternoon, I met my friend in East River Park. We lounged around in the sun and talked about the party the night before. He informed me that the nipple pastie girl had also performed some kind of X-rated magic with a glow stick, but I'll leave that one up to your imagination. Later, I went to the Humboldt Supper Club where my friend Mariko cooked an incredible meal for us, complete with pineapple guacamole, fried rice balls and grilled lamb. Her friend was also mixing us some really amazing Mezcal drinks. Being of the Mexican variety myself, I was thrilled about the whole thing. I ended the night with a full stomach lying in a pink hammock looking up at a beautiful, purple sky…
SUNDAY: Sundays tend to be my godihavetogetoutofthisplace days, so I decided to take up my friend's offer to go up to Westchester. We hung out with his friend Ingrid, a beautiful blonde 50-something- year-old who does bodywork and healing. I'm extremely interested in that kind of work so it was really exciting to hear her speak about the different therapies and techniques she uses to help her clients. I left feeling inspired and rejuvenated. The view of the Hudson at dusk on the way back to Grand Central was equally inspiring. Back in the city, I met up with my band at Dojo to discuss what kind of visuals we want our friend Manny to do for us our upcoming show at 17 Frost gallery. Back at home, my friend came over and we lay on the couch. I massaged his scalp and tried to apply some of the energy techniques I learned at Ingrid's. He left and I skyped my friend in the navy. Then I fell into a deep and satisfied sleep. Yep, this weekend was a good one.
RATING: 4. The only reason it's not a 5 out of 5 is because a few of my close friends are out of town and I would've liked to share the weekend with them. Other than that I can safely say it's one of the best weekends I've had in our fair city. Huzzah!