One family's attempt to entertain their toddler and themselves in a new neighborhood every weekend


It was not a great morning. My entire family was trying to get together for lunch. By the time our 2-year-old, Nate, finally got up from his morning nap, everyone was hungry, grumpy and extremely concerned about…well, everything. (We are one of those high-expectation restaurant-going families.) What if we had to wait? What if they didn't have room to wait? Was there somewhere else to eat?
But here's why Franny's is so awesome—despite all the complaints I'd heard about their "hipster, snobby" staff, they went out of their way to accommodate us, even moving us to a bigger table after we had already sat down (after waiting only 10 minutes). It's a small, usually packed restaurant but even when Nate decided to join the young couple at the next table, thereby knocking over one chair and two forks, none of the servers freaked out.
And the food is really good—upscale, brick-oven pizza, the best of which was the simple tomato and buffalo mozzarella and the one with clams, chilies and parsley. (Note to potential complainers—you have to slice the pie yourself even though it costs more than it should.) One excellent aspect of dining with the whole family is–we didn't just eat pizza! The "maccheroni" with pork sausage, fennel and Parmesan, which I would never have ordered, was superb. I can't stop thinking about, and trying to recreate, their escarole salad with a Ceasar-like dressing. (The seasonal, locally sourced, organic menu changes frequently.) All this and an impressive wine list made it one of the nicest lunches we've had in a long time. I felt like hugging the entire waitstaff on our way out. But maybe that was the wine.
Right across the street is the Franny's-owned takeout market, Brooklyn Larder, stocked with high quality local cheeses, meats, olives, vinegars, olive oils, etc. We stopped in for a ginger cookie and then took a much-needed walk up Atlantic Avenue to Grand Army Plaza's fantastic farmer's market—a great place to stock up on fresh produce for the week. (Also nearby, the Brooklyn Library often hosts weekend storytimes and singalongs. We recently saw the Itty Biddies play a rockin' concert at the Dweck where the space between the auditorium seats and the stage became a mini-mosh pit for 20 toddlers.)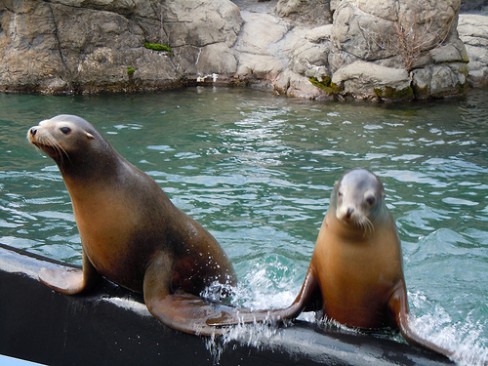 Although the rest of the family bailed, we continued on a little beyond the Plaza to the Prospect Park Zoo. (Note: Strollers should enter at the south end to avoid stairs.) It's a great zoo—not overwhelmingly large but substantial and neatly arranged around a central circle where the sea lions live in a giant pool. We arrived just as the 2pm sea lion feeding started, which I assumed was the reason Nate was running around the pool like a maniac. But after several laps and many tears of frustration I realized he wasn't looking for a place to glimpse the weird, balking creatures, he was looking for a way to swim too. It was a very hot day.
We moved on to the Discovery Trail to look for prairie dogs and emus. Again, it quickly became obvious that the real attraction here for Nate wasn't the Australian Walkabout but the little hills and sticks that he could jump over while walking down the path. (At least children under 3 get in free.) But I actually really liked seeing the unusual animals… That's the funny thing about these kiddie excursions. It's always something you would never do on your own but wind up loving. Anyway, Nate's biggest joy was on the other side of the zoo, at the barn, where he tried desperately to say "HI!" to the geese, llamas, sheep, cows, goats and squealed with delight when they "baahed" or "mooed" back at him. This sight alone was worth the $8 admission—well, that and the incredible (and air conditioned!) monkey house. (Don't miss the baby baboon birthday celebration coming up, July 23-24.)
Later when our family asked Nate what he saw at the zoo, he consistently answered "ice cream." (A reference to the generic ice cream bar from the vending machine in the "refreshment" house.) Ah. Maybe next time maybe we'll just hit Baskin Robbins.
Shana Liebman is a freelance writer living in Williamsburg with her husband and son.