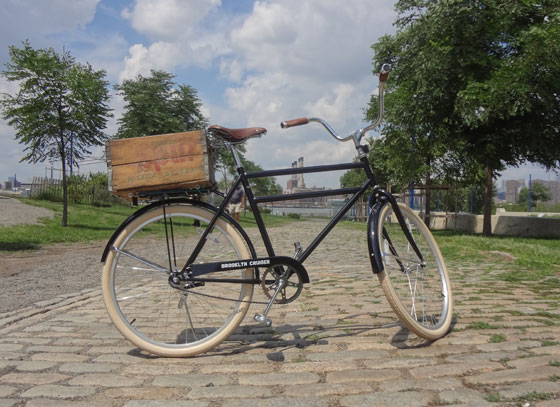 In recent years, the growing number of bike lanes in Brooklyn has transformed cycling from a pastime for the young and the adrenaline addicted to a widespread manner of commuting. While sleek fixed gears and racy road bikes are still charging down the lanes, city bikes–bigger, slower, easier-going bikes–are ruling the roads these days. There are lots of different terms out there for these grocery-getting cycles: city bikes, comfort bikes, commuter bikes, Dutch bikes–we like to think of them as easy riders.
Whatever name you want to call them by, Brooklyn now has its own city bike brand–Brooklyn Cruiser, a new company that builds bikes designed for everyday city riding, launched today.
City bikes are simpler and more comfortable to ride than road, mountain or racing bikes and serve a wider audience of cyclists. To visualize a city bike think of the brands Electra, Linus, or Schwinn, or consider the beach cruiser, or the bikes teeming through the streets in Amsterdam. In addition to the characteristic upright positioning, these bikes often have coaster brakes, handlebars that extend up and toward the rider, wider saddles, fewer gears and utilitarian features such as fenders, racks and baskets.

For Ryan Patrick, the creative force behind Brooklyn Cruiser, it was his love of city bikes, and for the borough they call home that led them to create a line of bikes that measures up to the ethos of Brooklyn.
"There's an energy here you can't put your finger on," Patrick says, pedaling past McCarren Park. After spending more than a decade in the financial industry, Patrick felt compelled to get back to his roots, and having grown up in Syracuse, a big part of him was rooted in the joys of cycling. "It all goes back to the profound moments of riding a bike as a child," he says.

Ryan and his wife Thea have spent years biking around South America, the Netherlands, Vietnam and other places. "Everywhere you go, bicycling is so much more a way of life than in the states," Patrick says. What he saw abroad was a style of bike that make cycling more widely accessible.
"All these different features–gears, cables, brake parts and derailleurs–can be a little intimidating for people. You don't want someone to look at a bike and think 'this thing scares the shit out of me.'"
Featuring a unique two-speed kickshifter housed within a Sturmey Archer hub, which also contains a coaster brake mechanism, the Brooklyn Cruiser inaugural line meets Patrick's standard of simplicity. With its steel frame, leather saddle and grips it's a durable machine; at $499 (and without all the extra parts that lead to extra maintenance) it's affordable. And its Dutch-inspired design and signature double top-tube and cream tires give the bikes a unique flair.
Brooklyn Cruiser may be the only city bike that originates from Brooklyn, but there are plenty of other bikes out there and more places than ever to find them. A slew of new, approachable bike shops have opened around the borough in recent years, and many specialize in city bikes.  At Ride Brooklyn in Park Slope, which has been in business for almost three years now, easy rider sales make up two-thirds of the shop's business. Mechanic Tristan Oleynik says that most of their customers are now seeking geared city bikes, whereas in previous years there was a greater demand for single-speeds.
"Biking has become more accessible to all people as opposed to a fringe culture, like it was for such a long time," Oleynik says. "For a lot of our customers it's the first time they've bought a bike since being an adult, so they're looking for something that's going to be functional and that they're going to be comfortable riding. Most people prefer a gear."
While Ride Brooklyn carries a wide range of comfort and road bikes, the most popular of all are Linus bikes. With four basic models, you can keep it simple with a single-speed coaster brake roadster at $430 or consider the brand's range of geared bikes, with prices topping out around $800. The gracefully-shaped Dutchi is most popular, with its Dutch-styled sloping top-tube and three-gear grip shifter.
"There was a time when we couldn't keep Dutchis in stock," Oleynik says. Sturdy, smooth and responsive in the streets, it's easy it to see why. The European good looks don't hurt, either.
Over in Cobble Hill, the year-old Rolling Orange bike shop is offers a variety of Dutch bikes including 100-year-old "grandmother brands" like Gazelle and Batavus, as well as fresh-faced brands like De Fietsfabriek and VANMOOF.
"The key thing about a Dutch bike is that the handlebar is high, which means that you are raised, so you look over the traffic instead of being [leaned forward]," explains shop manager Brunhilde Vergouwen.
And, according to mechanic Travis Iurato, "People buy them like hotcakes."
Certainly style has as much to do with the draw of a bike as anything else; just ask Sheryl Yvette, who has been cruising the streets of Brooklyn for the past four years on her pink Hello Kitty cruiser. "I was not a cyclist at all when I got my bike," she explains. "I got the Hello Kitty Cruiser when I was 33, simply because it was Hello Kitty." And today? "I will find and use any excuse to ride."