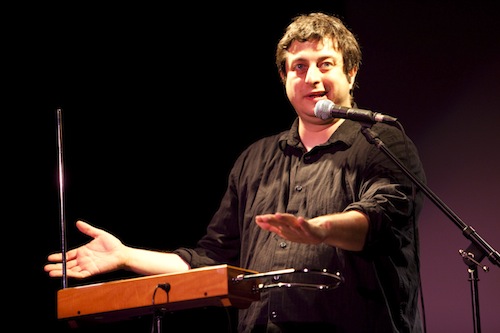 Eugene Mirman is most famous for his memorable turns on alt-comedy hits like Flight of the Conchords, Aqua Teen Hunger Force, Delocated, and Bob's Burgers, but Brooklynites are lucky to regularly catch him performing stand-up at his local stomping grounds. For the past few years, the Bell House and Union Hall have hosted Pretty Good Friends (formerly Tearing the Veil of Maya), a weekly comedy show produced by Mirman, Julie Smith, and Caroline Craighead that features an ever-changing lineup of comics. And next week, September 15 through September 18, many of his funniest friends and collaborators will return to these venues for the fourth annual Eugene Mirman Comedy Festival.
Thanks to a successful Kickstarter campaign in which Mirman asked fans for $18,000 to add things like an "Awkward Party Bus" and a caviar-eating contest to the itinerary, this year's festival promises to be bigger and better than ever, which is no small feat when you consider that the roster of performers from years past includes names like Louis CK, David Cross, Jim Gaffigan, and Janeane Garofalo. (A handful of this year's shows featuring Marc Maron, John Oliver and John Hodgman are already sold out, though more tickets may be released in the next few days. Be sure to snatch tickets for the rest soon.)
The festival was born out of an offhand joke Mirman made to Mike Birbiglia and Julie Smith after a performance at Union Hall several years ago. "We were talking about something related to comedy festivals or artists doing things that are self-aggrandizing and I thought it'd be a dumb, ridiculous thing to name a festival after myself," Mirman explained. "I meant it as a joke and not something I'd actually planned to do." But both Birbiglia and Smith thought it would be really funny to pull it off, so they did.
This laid-back, chummy vibe has permeated all aspects of the festival ever since, which Mirman insists is necessary because performers have been paid virtually nothing for their efforts and, as a result, they've typically consisted of friends and collaborators who participate primarily for the fun of it. The limited resources have inspired some acts to get creative with their demands, however. Two years ago, British comedian Daniel Kitson insisted on being remunerated exclusively in "unique sandwiches."
This year, the influx of cash from Kickstarter will allow the festival to offer its performers legal tender, and it will also cover staff expenses and keep ticket prices affordable. More money also translates to the addition of some ambitious and unprecedented items on the schedule, including "A Special Food Themed Comedy Show for You" which promises chefs, food-based comedy, free food, and the world's first caviar-eating contest. ("It's not going to be the finest beluga," Mirman explained.) One thing that hasn't changed, however, is the intimate and familiar tone underscoring the festival, which kicks off next Thursday night with an Evening of Science with Neil deGrasse Tyson, who is the director of the Hayden Planetarium and the host of StarTalk Radio, where Mirman is a frequent guest. Friday night, Mirman's past lives will collide when Delocated's Jon Glaser impersonates comic Bobby Tisdale to co-host a live version of Invite Them Up, the weekly stand-up show that Mirman and Tisdale ran together for six years at the East Village club Rififi, once the epicenter of New York's alt comedy scene.
The festival will also feature fellow Brooklyn-based comedians Kristen Schaal, Kurt Braunohler, and Hannibal Buress, who host their own weekly comedy shows in the borough. Although Mirman dismissed the idea of a discrete Brooklyn comedy scene as "a distinction that magazines like to make," (along with sites like ours) he conceded that Brooklyn is home to an impressive amount of comics and comedy shows, which lends itself to a natural camaraderie and increased opportunities to perform together.
The real-life connections that form the backbone of the Eugene Mirman Comedy Festival are undoubtedly part of the reason that it has become such a highly anticipated event. Mirman's personal investment in the festival and the people he has recruited for it is evident, too. When asked to recommend one event out of the whole program that can't be missed, he says in near seriousness, "I don't know. They are all my babies."
The Eugene Mirman Comedy Festival runs Sept. 15-18 at Union Hall and The Bell House. A few tickets for sold-out shows may be released later; follow @BellHouseNY for updates.