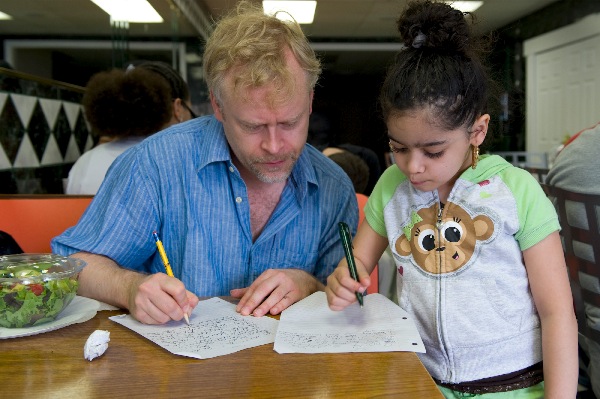 Stephen Haff was seeking sanctuary when he started Still Waters in a Storm four years ago as a reading and writing group for adults that met above a pizzeria in Bushwick. It was a haven from the sometimes-chaotic neighborhood.
"I needed a place where I could feel safe and peaceful and where I could read and write and think," Haff said. He had been a public school teacher in New York City for years, and the work had worn him down. "I loved the students, and I loved the teachers, but it was the opposite of peaceful. It was damaging to my psyche, so I needed to build a place that was my sanctuary."
Haff's mild mien are the tools of a talented teacher as equally apt to listen as to lecture. Those attributes are part of the reason his weekly workshop's popularity quickly outgrew its first two spaces. Once the literary gathering settled into a storefront at 286 Stanhope Street in 2009, it attracted a great deal of interest from its new neighbors. "As soon as the storefront opened, families became curious about what it was, and the focus shifted rapidly to little children ages 7 to 11," Haff said.
While adults still meet on Monday nights to read and write, Still Waters' main focus now is supplementing the education of kids in the community whose socio-economic status and lack of access to resources put them at greater risk of falling through the cracks in the public school system. It offers tutoring and homework help, Mondays through Thursdays, as well as extracurriculars including music, photography, chess, painting and yoga.
"For the most part, families in this neighborhood are living around or below the poverty line and can't afford private schools, or they're new to the country and don't have the wherewithal to research and apply to the private schools they might be able to get into with assistance," Haff said. "[Still Waters] is non-competitive, free and within two or three blocks of their homes."
Free education with a concentration in the arts, often the first curricular items to be cut during budget crises at public schools, is one reason that Maria and Constantino Covarrubias enrolled their two eldest daughters Rachel, 11 and Jamie, 8, in Still Waters' after-school programs six months ago. They were also looking for a program to improve the girls' English-comprehension levels, as their household is predominantly Spanish speaking.
"We brought them here because Rachel and Jamie need a little more help reading and writing," Maria said. Rachel's grades in school have improved since starting at Still Waters, according to her father.
Haff and a half-dozen young volunteers like Michael Newton, 24, work with the 25 children enrolled at present; another 35 families are on the waiting list.
Newton, who moved to Bushwick a year ago from Pennsylvania, by first impressions fits the hipster archtype, from the bicycle to his suspenders and non-ironic spectacles.
"I was aware when I moved here that I was sort of coming as a gentrifier on the macro level, being a white dude from out of town," Newton said. "I didn't want to do that or be that person. I want this to be my community, and I want to try and fit in here. Stephen is a man who believes there should be these things for children and for communities in the world. I love Still Waters so much that I'm like 'I can't leave Bushwick. I want to see where these kids are five years from now.'"
While silence and rapt attention are elusive at many youth programs, they're staples at Still Waters, where listening is lauded above all else. In fact, if it wasn't for the entire wall of chalkboard drawings when you first enter, you might not recognize it as a space for kids. Still Waters doesn't emit the noise and chaos of an adolescent gathering place.
On any given Saturday, a steady stream of children can be found filing into its storefront on Stanhope Street. Parents accompany some while volunteers pick up others. All are in attendance to take part in an afternoon writing workshop hosted by a revolving list of award-winning and world-renowned authors including Peter Carey, a long-time friend of Haff's and the patron saint of Still Waters' writing program. According to Haff, parents and all community members are welcome to these workshops, so long as they participate fully.
"From the beginning, he has believed in what I'm doing," said Haff, speaking of Carey's contributions. "He's visited himself and introduced us to a lot of amazing writers." Authors who've come to read, write, listen and share works with the children at Still Waters on Saturdays include Adrian Nicole LeBlanc, Russell Banks, Calvin Baker, Colum McCann, Julie Powell, Patrick McGrath, Richard Price and Tom Sleigh.
"I am inspired every time I visit Stanhope Street, walking into this quiet space where all these young heads are down writing, writing, writing," Carey wrote in an email. "Later, listening to what these young people have to say, it never occurs to me that I am listening to 'kid's writing', but humans grappling with the complex business of being alive."
Haff, who left a career as a theater director and newspaper and magazine writer to work with inner-city youth, equally impresses Carey.
"He is a brave and gifted teacher who is in the business of saving lives," Carey wrote. "He lives on nothing and declares himself lucky to be doing every day exactly what he loves."
Haff takes no salary from Still Waters and depends on benefits to pay for rent and basic supplies, such as the one coming up this Sunday, September 11, hosted by the theater company The Wooster Group at their theater space The Performing Garage in Manhattan. The benefit is being produced by original Wooster Group member Kate Valk, and is a celebration of the works of Carey, which will be read by Wallace Shawn, Scott Shepherd, Maura Tierney and Still Waters' students.
"I finally feel useful," Haff said of his current career path. "You know the old saying that still waters run deep? Well this group runs deep. The children are capable of having and enjoying profound conversations about what's on their minds, but also, the stillness in the middle of the storm is somewhat the identity of the group. This neighborhood, while it's changing rapidly, remains volatile and for new reasons now, with gentrification happening. It seems like the neighborhood is stormy in a new way. For the most part [the children] don't have a chance to learn these things, and I'm trying to offer them lessons that are imaginative and that help them to focus on something, something essentially peaceful."