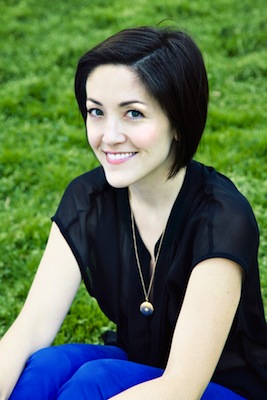 When Grace Bonney first posted to her blog in August 2004–at the ripe old age of 23–she laid out a few of her "favorite things," like Tivoli radios and Eames chairs, "to give an idea of what I think is good design." Within a few years, Time, Jane, Domino and a slew of other magazines declared Design*Sponge their new favorite blog, partly because Bonney didn't just gush about the iconic (and often expensive/unattainable) items on her original list. She also posted about affordable furniture and cool, DIY makeovers, ragged on ridiculous trends (like casting everything in porcelain, from styrofoam cups to cupcakes), profiled young designers, and in time, began offering scholarships to art and design students.
Bonney, a longtime Park Sloper, and now Greenpointer, made her first foray into design during college, as readers learn in her new book, Design Sponge at Home, which was published last week. For anyone who isn't already an avid reader of her site, this 400-page bible of cool home decor and projects will turn you into an admirer. There are how-tos rated by difficulty (the silverware curtain hook, for instance, is easier than the upholstered headboard);  step-by-step flower arrangements by D*S editor Amy Merrick and Sarah Ryhanen of local flower and soap source Saipua; instructions on basics like sewing; sneak peaks of stylish homes, and before-and-afters that inspire you to refinish every lone chair on the curb.
The book isn't Bonney's only experiment in print. This summer, D*S published its first newspaper, which were distributed at a few shops around Brooklyn like Sprout Home and Brooklyn Circus (you can also download it here). But she has no plans to take her empire, which now includes over 20 writers and editors around the world, offline.
"I don't have any interest in magazines or anything like that, but I love the scale of newspapers and being able to give them away for free in shops," she said. "I really want to have more of a relationship with brick-and-mortar shops and find a way to drive people to them more often. I've spent years celebrating online shops, so I really feel like I want to focus on things that are a bit more 'in person' now."
With that in mind, Bonney offers her five favorite in-person, Brooklyn sources for styling out your home:
1. Erie Basin: I know most people think of Russell's shop for its excellent jewelry collection (and rightfully so), but I love his taste in antiques as well. I've found the most beautiful mirrors and tableware in his well-curated Red Hook shop. I like to think of it as "come for the jewelry, stay for the amazing extras."
2. Nightwood: We've been following Nadia and Myriah's furniture designs for a while now and their new shop on Grand Street is the perfect expression of their style. I love their recent experiments with tea-stained wood. It gives the furniture such a subtle hint of color while still letting the wood grain shine.
3. The Brooklyn Flea: Technically this is a collection of sellers, but it's my favorite place to find smaller-scale home goods, especially vintage pieces. If you love vintage wooden boxes as much as I do, you can find them here in bulk. There's also a fantastic frame-seller that is always stocked with interesting shapes and styles.
4. Le Grenier: I recently moved around the corner from Maya's fantastic shop in Greenpoint and have been a regular visitor ever since. My idea of a great evening is poking through her collection of fantastic antique tableware and china and then finishing up with dinner at Paulie Gee's.
5. DARR: Brooklyn is full of small boutiques that specialize in slightly unexpected home goods. If I was allowed to pick 55 shops instead of 5 I'd happily list them all. But for me, DARR is the original in that category and never fails to stock impeccably curated furniture and odds and ends. Bonus points for the creepy objects–dentist molds, apothecary equipment and weird taxidermy–they have tucked around the shop.
Five extras I can't live without: Mollusk Surf Shop (surf accessories and artwork), Saipua (flowers and antiques), Moon River Chattel (antiques and classic tableware), Fresh Kills (furniture and decor), and Five Leaves (lattes and my favorite bathroom door–it's an old porthole–in any restaurant in Brooklyn)