Last fall's inaugural New York installment of Nuit Blanche: Bring To Light was more akin to a block party on Oak Street than the ephemeral-art phenomenon that the festival has become in over 100 cities around the world, including Rome, San Francisco and Madrid.
Launched in Greenpoint, the first New York go-round for the nocturnal public art show was decidedly smaller in scale than many other iterations, especially when compared to Paris where Nuit Blanche began a decade ago. In France, over a million people take to the streets, parks, public and private galleries and museums like the Louvre each year for Nuit Blanche, all of which stay open late for one night only in the name of art.
Undiscouraged by a small start, Nuit Blanche New York organizers, including Ethan Vogt, its executive director, walked away from last year's festival confident that the show was only going to grow in Greenpoint. "On some level, we're still learning what works," Vogt said. "We're still finding our voice."
Saturday, Oct. 1 marks NBNY's second installment of Bring To Light. Located along the blocks between Oak and India Streets on Franklin Street to the waterfront, the show will begin at 6pm and coincide with Nuit Blanche festivals in Paris, Brussels and Toronto. Site-specific installations and exhibitions will be mixed with free-form art in the streets, parks and along Greenpoint's industrial waterfront. The East River Ferry will extend service from 34th Street in Manhattan to the India Street pier until midnight.
True to Vogt's predictions, Bring To Light has expanded exponentially in size since last year, when most of the work exhibited came from local artists in the Greenpoint community. "It's been said that this area has the highest concentration of working artists in the city right now, so we're thrilled to be showcasing that community to the world," Vogt said. The local element remains, but this year more out-of-town artists are participating. Over 50 local and international artists, designers, filmmakers, writers and musicians plan to present video and light projections, installations, performances and digital and sound pieces starting at dusk on Saturday and ending at 1am at various sites within the festival's perimeter.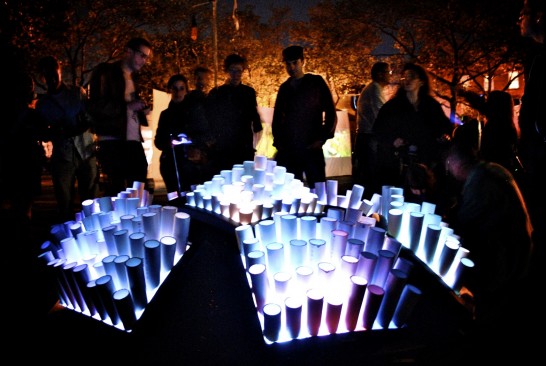 "We think an effective Nuit Blanche needs a variety of scales and experiences," Vogt said. "When we're curating, we're looking for an interesting mix of projects and different ways of interacting, seeing, hearing and touching. We're really trying to create what we call an 'immersive spectacle' for the people in attendance."
Elisabeth Smolarz, a Brooklyn-based artist, has a video piece in tomorrow's festival. She she was very impressed with the work that NBNY did during the Festival of Ideas for the New York City this past May in collaboration with the New Museum and Audemars Piguet, in which she had a small performance. "When I went to their website a few weeks later, I saw the open call and of course had to submit my work," she wrote in an email.
On Saturday, Smolarz plans to present her video project Freund Hein (2007). For the piece, she invited individuals of various ages to act out their own deaths on camera in her studio on Manhattan Avenue in Greenpoint, while she filmed the "sometimes comic, sometimes tragic results."
"There is a great degree of embarrassment involved in exposing untimely thoughts and feelings about the death question," she wrote. "The existentialist drive of this subject has basically no place in our daily routines. We tend to block the full confrontation in various ways, which the project shows without judging the process or manipulating it."
Photographer Nathan Kensinger has a slightly less morbid, but equally interesting project planned for Bring To Light. He's been taking photos along Greenpoint's waterfront for years, and will be projecting images that he's captured of the inside of the Greenpoint Terminal Market onto the side of one of its buildings tomorrow. "The photographs were taken over the past five years, and will be presented along with the story of the buildings, which date back to 1890," Kensinger wrote in an email. "They have a long, dark history: a century ago, a thousand workers rioted in the streets in front of the Greenpoint Terminal Market, in the same streets where Bring To Light will take place."
Greenpoint-based roving curatorial art organization Ugly Art Room plans to offer the public a peep show or rather Peep Show, an installation built by the artist Scott Chasse. The 7-foot-wide black-light box, with the word "PEEP" illuminated in red on top, and seven View Masters arranged across its face, offers viewers seven rotating images from seven artists, including Ian Addison Hall, Zach Hyman and Carrie Shaltz, Nicolas Maloof, Katherin McInnis, Chris Mottalini, Hannah Lamar Simmons and Bonnie Simmons and Bob Weisz.
"Amongst the sea of light-eruption and fanfare at BTL, Peep Show will offer a more introspective, inner light," Jennifer Galatioto of UAR  wrote in an email. "Imagine the small curiosity shadowed from the larger spectacle."
Whether luminous, ugly, or somewhere in between, this year's Bring To Light will certainly surpass last year's in size and scale says Vogt. The festival has met with a great deal of community support, and a dozen or so local businesses, including Red Star Bar, Le Gamin Café and Silk Road Cycles, plan to stay open late as well Saturday night, in the hopes of establishing a symbiotic relationship with Bring To Light.
"It started as a block party on a single street, and this year it's now moved into a sort of next level," Vogt said. "The idea was [Greenpoint] was a place where we could do it, where there was neighborhood support for it. That neighborhood support has only grown in the last year. We really support, what we believe is–to borrow somebody else's term–'a naturally occurring cultural district' here in this area."