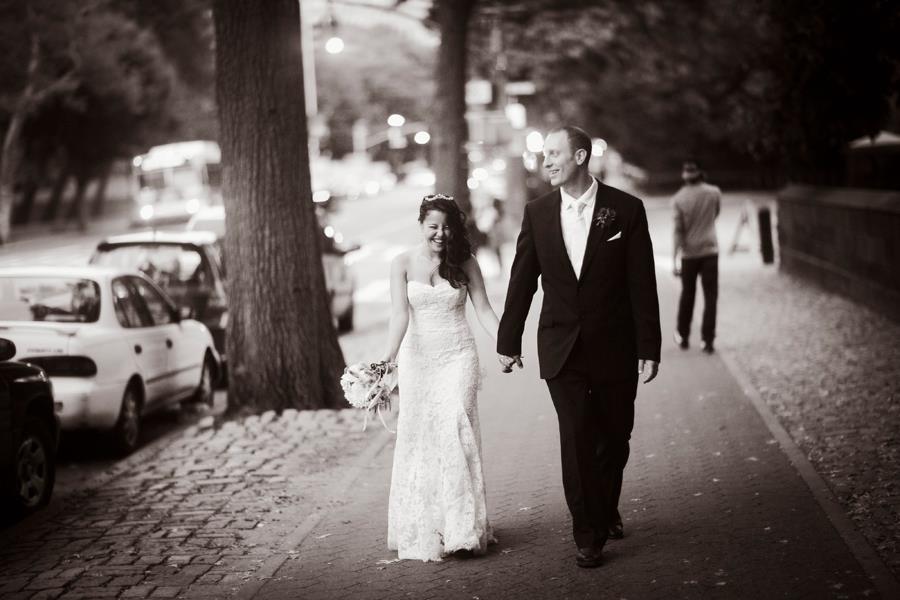 Juanita Chisler met Carlo Soranno in 2009, while she was visiting New York, just before she was about to move to South Korea.  Their mutual friends, Edene and Te, had suggested that they all get together while Juanita was in town, so Carlo had a backyard barbecue at his apartment.
After an evening full of fantastic food and a guitar sing-a-long, Juanita and Carlo found themselves chatting in the living room. They talked for hours–about her upcoming move to Korea, about his work as a chef and about their lives. At the end of the night, her second to last in New York, he asked her to dinner.
Of course, she said yes.
Over dinner, Juanita mentioned she'd rather spend money on food than spend money on shopping, which pretty much sealed the deal for Carlo. The two were married on September 10, 2011 at Landmark on the Park at 76th and Central Park West.
Juanita Chisler Soranno, 25, is the executive assistant at Wells Fargo and Carlo, 37, is a founding partner and executive chef at My Chef Direct. He also creates the menu for 8th Street Wine Cellar in the West Village. The couple lives in Park Slope, but their journey to matrimony took them from New York to Korea and back again.
In February of 2010, Carlo visited Juanita in Korea. He had stopped in China first, and climbed the Great Wall with an engagement ring in his pocket. Once in Korea, he put into action an elaborate proposal plan that required a great deal of orchestration and help from their friends and family to keep secret. He took Juanita to the Park Hyatt Seoul, where unbeknonwst to here, they were spending the night, and started the evening with jazz and mojitos at the Timber House. "Carlo said we couldn't spend too much time there since we still had to make it for dinner," Juanita explains. "As we came out of the elevator, he asked me if I'd like to have dinner in our room. Our room!" Once inside he gave her a book he had made, comprised of letters, emails, pictures–almost the entirety of their relationship in one place. "I turned to the first page and recognized it was my blog entry from the day I was flying to New York City with my friends the first time we met," she says. "I started to flip to the next page and he asked me to read it to him. I laid my head in his lap and began to read." When she got to the end of the book he told her he had a question for her, got down on one knee and proposed.
Of course, she said yes.
After room-service dinner the newly engaged couple went back to the Timber Room to celebrate. "On the elevator, we saw the jazz singer," says Juanita. "She was the first one we got to tell our big news to. When she came back from her break, she asked if anyone knew a good song for a newly engaged couple. She decided on a song neither of us had heard, 'How Do You Keep the Music Playing.' Such a great ending to the perfect day."
The couple's wedding incorporated Juanita's Filipino heritage and Carlo's Italian roots, as well as friends and family from all over the world. Juanita's sister flew in from Vietnam, a friend from Korea, friends and family from California, Kansas, Wisconsin and New York. Their first dance was "Smash into You" a mashup of Beyonce and Jon McLaughlin. Even the food reflected their vibrant and diverse backgrounds and interests. Guests dined on whole roasted pigs–a Filipino tradition and enjoyed gelato as part of the dessert in homage to the Italian side of the union. The almond cake with raspberry chocolate ganache filling and sweet cream cheese frosting was from One Girl Cookies in Brooklyn–the frosting matched the lace on Juanita's Monique Lhuillier gown.
The couple just returned from their honeymoon in South Africa, where they spent time in Hermanus during the Whale Festival, Cape Town and Johannesburg, as well as the Sabi Sands Private Game Reserve. "Nothing says, 'I'm committed' like running from rhinos together," Juanita jokes.  As for married life? They're settling in. "Living together and day to day life is the same, but now it's more" Juanita says. "The unconditional love and lifelong commitment to one another can't really be put into words. It's amazing."