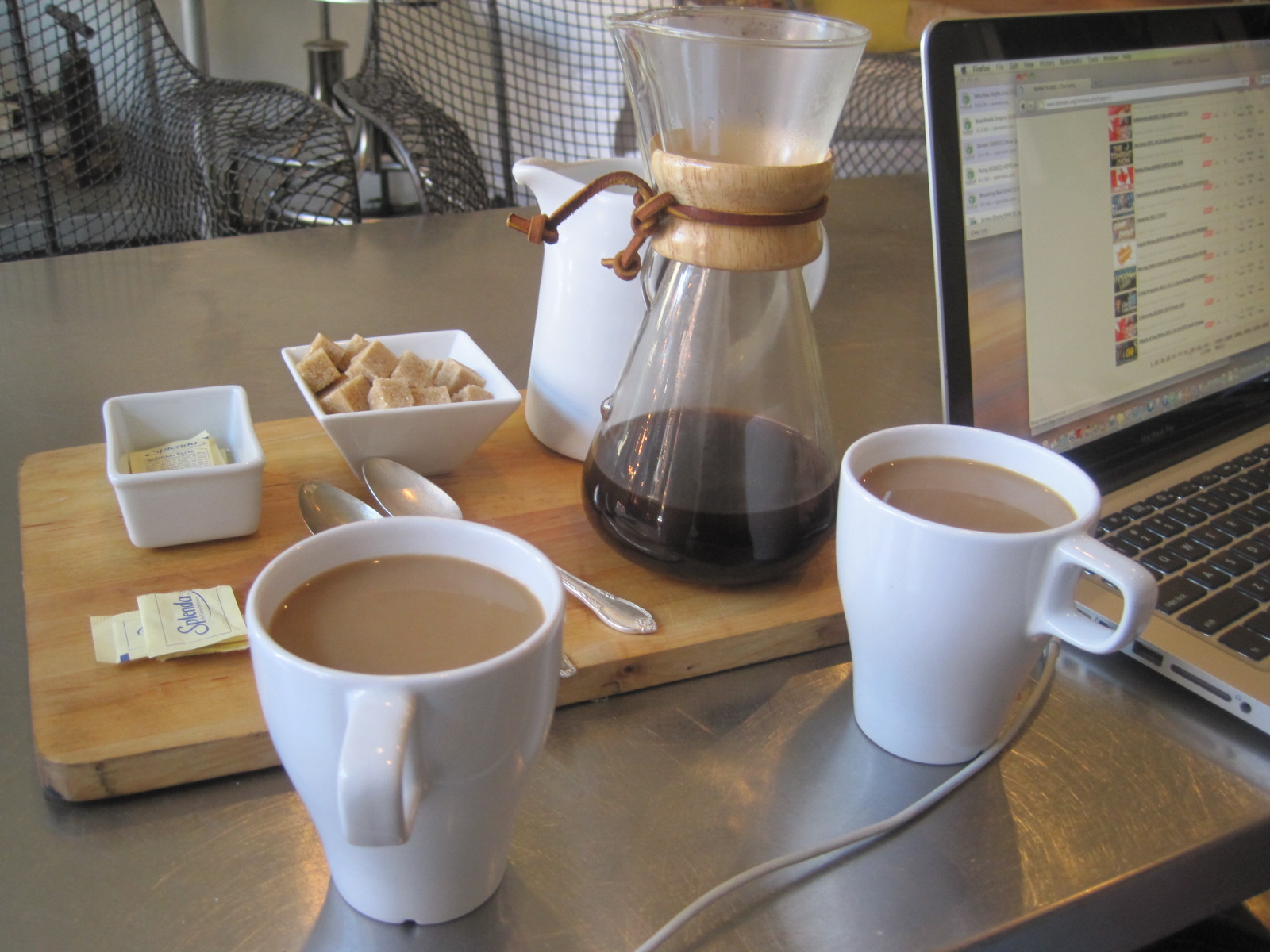 Looking for a coffice south of Atlantic Avenue? Here are our picks. Check out Williamsburg, Greenpoint and Bushwick cafés here and Bed-Stuy, Clinton Hill, Fort Greene, and Prospect and Crown Heights here.
Baked, 359 Van Brunt Street
Layout/Aesthetic: 4.5
Baked is minimal in its décor, but effective. The orange on wood color scheme is fun and unique. The booths are comfortable and perfect for sitting and working. Though Baked is primarily a bakery, it functions perfectly as a coffice and is definitely among the best I've been to.
Vibe: 4.5
This is one of those places that actually seems to encourage customers who want to sit and work. Somehow, the deliciousness that seeps from every pore of this place adds to the vibe. Also, when I walk into a place where I intend to spend some time and there's a stack of magazines that include Entertainment Weekly and GQ, and Louder Than Bombs is playing on the sound system, it warms my heart.
Coffee: 4
So, we meet again Stumptown. Baked offers a choice of two different Stumptown roasts, one of which, the Hairbender has none of the cloying, sour taste that tends to ruin most Stumptown coffee.
Wifi: 4
To be clear, anything above 10mbps on Speedtest is 4.5, and Baked hit 17 mbps on download, which puts it among the fastest cafes for wifi. Oddly, Baked's internet also has a incredibly fast upload speed, which usually doesn't matter very much, but there's circumstances under which such a fast upload could come in handy. In short, this is one of the best places for wifi in Brooklyn.
Plugs: 4.5
Nearly every single little booth has an outlet, save for maybe one. I'm very impressed.
+1.5 For their incredible treats, Baked deserves the coveted extra .5. Don't leave Baked without buying a salted caramel bar.
Total: 23
This is without a doubt one of the top three coffices in Brooklyn.
Home/Made, 293 Van Brunt
Layout/Aesthetic: 5
Upon entering this posh coffee shop, the ambiance is immediately striking. Home/Made is a delicate, classy looking little cafe. However, Home/Made also adds in a rustic vibe– bulbous pumpkins and gourds crowd the window on top of an old-fashioned desk chair, strange looking rusted tools decorate the interior and the walls are hung with full sized oil paintings. Somehow, Home/Made manages to achieve the perfect happy medium between homey and classy.
Vibe: 4
The barista with the emo haircut seemed aloof at first, but he turned out to be quite kind and very informative about the neighborhood. Home/Made has a full menu of somewhat fancy food but they had no problem with my cofficing, and they've got a beautiful outdoor seating area.
Coffee: 4.5
Home/Made carries Kitten brand coffee beans which I can easily add to my favorites list.
Wifi: 4
I assumed that being so close to the water would somehow result in a poor signal. I was dead wrong. Home/Made's unlocked wifi network clocked almost 10mpbs and was completely unrestricted.
Plugs: 3
They're a bit hidden but the table and couch in the front of the room are very outlet accessible, otherwise it's a stretch.
+1 for Balthazar baked goods and a full menu including bacon-wrapped dates and all kinds of other delectables.
Total: 21.5
Don't judge this book by its cover. Home/Made seems almost too nice to be a coffice, yet it's among the best and not too expensive.
Fall Cafe, 307 Smith Street
Layout/ Aesthetic: 4
Fall Café is pretty bare bones. It's not full of eye candy, the architecture has no thematic leaning and there's very little décor but really, who needs all that? I'm not sure how long this place has been here but it has a feel like an old-school Brooklyn café and it has plenty of tables while still remaining spacious.
Vibe: 4.5
There are signs a-plenty stating their wifi policy. Some might take the ever-present signs as an affront, but really it's not. Some people simply don't understand coffice etiquette and for them it's good to have signs that remind customers that camping out for eight hours after buying one cup of coffee is not cool. The barista was really nice and charming. When I asked whether he's ever enforced their wifi policy by kicking out patrons for camping, he assured me that it's never happened.
Coffee: 3
The coffee here is nothing to write home about, it tastes like very good gas station coffee. There's not much to comment on flavor-wise, but there's nothing offensive either. A cup of Fall Café coffee will deliver the necessary caffeine, but I wouldn't expect much else.
Wifi: 4.5
This is some very fast wifi clocking in at 8mbps on Speedtest.
Outlets: 4
Near perfect. I can find maybe one seat where grabbing an outlet would be a pain but otherwise, it's a good outlet set up.
+.5 for baked goods that look and smell fresh
Total: 20.5
Fall Café offers great vibes, decent coffee, and a comfortable workspace.
Postmark Cafe, 326 6th Street
Layout/Aesthetic: 3.5
Postmark is simple and straightforward in appearance. Half the room is exposed brick and besides a corkboard covered in postcards, the walls are pretty much bare.
Vibe: 4
Postmark doesn't bowl me over with its coolness, but that's not really what a good coffice does. The café is understated, which gives it a relaxed feel that surpasses most other coffices. You can tell that this is a place people rely upon and I think if I were a Park Slope resident, this would be my coffee shop of choice.
Coffee: 4
This is the first coffice I've been to that brews Puerto Rico Coffee Co. While the espresso seemed a bit underwhelming, the drip coffee was near perfect. Also helping the score here is the affordability factor, this is some of the best cheap-yet-good coffee in Brooklyn
Wifi: 4
On Speedtest, Postmark clocked 7mbps and it's unrestricted and that's with a full house of people sucking down wifi alongside their lattes.
Plugs: 4
Postmark is well covered with big block outlets. This place could be full with pretty much every patron plugged in. Good show.
+.5 for some baked goods
Total: 20
Postmark is definitely the best coffice in this section of Park Slope, and what it lacks in flash it makes up for in functionality.
Roots Café, 639A 5th Avenue
Layout/Aesthetic: 4.5
From the name, I expected an urban hip-hop theme. Instead, Roots Cafe exudes a southwestern transplant style with some of the best wall art I've seen at any café, and a general Day of the Dead meets rock-and-roll motif. Aside from cool paintings (such as one of Van Gogh with a Mohawk) there are all kinds of trinkets like guitars, and badminton rackets on the walls.
Vibe: 4
Nothing really to complain about. Some people are chatting, most people are working. There's slow, sultry alt country playing at the proper volume, good ventilation and decent seating.
Wifi: 4.5
Again, amazing wifi in Park Slope, Roots clocks in at 9.8.
Plugs: 3.5
One wall is full of outlets and the other wall has only one outlet.
Coffee: 2
Many places that brew Stumptown manage to make it sour and unpleasant and Roots is no exception.
+1 for fancy tex-mex food.
Total: 19.5
Flying Saucer Cafe, 494 Atlantic Avenue
Layout/Aesthetic: 4.5
When I first heard the name of this place I worried that the saucer reference would have nothing to do with alien spaceships, which is why I was thrilled to catch some alien imagery as soon as I walked into Flying Saucer Café. Otherwise, Flying Saucer is a shaggy, weird-looking, spacious coffee house that looks like the type of place where conspiracy theorists gather to discuss the Kennedy assassination. Honestly, the ambiance here is superb. It's comfortable, it's weird, it's home.
Vibe: 5
Very nice baristas who reflect the weird-but-cool vibe of the place. A big chessboard and soft, homey couches just makes Flying Saucer so welcoming that I really felt like I could stay here all day. An amazing backyard puts this place over the top
Coffee: 3.5
Never will I ever preemptively judge a coffee shop on its beans, because one thing I've learned as a coffee drinking adult is that beans don't make the cup. Between the brewing machine and the barista there's gigantic margin of error. Remember when everyone thought Stumptown was the golden-egg-laying-goose of coffee? Yet, half the places that serve Stumptown, don't have very good coffee. The same goes for Counter Culture. Point is, this place brews Gorilla Coffee and I'm not sure if it's psychological, but I enjoy it better here than at Gorilla, which was one of the low-ranking spots on last year's Coffices.
Wifi: 2
No! This was Flying Saucer's downfall. It took me a while to get the connection up and running, and once it started working it clocked a 2 on Speedtest. Bottom line, the wifi is a bit wonky but everything else about this place is so perfect.
Plugs: 3
There are plugs but not as many as necessary. Another weak spot in this otherwise fantastic coffice.
+1 for baked goods and sandwiches with funny names like Paddington Bear and Hipster Hoppidity.
Total: 19
Flying Saucer reminds me of that old couch from your childhood home that you brought to your first apartment and haven't gotten rid of since. It's soft, full character and you can always depend on it for comfort.
Building On Bond, 112 Bond Street
Layout/Aesthetic: 3.5
This place isn't exactly a coffice–it offers table service and lunch–but it smartly functions as a coffice during the afternoon when it's slow. There's nothing to complain about looks or layout wise. There's plenty of space, and a sort of southern diner-meets-pub feel.
Vibe: 4
In a sense, restaurant coffices like this one always have a good vibe because there's a lot space and booths which give you a more solitary feel, but you trade that luxury for paying a tip and feeling like you're rushed. Here, I wasn't pushed into table service or rushed. People were also quite nice. It's almost like Building On Bond is one of those secret coffices, a restaurant that allows coffice goers space during the day when they're slow. These places are a real find if nobody knows about them. Sorry if I'm ruining it for those who do.
Coffee: 4
The Atelier coffee is strong, balanced and aromatic, but not burnt. Score another one for Building on Bond.
Wifi: 3.5
They scored 3mbps on Speedtest, which may seem slow compared to other places, but anything above 2.5 is more than one really needs for most work activities. The wifi is solid, only issue (though understandable,) it goes off at 4pm.
Plugs: 1
Every coffice has its weak spot. Here, outlets are a major weakness. They exist, but they're hard to get to. It may seem unfair, why would a restaurant need outlets near the tables? But, from a coffice point of view, my battery is running red.
+1 for big pub food menu and baked goods.
Total: 17
If you want a quiet workspace before 4pm, this is a great option and the coffee is excellent.
Red Horse Café, 497 6th Avenue
Layout/Aesthetic: 3
Nothing about the look of Red Horse Cafe really grabs me except for the fireplace. The brick wall is nice, but in general the ambiance feels a little generic, less a reflection of the name than I would have thought. When I was walking out, a cop remarked, "This place is like the cafe from Friends."
Vibe: 4
Still, there's a really comfy vibe here. They make good use of the space, there's varied seating and the modern music that isn't too loud. The baristas are nice and everyone is getting work done
Coffee: 3.5
Pretty good coffee. Tastes like Stumptown but more acidic, makes for better afternoon coffee than morning coffee.
Wifi: 3.5
At 2.8 mbps, this is faster than I usually get in my apartment and I pay Time Warner like $50 a month. Definitely okay for a coffice.
Plugs: 2
A weakness here. I only spotted two outlets. Power strips would do a lot of good, but as of now you need to grab a choice table to plug in.
+1 for all kiinds of food but especially for the hard boiled eggs!
Total: 17
Red Horse is a solid, dependable coffice, but it's no Central Perk.
Cafe Regular, 318 11th Street
Layout/Aesthetic: 4
It's hard to hold this place's smallness against it especially with such stylish interior. The inside of Regular has this French bistro feel and nice line of outdoor tables that make you feel like a mobster sitting outside a social club.
Vibe: 2.5
Café Regular is too stuffy inside and the barista doesn't seem thrilled to be here. It's hot inside and the espresso machine doesn't help that.
Coffee: 3.5
La Colombe, which is becoming one of my favorite bean choices, and they brew it well.
Wifi: 4
I'm starting to think that wifi simply is better in Park Slope. 5.91 on Speedtest.
Outlets: 3
There are only two outlets but they go a long way in this tiny space. The ultimate coffice would have outdoor plugs…only in my dreams.
Total: 17
This is a good place to go to if you want to sit outside.
Ted and Honey, 264 Clinton Street
Layout/Aesthetic: 3
Ted and Honey has that earthy, local-farm, veggie co-op thing going for it. The coffee is self-serve, and there's a nice outdoor table if you can snag it. Otherwise, the large bar takes up a lot of space, making the rest of the coffice a tad snug.
Vibe: 3.5
The vibe here is relaxed, no pressure, smile on your brother and love one another right now. The large community table brings a social vibe, but there are options for type of seating space.
Coffee: 2.5
Sadly, the beans Ted and Honey uses, from D'Amico down the street, tasted quite burnt, comparable to a cup of Starbucks drip, which is not a good. It's better than the other not-so-goods, but it's not-so-good.
Wifi: 1
It could have been the day, but this wifi is incredibly slow, too slow in fact to test its speed.
Plugs: 3.5
I counted four outlets which covers most of the room but there are still some spots that aren't very plug accessible
+1 for full and extensive menu
Total: 14.5
Ted and Honey is a good place to get together with friends on a cool fall evening and plan your future commune, but not the best place to try and make your deadline.