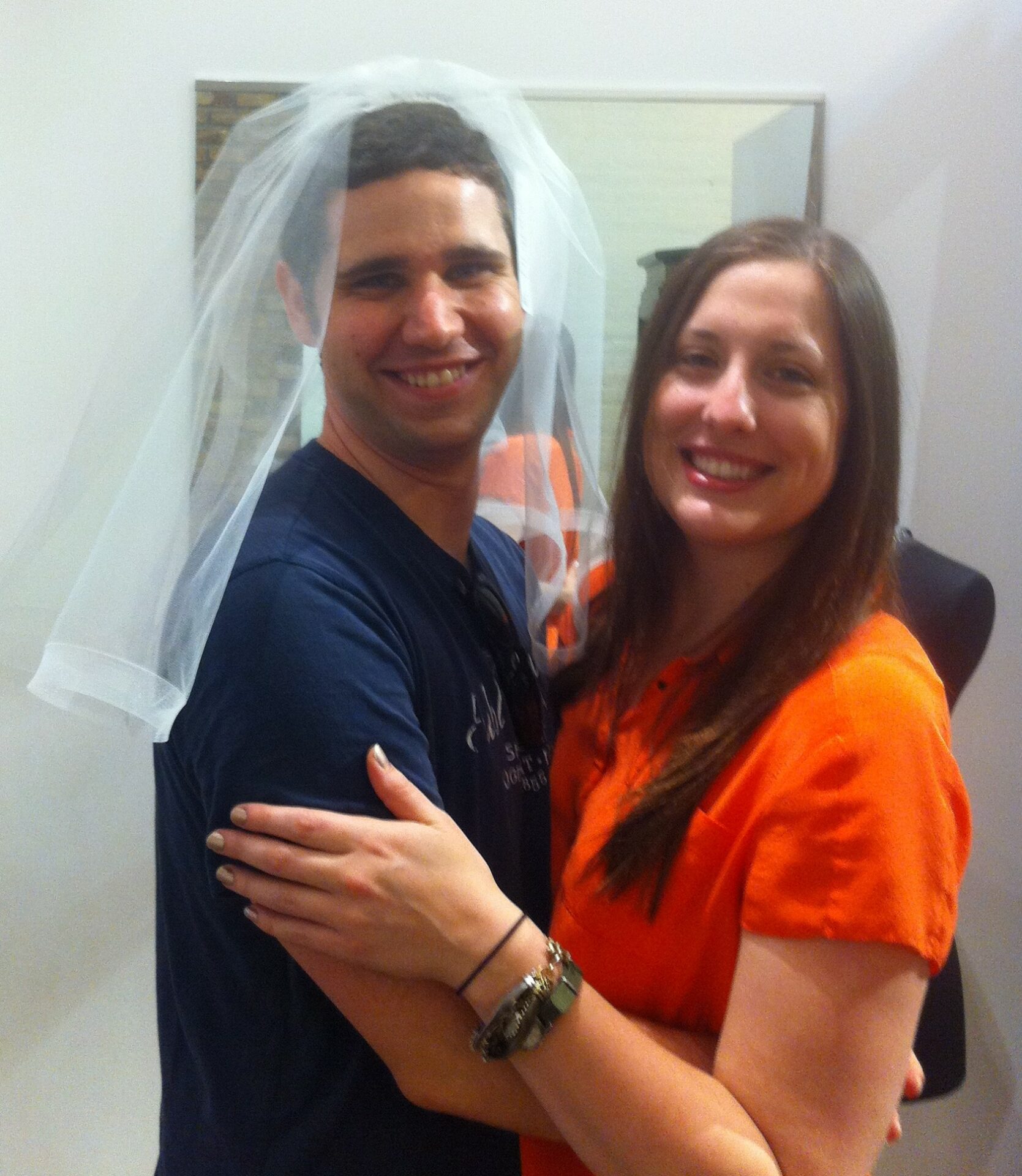 Stephanie Bergsma and Evan Gregory remember the first day they met in detail. It was in Brooklyn on August 28, 2000 moving into their freshman dorm at Pratt Institute in Clinton Hill. Their rooms were just one door apart and they recall exchanging glances while carrying their belongings through the long narrow hallways.
On day one, Evan knocked on Steph's open door to politely ask to borrow a tool from her dad. That night Evan tried to chat Stephanie up at the dorm orientation. Stephanie was distracted by Evan's handsome high school friend and roommate.
Day two, Stephanie was locked out of her room while picking up a prepared lunch for freshmen and knocked on Evan's door to ask if she could sit with him and eat until her roomie returned with the keys. Evan also had his prepared lunchbox and they compared the contents. They both received an sandwich and chips but only Stephanie had an apple. Evan finished his lunch quickly, so Stephanie gave Evan her apple and watched him eat it and grin at her.
Soon after, they became inseparable, exploring New York together and discussing art at the Guggenheim. Stephanie made the first move by holding Evan's hand at the Court Street movie theater while watching the The Cell, a terribly inauspicious film for what turned out to be movie-quality romance.
Today, they live in Clinton Hill. Stephanie, 29, works for Oscar de la Renta as the apparel technical design director, engineering the fit of collection. Evan works at the Ethan Ellenberg Literary Agency, in Soho, as an associate literary agent representing authors for domestic and foreign publication. They share their apartment with Bruce Wayne, their very sophisticated and litter box-trained dog. Together they helped found the Greene Harvest CSA and they are both active in a local community garden. Stephanie has also been working with MARP to create a dog run on Park Avenue, under the BQE.
Though they've known each other for 11 years now, they both experienced moments in their relationship that made them realize that they had truly found the love of their lives. Evan knew Steph was the one because her never-ending support in the face of professional frustration. "She stuck with me during a three-year stint when I had to work an hourly job in retail while trying to break into a publishing career," he says, "it was terrible."
For Stephanie, it was a more precisely defined moment. "When I had appendicitis and had to have surgery and I was terrified because I had just watched a show about patients who are 'trapped in their own bodies' because they can feel the surgery even though they are under anesthesia," she explains. "I was obsessed with the possibility that my body would be put to sleep but my mind would still be awake feeling agonizing pain. I was crying for about 10 hours before surgery. Evan could not stop laughing at me. He would not take my terror seriously. It was more comforting than a thousand. 'It's going to be OKs.' That's when I knew for sure that he is 'the one' for me."
Evan and Steph have discussed marriage for years, but both said that now just feels right. "We once, half-serious-half-joked that we wouldn't marry until gays and lesbians could do exactly same," says Steph. "It still hasn't happened completely, but New York is on board and the timing just feels right, finally, so we let go and allowed ourselves to get swept into party planning."