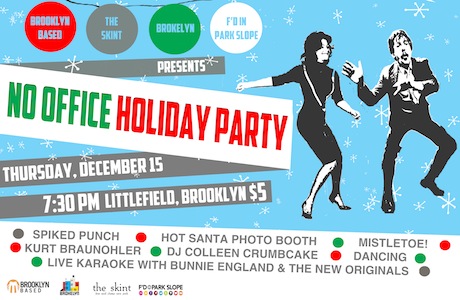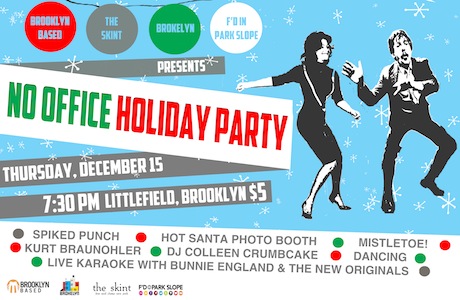 Like a number of our readers, the word "office" doesn't hold a lot of meaning for us beyond a laptop and an iPhone, a couch and a few of our favorite coffices.
But just because we don't have to shower before work doesn't mean we don't deserve to celebrate our achievements (and continued employment!) this year, and all the time we wasted on You Tube. We deserve an office party, and so do you.
Together with our blogger brethren—Fucked in Park Slope, the skint, and Brokelyn—we're throwing the "No Office Holiday Party" Thursday, December 15 at Littlefield. If you work from home or don't work at the moment, or your office can't afford to party this year, this holiday shindig is for you.
Starting at 7:30, you'll have time to unwind with spiked holiday punch ($3 for the first hour, $5 after), get a photo with a hot Santa in the Shootbooth photobooth, and exchange Secret Santa gifts. (Your old copy of Motherless Brooklyn, homemade cookies, a box of Entenmann's–almost anything is fair game and guarantees you a gift in exchange.) And if you purge your worst work memory of 2011 on paper–specifically the worst thing a co-worker, client or boss has said to you this year–Kurt Braunohler may just use it as fodder for his short stand-up set before Bunnie England + The New Originals perform an hour of live band karaoke. (We'll probably be too chicken to take the mic, but our fingers are crossed we hear Blister in the Sun and Stop Draggin My Heart Around.)
Once we've embarrassed ourselves enough, DJ Colleen Crumbcake of Popshop will bring on the soul, funk, new wave and hip hop.
The cover is $5–enough to cover copious amounts of mistletoe and all our good cheer. Hope to see you on the dance floor. RSVP here.