The neighboring towns of Edison and Iselin, New Jersey are home to one of the largest and most diverse Indian communities in the U.S. The population is a microcosm of India–and its cuisines. Having been raised by parents from different parts of the country (Bangalore in the south and Allahabad in the north), I grew up appreciating the vast culinary differences between the two regions, and eagerly trying Indian foods from all over–it's not all naan and chicken tikka masala. A trip to Edison is my go-to for a sampler of subcontinental flavors, and where my family would often head on the weekends to shop and snack.
Unlike Queens, which is home to a broad South Asian community including Indians, Pakistanis, Bangladeshis and Caribbean Indians, Edison and Iselin are home to a concentrated community of mainly Indians, hailing from all regions of the country. It's an ideal destination for sampling authentic dishes from Gujarat and Karnataka to West Bengal and Uttar Pradhesh.

The heart of the Indian neighborhood, and the eating epicenter of the area, is the intersection of Oak Tree Road and Wood Avenue, where Edison and Iselin meet. From Manhattan, you can take NJ Transit to Metropark (leaves Penn Station every 30 minutes on the weekend, $10 each way, 43-minute ride) and then a quick cab ride (around $5). Arrive hungry and ready to explore the vibrant mix of  Indian restaurants, kitchen shops, grocers, sari and jewelry shops and Bollywood cinemas.
I'd recommend starting with a few snacks while you get acclimated; expect a lot of hustle and bustle–just like in shopping bazaars in India. After you've snacked, stroll the shops, then pick a restaurant, I've outlined a few favorites from regions around India.
The first stop is Jassi Sweets Center (12 Marconi Avenue), a no-frills hole-in-the-wall in a strip mall serving Punjabi food. Don't let the name fool you though, you can find some of the best savory snacks here like chole bhatura (fried bread with chickpea curry), papri chaat (crunchy chips, yogurt and sweet and spicy chutneys) along with fresh sugar cane juice. I also like to get their boondi raita, which are little fried balls of chickpea flour in spiced yogurt. Try it all–the prices are very cheap.
Next is Dosa Express ( 1170 Green Street), the South Indian place I go to with my mom and aunt, who are definitely discerning Bangalorians. You can really tell how good a Bangalore restaurant is by their sambar (spiced lentil soup) and this place does not disappoint. It comes with any of the dishes you order–dosa (fermented rice and lentil crepes), idli (fermented rice and lentil steamed dumplings), vada (fried savory lentil donuts) and I suggest you try them all. One warning: the ladies who work at this place are MEAN, but I guess you don't go to Dosa Express for the ambiance.
For a little break between snacking and sit-down, check out a few markets. I spent many weekends in Patel Brothers (1361 Oak Tree Road) and Subzi Mandi (1518 Oak Tree Road) with my mother,  gaping at all of the different vegetables and spices, while she shopped for the week. You can find some really great pre-made batters for dosa and idli and prepared breads, and I also like the selection of Indian beauty products made from natural ingredients. At both markets you'll find spice mixtures; I like the ones made by MTR, especially pav baaji, sambar, rasam powder and tamarind rice. Stock up on Indian pickles, too. Mother's Recipe and Badekar brand are both good and check out Patak marinades. These stores are also great places to find ingredients like frozen fresh coconut, green chilis and curry leaves that are hard to track down elsewhere.
At this point you may want to take a side trip down Oak Tree Road (it's about two miles, a short cab ride or you could walk to reignite your appetite) to Calcutta Chinese (2090 Oak Tree Road), one of my favorites. The owner, Kuang Hou, who is Hakka Chinese (an ethnic group found mostly in southern China, many of whom have emigrated throughout Southeast Asia and India) and a fourth generation Indian. The menu offers up authentic Hakka Indian cuisine from the Chinese-Indian neighborhood of Tangra in Calcutta, where Kuang is from, like Broccoli Paneer Manchurian, below.
Don't miss the vegetable pakoras (they might sound boring but trust me here!), Hakka lomien noodles, Manchurian cauliflower, Manchurian broccoli paneer, chili chicken, Manchurian fish and ginger chicken. Oh, and make sure to get at least one soup, the Calcutta hot and sour and vegetarian tom yum (Kuang learned Thai cooking working in his cousin's deli), are both delicious. The good news is that Kuang is opening up another location closer to the rest of the Indian shops in the near future.
If you're more in the mood for higher-end North Indian cuisine, Moghul (1655 Oak Tree Road) is the go-to, specializing in breads, tandoor (clay oven specialties) and rich curries. This is where my family would go for special occasions and everything on the menu is delicious. To try a variety of the dishes, I'd go for the weekend buffet–you will not be disappointed.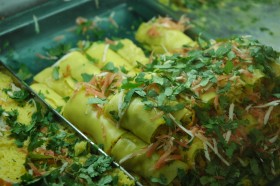 For the best Gujarati food, go to Jhupdi (1679 Oak Tree Road). You sit down on the floor at these low sankheda tables to dine and it reminds me of the experience you get at Vatan, the best Gujarati restaurant in Manhattan. Gujarati food is known for its sweet and savory flavors, and is a purely vegetarian cuisine. At Jhupdi I go for thalis, a mixed platter of items usually served on a stainless steel plate with all of these little bowls or katoris filled with samplings of different items. A typical thalis might include khichadi (a rice and lentil dish), methi theplas (fenugreek leaf flatbread), khadi (yogurt curry), baigan bharta (eggplant), khandvi (savory chickpea flour and yogurt rolls) and undhiyu (mixed veg), curries and of course the variety of sweets Gujaratis are known for like puran poli (sweet lentil-stuffed wheat bread). For appetizers, their dhoklas (spongy lentil cakes with chutney) and chaats are not to be missed.
I'm not a big fan of Indian sweets, but whenever my parents would bring sweets to friends or relatives, we'd go to the famous Gujarati sweet shop chain, Sukhadia's Sweets (1507 Oak Tree Road). They are known for their jalebi (honey-soaked fried batter in shape of pretzel) and I like their coconut barfi, cashew katri and carrot halwa. You can also find some savory specialities like khandvi (chickpea flour and yogurt rolls) and dhokla there. There's also a satellite location in Midtown to hit up, if your trip to Edison leaves you wanting more.
We've created a google map to help you find your way from dosa to tandoor.