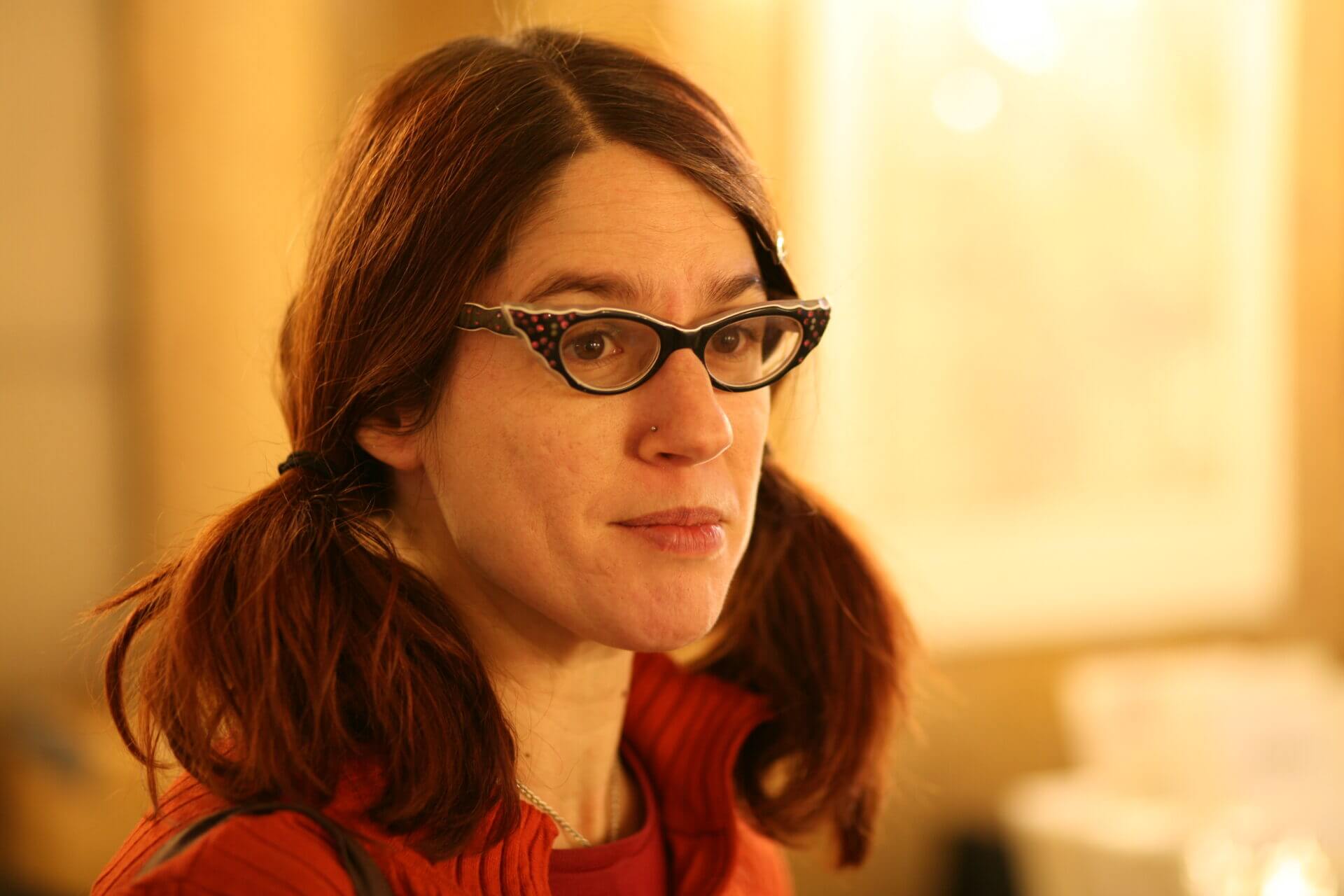 Name: Reina Brill
Age: 40
Occupation: Sculptor
Neighborhood: City Island, Bronx
Relationship Status: Married
Reina Brill might live in the Bronx, but we have a feeling she'd fit right in, should she ever decide to move to Brooklyn. When she's not taking care of her 3-month-old twins— a boy and girl named Waverly and Thora— she's working on one of her creature sculptures. Her half-human, half-animal creations may be intended to exist in a child's world, but her work, which is a mixture of resin, ceramic and wood with knitted wire she manipulates on vintage knitting machines from the 1920s and 1960s, are so extraordinarily cute, we wish we could collect them all.
We came across Reina at the Brooklyn Flea where her orange ensemble and cat-eye glasses were a cheerful burst of color early in the morning. She has a personality to match. Ecstatic to be out for the day while her mother-in-law watched the babies, Reina was making a beeline for the vintage eyewear at Today's Vintage Designs, but we had to stop and ask her: What'd you do this weekend?
Friday: Friday I was home with my babies. I took them out–double stroller–and we walked around City Island. That was my Friday. There's a lot of nature there and we have a beach at the end of our block. City Island's awesome. There's a little bridge you have to cross and boats. It's really sweet. A great little city with like 4,500 people, but it's still part of New York City. We stopped by a little market called Connie's. It's a little mom and pop market. Right now I'm a little limited because it's hard to get out with twins. For dinner, I made a big stew. We're vegetarian, so I made this tempeh, kind of Indonesian-spiced stew with coconut milk.
Saturday: Saturday morning, I returned baby stuff, which is boring, and I walked around the island. I love it. There's a lot of Victorian homes. It's a really old community, so there's no home that's the same. There'll be a Victorian home next to a very typical Bronx home. Everyone knows everybody, and I enjoy seeing people I know. I used to live in Manhattan, and I've never had this kind of community before.
Saturday my mother-in-law came over. It was nice to have her with me. While she was babysitting, I began work on production figures. If the babies are sleeping, that's what I do.
Sunday: My husband's a vendor at the Flea. (Reina's husband is Dan Trieber of dAN's Parents House.) He's got more stuff than anybody. It's nice because I haven't been here in a while. There's so many new vendors. Bruce [of Today's Vintage Designs] has got a lot of vintage glasses that I like. Fabulous Fanny's in the East Village is also awesome. They're on 9th Street between Second and Third [Avenues] and their specialty is vintage eyewear.

Rating: 9! I'm out of the house. The grandparents have the babies. This is like a huge weekend for me. You really learn to value your free time with babies.