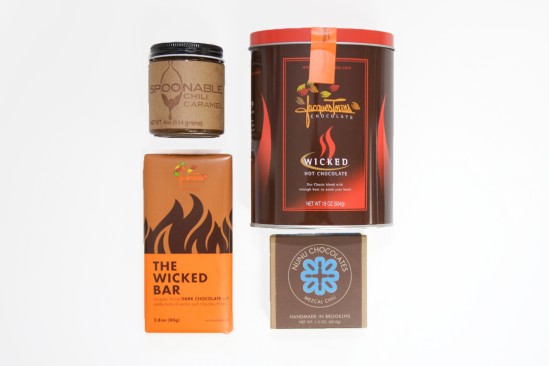 You know how every Christmas or birthday you spend hours in three different stores gathering together the right pickles, jams, chocolates and other Brooklyn-made artisan goodies to put together delicious gifts for friends and family? Or, how you've always wanted to do that but never had the time or patience?
Over at With Love, from Brooklyn, Dara Furlow gathering together the best of the borough for you (sort of like what we do here at BB, but in edible form). She's rounding up some of the tastiest and coolest Brooklyn-made products and selling them in inspired gift sets. These are not your mom's gift baskets, especially the Valentine's Day special, Hot and Bothered.
And, we have one for a special reader who is hot and bothered enough to post their favorite spicy food, drink, confection or treat in the comments below. We'll choose a random commenter Thursday at 3pm.
Here are the hot and spicy details:
This gift set ($48) includes Wicked Hot Chocolate and a Wicked Chocolate Bar from Jacques Torres, Mezcal Chili Truffles from Nunu Chocolates, and Spoonable Chili Caramel.
Jacques Torres Wicked Hot Chocolate, 18-oz tin: Feel a slow burn from ancho and chipotle chilis. European-style hot chocolate, unbelievably thick and rich, made with Jacques Torres' signature cocoa nibs and other natural ingredients.
Jacques Torres Wicked Chocolate Bar, 2.8 oz: Deep, dark chocolate with a hint of ancho and chipotle chilis. Only Mr. Chocolate could make a bar this bold––pure dark chocolate with a spicy, smoky finish.
Nunu Chocolates Mezcal Chili Truffles, 4-pc box: Dark chocolate filled with mezcal and chili ganache. These boozy, spicy truffles will get your blood pumping and leave you begging for more.
Spoonable Chili Caramel, 4-oz jar: The perfect balance of caramel richness and chili heat. This spicy caramel does double duty as a dessert topping or a tangy glaze for spareribs.