Super Bowl parties present a bit of a quandary for foodies like me. I can't stomach the thought of a whole evening spent with cans of Coors Light and boring ham-and-American-cheese sub sandwiches topped by soggy lettuce and mealy wintertime tomatoes. Yet I've found people tend to poke fun if you show up at a football fiesta with truffled toasts or pine nut artichoke dip.
Saving the day by splitting the difference: No.7 Sub Greenpoint, the borough's newest and most creative sandwich shop (and one of the first of our most anticipated 2012 Brooklyn food and drink openings to get off the ground.) For Super Bowl Sunday, the whacked-out sub shop is offering any of its sandwiches in super-sized,  six-foot versions. Fancy enough for foodies; but downscale enough for a drunken Super Bowl throwdown. BB stopped by and tasted a few of No. 7's new options.
Meat Sub: Bologna Sandwich (pictured above)
This one's primed to please everyone at a Brooklyn Super Bowl party. Impress your meathead friends with the thick-thick slices of porky bologna, but for foodies, play up the innovative toppings: Brussels sprouts, pickled red onions and a spicy vindaloo mayo.
Vegetarian Sub: Roasted Cauliflower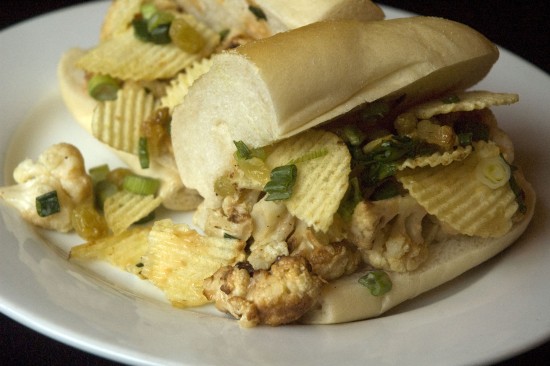 Yes, vegetarians get to watch the Super Bowl, too. Now they can enjoy it with just as playful a sandwich as the rest of us. No. 7's cauliflower sub is topped with potato chips, scallions, raisins, and smoked French dressing. Yes, it kind of sounds like something a kid invented, but it's actually a crunchy, delicious wonder.
Vegan Sub: Fried Broccoli
Even meat-and-dairy-free folks can get in on the unhealthy, oversize fun with this new sub, which adapts the popular batter fried broccoli dish served at the original No. 7 restaurant, paired here with marinara sauce, olives and banana peppers.
The six-foot Super Bowl versions of No. 7 Sub's sandwiches are $75 each. Orders must be placed by 6pm Friday and picked up by 6pm Sunday. 931 Manhattan Ave., no7sub.com, 718-389-7775
And…..More Brooklyn Super Sub Options:
Mile End in Boerum Hill has $100 Super Bowl sandwich platters that include their signature Montreal-style smoked meat with mustard on rye; salami with pickles and mustard on onion flatbread; and roasted veggies with tzatsiki sauce. Plus, they have what is pretty much the ultimate foodie-meats-footballer appetizer: poutine potato skins ($50)! But hurry—orders must be placed by Thursday at Noon. 97a Hoyt St., mileendbrooklyn.com, 718-852-7510
Baguette About It! in Fort Greene is offering full-baguette versions of each of their sandwiches this Sunday, for $16 each. (I'm a fan of the chicken breast & applewood-smoked bacon with New York state cheddar.) Order by Friday, pick up Sunday between 11am and 3pm. 270 Vanderbilt Ave., 718-622-8333
If you simply must go old-school, Graham Avenue Meats & Deli in Williamsburg is serving up six-footers of any of their classic Italian subs (the prosciutto-heavy Godfather is a favorite). $150 gets you the sandwich, 24 buffalo wings, a side of macaroni salad, and two two-liter sodas. 445 Graham Ave., 718-389-9777