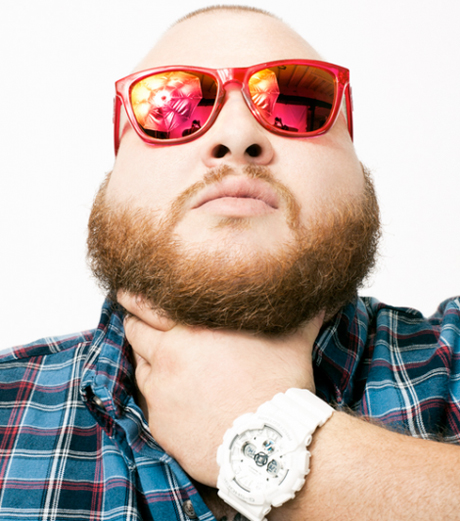 Tomorrow night, February 9, a rotund rapping chef with a bushy ginger beard and a man who named himself after the late, great, disheveled Ol' Dirty Bastard will be running amok on stage at Park Slope's Southpaw music venue. With the 5th Avenue spot having announced it will be closing on February 20, those acts, who go by the rap names Action Bronson and Mr. Muthafuckin' eXquire respectively, will claim the honor of delivering the Southpaw's last ever hip-hop performance. Bronson and eXquire might not be marquee names yet, but they're the sort of up-and-coming hometown heroes that will guarantee an appropriately enthused send-off to the venue.
Southpaw's co-owner, Mike Palms, justified the decision to close the venue in blunt terms. "I'm kind of over Park Slope–it's not a destination for nightlife anymore," he told the Brooklyn Paper. Case in point: the business set to appear in Southpaw's wake is some sort of mash-up of an educational tutoring station and a rock climbing center for kids.
Both Bronson and eXquire are coming off the back of a year that saw their profiles bloom. The Crown Heights-based eXquire benefitted from Das Racist, Danny Brown and El-P hopping on to a remix of his "Huzzah" track; the prolific Bronson's latest project is hooked around sampling '80s pop hits and will be released by the hipster Fool's Gold label. But their ascent has been propelled by persisting with the sort of untamed and grimy New York City-wrought rap that last blossomed in the early 90s–a time when the blocks around Southpaw were more likely to see a drunken Ol' Dirty straggling by (he spent time nearby) than the stroller set out for afternoon coffee. As a former chef, Bronson's raps might be peppered with references to gourmet foodstuffs, but his foundation comes from penning semi-autobiographical vignettes from the nefarious side of life. He's also fond of confessing to a habit for hookers that cost "$30 for a dick suck." Meanwhile, eXquire, at his best, excels at crafting songs devoted to the joys of over-imbibing on low-budget Georgi vodka and bragging about "pissing between cars on the C train at Euclid." In his downtime, he even admits to a few childlike pastimes–with some adult pleasures mixed in, of course. As he told MTV, "We do wild shit in here, we play video games, we fuck bitches, we color."
Uncompromising and entertainingly uncouth, neither Bronson nor eXquire are likely to find themselves recommended in Park Slope Parents any time soon. And it's that change in the local demographic–not the music the venue hosted–that's behind the decision to draw a line under Southpaw's 5th Avenue tenure.
Tickets to Action Bronson, eXquire, Soul Khan, Kyle Rapps, Illustrate and DJ Meka at Southpaw on February 9 are $15 in advance (including an hour open bar of Reyka Vodka). Doors 8pm, Show 9pm.