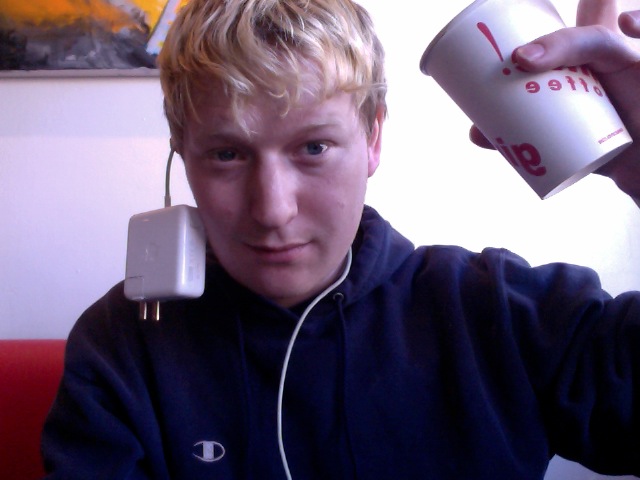 Jon Reiss has become BB's resident expert on coffices of all kinds. A few weeks ago he began a new column exploring The Freelance Life, and its advantages, foibles, and etiquette quandries. If you have an idea or a question for Jon, email us at editors@brooklynbased.com.
Today we complete this series, moving on from last week when we discussed outside food and watching NSFW content in a coffice.
Keep it Down
If you walk into a coffee shop full of people obviously working, just don't scream. Coffee shops are meant to be gathering places bustling with social activity, but use your inside voice.
Events
Usually if an event is taking place, your coffice time is up. Sometimes live music can be all right to continue working to, but any kind of reading or performance means no more laptops. You've got to read the space and not be rude.
Seat Hogging
Just like the subway, people in crowded coffee shops always try and bogart open chairs with their belongings. If a coffee shop is full, you do not have the right to occupy more than one space, and this includes the other side of your table. If you've got a visitor coming within 15 minutes, then it is allowed.
Can You Keep An Eye On This For Me?
This isn't necessarily wrong, just funny. If you work in coffee shops you've been asked by someone to keep an eye on their laptop while they go smoke or whatever and of course you've agreed. Personally, unless the place appears sketchy, I no longer do this and here's why.
If somebody actually does run into the coffice on a mad tear brandishing a blunt object and shoving laptops into a sack, do you think that that the faux-mullet wearing kid in the buffalo check shirt is going tackle him for you? I don't. Also, if you're going out to smoke, be close enough to the door that you could tackle the guy yourself. Finally, I'd like to believe that there's a social contract of sorts. If somebody beside me gets up and then another person comes up and quickly tries to grab their computer, I'd like to believe that I'm going to attempt to stop it, unless there's a blunt object involved.