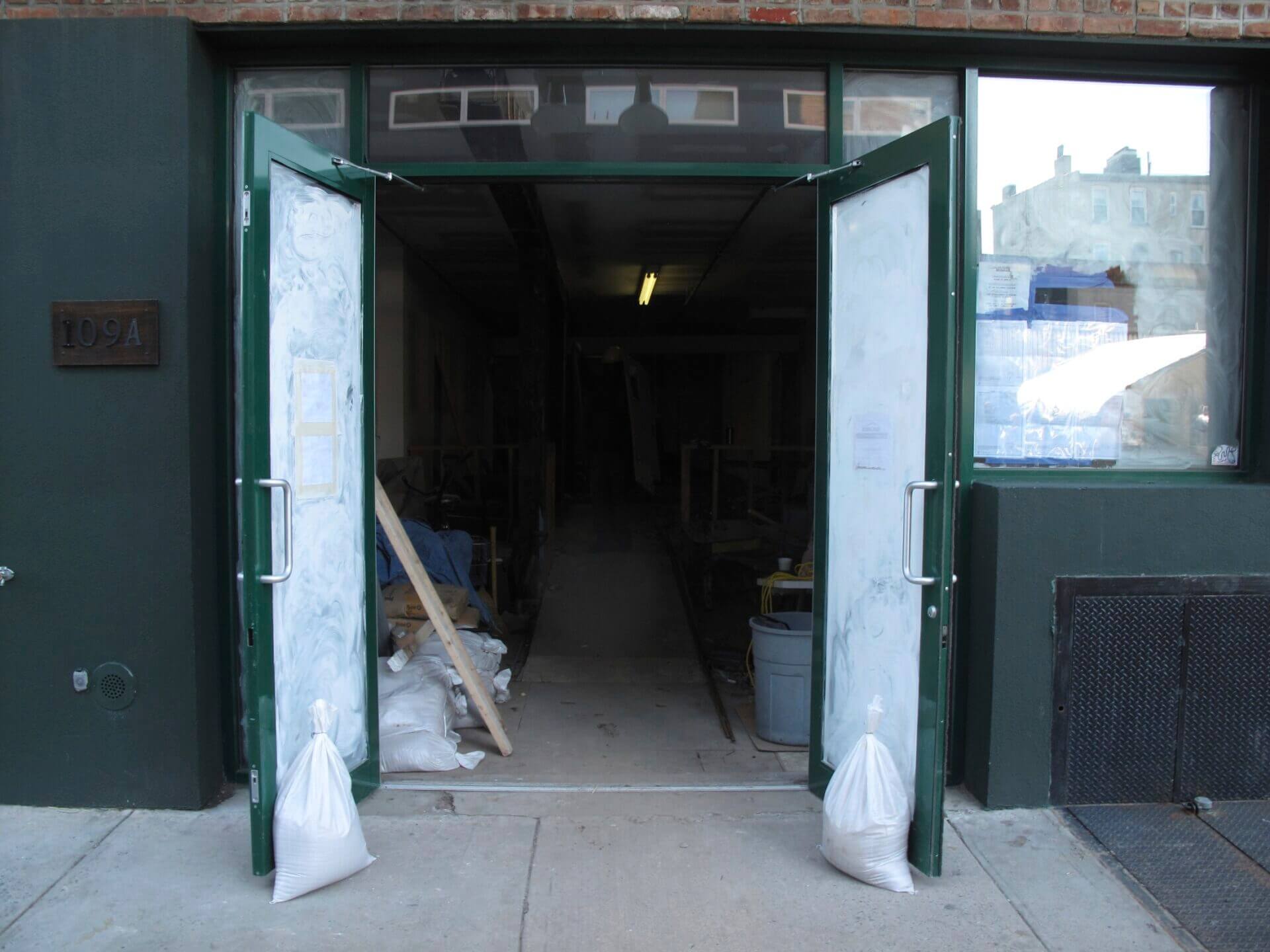 When Ben Rossen and Jay Lee started working as financial lawyers in late 2008, they saw how difficult life was becoming for independent businesses not far from Wall Street. "I was facilitating billion-dollar global transactions, while watching storefronts in my neighborhood get shuttered and replaced by bank branches and corporate chains," said Lee, who lived in the East Village at the time, near Rossen. "It just seemed incredibly messed up to us."

By 2011, they had quit their jobs and decamped for Brooklyn—Rossen to Park Slope, Lee to Williamsburg—where they've been focusing on a start-up that will give individuals more freedom to support businesses close to home. As Lee explained, "It's crazy that all you need is 30 seconds and an internet connection to invest in an oil well halfway across the world, but it's literally impossible to invest in your favorite restaurant or coffee shop down the block."

Impossible may be stretching things a bit. If you're among the "friends and family" of a business owner, or you're a venture capitalist, then it's relatively easy to invest in a local business. If not, you're limited by 1930s-era securities laws that now seem woefully outdated in the age of crowdfunding.

A bill in Congress, nicknamed the crowdfunding bill, would be a boon for local investors and entrepreneurs if the Senate manages to pass a version of it. Until then, Ben Rossen and Jay Lee's brand-new venture, Smallknot, and others like it, are helping individuals jump through the hoops that make it so hard to help your neighborhood haunts.

Right now, you're more likely to hear about an artist raising an incredible sum through Kickstarter, than of a small, indie business owner getting a bank loan. But even Kickstarter, which raises $2 million a week through online pledges, is limited in its scope. First an individual or business owner has to fall within one of the 13 creative categories Kickstarter supports (beneficiaries like local restaurant Littleneck and potentially, The Bushwick News are Kosher because their industries–food and publishing–are creative). And supporters must be willing to donate their money, because to earn interest on a loan or to receive a small equity stake would violate those outdated federal and state securities laws.
Smallknot's vision for helping local businesses is a concept they call social lending. Businesses can ask the Smallknot community for microloans to expand or make improvements, which individuals will "lend" to them in small pledges of $50 to roughly $1,000. To help determine if you'll ever see your money again, Smallknot assigns a grade of A, B, or C based upon the business's financials and credit score. Rossen and Lee expect people to do their own due diligence, too—by say, shopping or eating at the business first.
"There are many beloved and successful businesses that people would be thrilled to support, even if they aren't perfectly bankable. We let the community make its own decision," said Lee.
Right now six Brooklyn-based businesses are lined up to raise funds through Smallknot, which is set to launch its beta version next Wednesday, March 7. The first project in the pipeline? New tables and chairs for George Weld's popular breakfast and lunch spot, Egg, in Williamsburg. It's a small project, but Smallknot isn't meant to be a vehicle for start-up-type fundraising. Most businesses will only be seeking loans in the $10,000 to $15,000 range.
Smallknot's "social loans" aren't interest-bearing either (to avoid some legal gray areas); instead, the return for lenders is in the form of Kickstarter-like perks. Supporters of Egg, for instance, might get a basket of produce from Goatfell farm, where much of Egg's food is sourced; an invite to a private party; or a cooking lesson for their much-loved buttermilk biscuits.
And once the money is paid back—within a year and three months at most—lenders can keep it in their Smallknot account to funnel into a new neighborhood business.
Smallknot isn't the only new platform for mom and pop crowdfunding. Lucky Ant, which debuted in January, was founded by another entrepreneur whose brief stint at a bank turned him on to "small" finance. "I sat at a Bloomberg terminal all day and essentially helped people move money," Jonathan Moyal, the 23-year-old founder said in an email. "It didn't fit in with my hopes of adding to society."
Lucky Ant went quiet after some kinks were discovered in the platform's code. (Moyal expects to be live again Friday afternoon, and to have campaigns for Brooklyn businesses running soon.) But before the hiatus, it helped one business, a fitness studio, Bari, raise the $5,000 it needed to trademark its name. Instead of getting their money back like Smallknot, people who pledge money are essentially paying upfront for services and merchandise the business sells anyway, or exclusively offers through its Lucky Ant campaign. A $50 donation to the studio paid for workout gear and a class; $500 bought teacher training.
Both of these start-ups are part of a bigger movement called Locavesting, a word that Boerum Hill author Amy Cortese coined in her eponymous book, published last year. Just as Michael Pollan and others have ingrained in us the importance of "buying locally"—be it lettuce from the farmers market or Christmas gifts from the Brooklyn Flea—Cortese spells out the benefits of shifting our investment dollars into our own communities, using everything from credit unions to crowdfunding.
"I think Kickstarter is phenomenal—it just shows how much people want to support things they believe in," said Cortese. But she points out that until people are able to make a financial return, this type of investing will never be mainstream. "You can't retire on a film credit and a T-shirt."
There are other ways to locavest the old-fashioned way–offline, with the help of a lawyer who can either draft promissory notes for loans or divvy up equity.
In her book, Cortese features the now-familiar stories of two popular Brooklyn book sellers who found local investors. At Community Bookstore in 2001, locals like actor John Turturro bought $10,000 stakes in the Park Slope shop to keep it afloat. In 2008, about two dozen community lenders helped raise $70,000 toward Greenlight Bookstore's start-up costs. Today, the store is still paying back each five-year loan, with 2.5% to 4% interest every quarter (and giving the lenders a 30% discount on books!). The rates were comparable to a 5-year CD when the loans were first issued; now, they're providing a better return than any bank would offer.
The return is not purely financial, though. "This is more an investment in the neighborhood than a means of making money," said Terry Curtis Fox, one of Greenlight's local bankrollers. "The fact that it is a loan is important–so long as Greenlight survives, I'll get the money back. And in the meantime, I have a bookstore I truly love…They've put books in my hand that I might never have read if it weren't for them. This is a great reward for the investment."
Earlier this year, George Weld tapped into an even greater source of community funding with the help of Derek Denckla, the chair of Slow Money NYC (think Slow Food, but applied to investments in sustainable food ventures). Denckla used a funding model outlined in Cortese's book–the Local Investment Opportunity Network, or LION–to help Weld start a more refined version of Egg called Parish Hall, set to open in a month on North 3rd Street in Williamsburg.
Most of the 19 members in this network are "accredited investors," similar to angel investors who fund tech start-ups, except no one is looking to get rich quick (it's called Slow Money, after all). Together the LION invested a quarter of a million dollars in Weld's new business, and now own a piece of it. They'll see a return roughly 10 years from now, an extraordinarily long time for your typical venture capitalist. But it's worthwhile for Slow Money investors because Weld runs his restaurants sustainably. He sources many ingredients from his own upstate farm, compensates and treats his staff well, and Egg has been successful for seven years running without compromising his principles. (You can see a video of Weld's moving "elevator pitch" here.)
As Denckla explained, "The bottom line is not just profit. It's also the collateral impact that every business may have but that they don't put on the balance sheet. Are they local? Do they use sustainable practices?…Apple's the most profitable company in the world, but that profit comes at a terrible price."
The LION model can be too costly for a small business to create—if you're just looking to raise $10,000, the legal fees are not worth it. But with platforms like Smallknot and Lucky Ant added to the mix, there are more ways to raise capital and to support your local mom and pops than ever before. As Amy Cortese points out, "It poses no more risk than investing in the stock market these days, when you can be wiped out in one bad day."
And on a fundamental level, it's a way to channel the frustration and resentment that the Occupy Wall Street movement first gave voice to.
"This is a constructive new solution for what you can do with your money and how you can put it to work," said Ben Rossen of Smallknot. "I think lots of people are thinking about that right now."