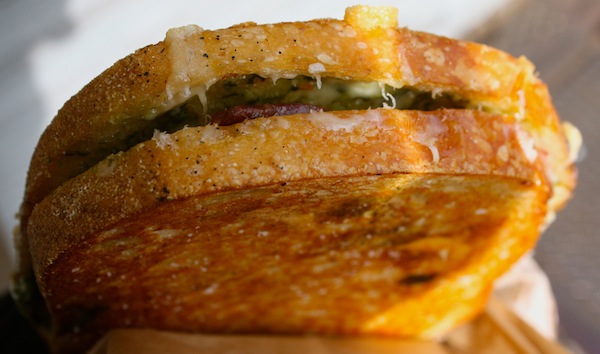 Last week I got a little obsessed with one of Brooklyn's best under-the-radar ethnic sandwiches. But let's be honest: what this borough does best is refined, new-school food. Sitting on the decidedly modern side of the BK sandwich spectrum is this new entry from the Morris Grilled Cheese Truck.
Morris Truck (@morristruck) hasn't generated very much noise since hitting the streets last year, but their newest addition–an upscale-ish take on the classic pastrami sandwich–demands attention. Rather than piling the pastrami sky-high like you find at long-standing New York delis such as Katz's, Morris Truck allows the salty strands of beef to be merely a supporting player in a striking ensemble of a sandwich.
Here, it's paired with gooey provolone cheese, a healthy slathering of chimichurri, and the kicker, thin slices of papas fritas–red potatoes that have been sauteed in duck fat. A sprinkle of sea salt covers the butter-y, golden brown bread, making each bite an intense combination of salty, tart, rich and tangy. In my opinion, this is how a flavorful meat like pastrami should be used; not as 90% of a supersized sandwich, but as a less overpowering component that plays well with everything else.
Morris Truck's ambitious grilled cheese menu includes other offerings like chevre with pickled beets and skordalia (a thick walnut spread), and pickled sunchokes with provolone and mustard vinaigrette. The menu changes frequently, but they've assured me the pastrami will be around for at least the next few weeks. The truck can be found on Saturdays at Atlantic Avenue and Clinton Street in Brooklyn Heights; on Wednesdays at Pearl and Front Streets in Dumbo, and across the river the rest of the week.