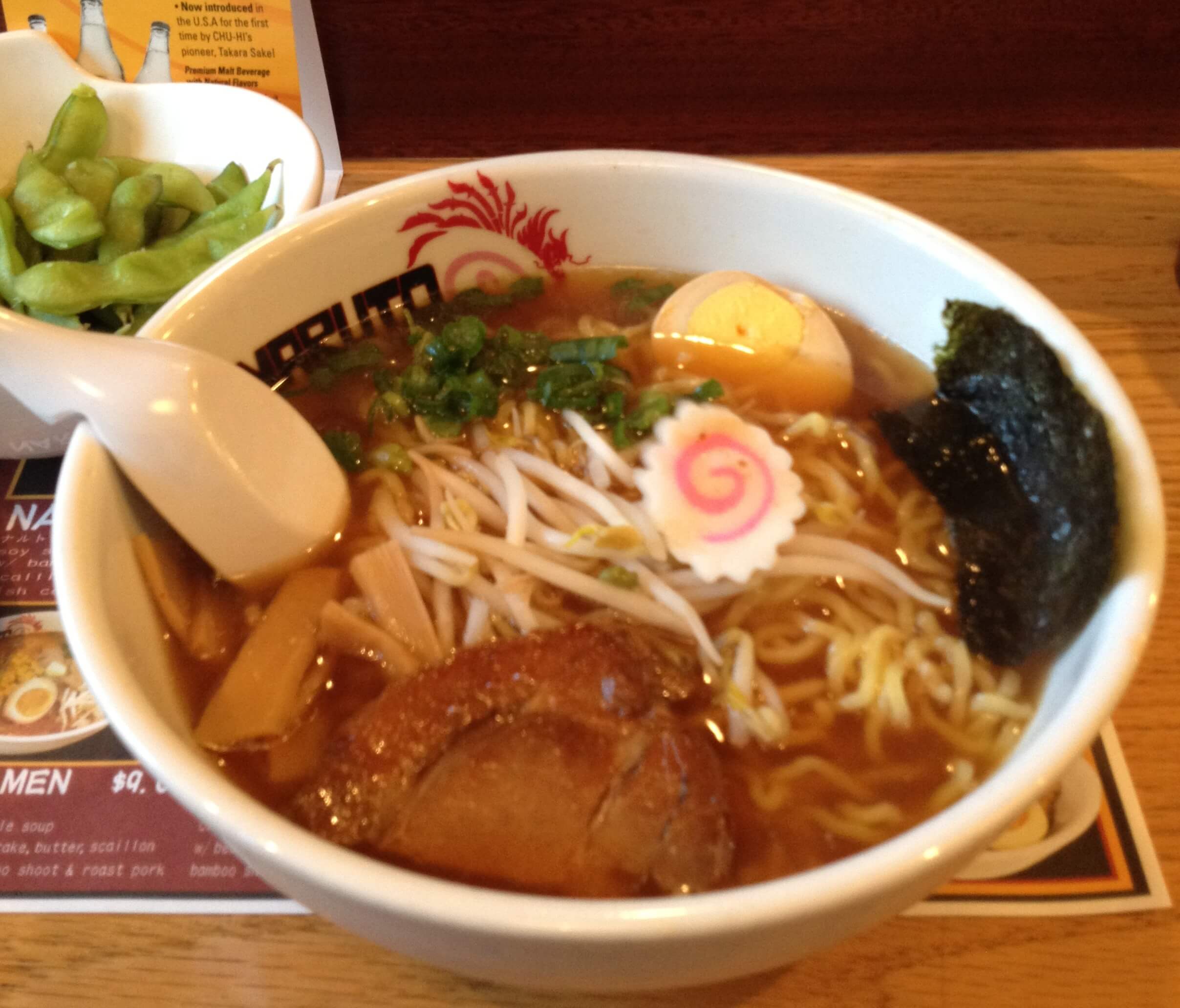 When Chuko opened in Prospect Heights last summer the blogosphere cried, "at last, good ramen in Brooklyn!" And it does seems clear that there was a boroughwide ramen shortage until recently. No more! As we reported on the blog yesterday, Greenpoint finally has a ramen shop to call its own, tucked into the tiny kitchen in the downstairs of No Name Bar. Shinobi opened in Bushwick in November, and Waza in Clinton Hill last summer. Here are a few of our favorite noodle-slurping spots, now that there are so many to choose from.

No Name Bar Ramen, 597 Manhattan Avenue
The menu at No Name is as tiny as the kitchen: Two choices of ramen daily, a veggie and a meaty version; pan-fried noodles; a seasonal salad; and quail egg bar snacks. On Sunday night, the first night chef Lindsay Salminen (full disclosure, she's a BB pal) opened up the kitchen window for business, the ramen stocks were richly flavored, the veggie one spiced almost like a meatless pho broth, and the handmade noodles were springy and toothsome. Salminen, a Diner and Pies 'n' Thighs alum, is still working out the kinks in terms of using the small space to its maximum capacity, but No Name has the best late-night snacks you'll find north of McCarren Park, hands down. Open 6pm until the noodles run out or 3am, whichever comes first, seven days. More details on the blog.

Shinobi, 53 Morgan (entrance on Grattan Street, across from Pine Box Rock Shop)
Shinobi opened in Bushwick in mid-November and their premium stock is some of the most delicious you'll taste in Brooklyn. It's deep and meaty with enough salt, but not so much that you feel crazy when you leave. A long communal table fills the dining room, surrounded by taller counters that run around the perimeter, and although it's a snug, smart use of space, it doesn't feel overly crowded (most of the time).

Shinobi offers a fairly extensive list of ramen options, with nightly and seasonal specials. The namesake Shinobi Ramen uses their delicious stock and the Tantan Ramen, which incorporates sesame paste, has a thicker, creamier texture that is hearty and almost peanut-y. The one drawback is that the cha siu (roast pork) that goes into the ramen is underflavored and flabby, and the chicken option for the noodles is similarly lifeless. The broth doesn't need that extra help though, so just order with extra vegetables or noodles. Shinobi's kara age–Japanese fried chicken–is crisp and juicy and everything you want in an appetizer. Open Monday through Saturday, 6pm to 11pm, closed Sunday.

Waza, 435 Myrtle Avenue
Waza, in Clinton Hill, is one of the few ramen spots that also serves sushi without feeling unfocused and lame. Their tonkotsu ramen, a cloudy-style pork broth made creamy with fat, is well worth the walk over to Myrtle Avenue, especially on a cold evening, which is the best time to eat tonkotsu, as it is definitely not lighter fare. The noodles are pleasantly chewy, the broth rich and flavorful and the garnishes, from cha siu to soft-boiled egg, nicely done. The kitchen does have a heavier hand with the seaweed garnish than some other places, but that's easy to fix, depending on your preference.

The other nice thing about Waza is that their sushi is solid, so you have a wide range of appetizers to choose from (including this insane item called the Sexy Jalapeño–a jalapeño stuffed with spicy tuna and then dipped in tempura batter and deep-fried) and you can convince a non-ramen lover to join you for a meal. There's a strong Pratt contingent in the clientele, so be warned if you have an art student-allergy. Open 11:30am to 10:30pm Monday through Thursday and Sunday; 11:30am to 11pm Friday and Saturday.

Chuko, 552 Vanderbilt Avenue
Chuko is the most new-Brooklyn style restaurant on this list, with its Morimoto-pedigreed chefs and New York Times review. The dining room is modern with clean lines and blonde wood, and you'd feel equally at home eating duck meatloaf or a grass-fed steak there, and the appetizers reflect that aesthetic. Fried brussel sprouts dressed with peanuts and pungent-spicy sweet fish sauce have been delicious there this winter, as has the beef tartar, garnished with crunchy radishes and crunchy potato chips.

The ramen is more subtle than at most other places. If you crave a huge, salty umami bomb, you may be disappointed. The Berkshire pork and antibiotic-free meats and other ingredients are clearly very high quality, but the pork bone ramen, another tonkotsu style bowl, lacks a certain depth. The spicy ground pork and kimchi ramen is more flavorful–so long as you sneak a morsel of kimchi into every bite. It's also an extremely popular spot, so as you finish your bowl you can't help but notice the crowd hungrily eying your seat, which, it seems, is as authentically Japanese as anything on the menu. Open 5:30pm to 10pm Tuesday, Wednesday and Sunday; 5:30pm to 11pm Thursday through Saturday.

Naruto, 276 5th Avenue
There's nothing fancy or pretentious at Naruto Ramen in Park Slope–they offer a $7 ramen special on Tuesdays, and on Wednesdays you get free edamame with your Sapporo and it's part of a chain with another outpost in Manhattan. The pork buns come with lettuce, tomato and mayo, and taste like a trashy Japanese version of a BLT, in the best possible way.

The best way to enjoy Naruto is to go and sit at the long wooden bar and watch the cooks prepare your ramen while you sip your Sapporo. The namesake bowl of Naruto Ramen incorporates fishcake (which, as you can see from the logo, is sort of their thing) and seaweed, and the broth is not the most complex ever, but rich and porky. The roast pork is properly seasoned and tender–you can actually break it apart and eat it with chopsticks. And, they offer Sura Tanmen, a sort of hot-and-sour-ramen hyrbrid that is super delicious, if you like that sort of thing. Open noon to 10pm, Sunday through Thursday, noon to 11pm Friday and Saturday.