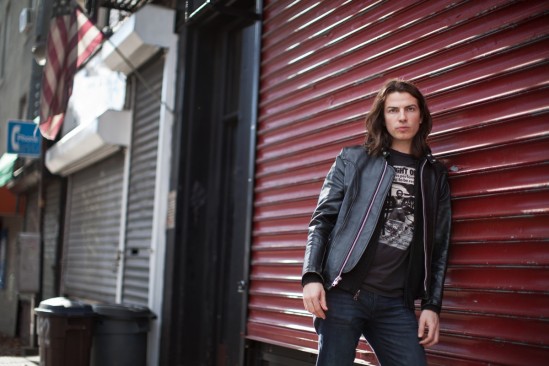 Clarence Bucaro, a DUMBO-based singer/songwriter traces the inspiration for his moving new record, Walls of the World, back to a trip he made to Jerusalem three years ago. Bucaro said the very real, but intangible tension in the region, was made all the more evident by the physical walls that marked the city.
"It was eye-opening as well just to be there and [it] kind of shattered for me preconceptions that I had about what the area looked like, what Israel and Palestine meant, [as] somebody who had no idea of how close they actually lived together," he said. "That was the impetus."
Walls of the World, Bucaro's fifth album, due out April 3, explores division. The record's reflective rock and pop reveal several different points of view, and different focal points in Bucaro's life. His songs are infused with inspiration from  current events and literature, and once he became a parent, that aspect of his life became intertwined in the music as well.
"Before I had any children, it was a very specifically a thematic concept record about world issues," he explained. "It was almost becoming one-dimensional in that [I] was writing for the record as opposed to writing about things that were happening in my life. A couple of months later, when we started to get ready to have a child, everything kind of took on a different perspective. The tricky part was It was going to be all topical or it was going to be a personal record, and it ended up being a little of each."
One of the songs from Walls of the World is "Two Men Down," which is about the photographers Chris Hondros and Tim Hetherington, who were both killed in the Libyan conflict last year. "I knew [Chris] through a good friend who was really close friends with him," said Bucaro. "When it happened, I wrote it right away. Having met Chris and knowing about their work, I was inspired by everything they've done."
Another song, "Child of War," was inspired by suicide bombings carried out by children. "Nothing is quite as sad in that the idea of a child being used as a pawn to kill themselves for anything," said Bucaro. "I started thinking about it…but then I read this book by Asne Seierstad called Angel of Grozny, about Chechnyan orphans that were entrapped in a cycle of violence and just about the psychological effects that were happening to these children. I wrote it in Russia on a train overnight and it had this rhythm on the train that really worked well for writing."
Originally from Cleveland, Bucaro says that he has always gravitated toward music. At the age of 19, Bucaro's brother turned him on to singer/songwriter Anders Osborne, who became a mentor.  "I took a little trip to Chicago on a Greyhound to try to see [Anders] live one time," he said. "I really thought he was incredible. When I got my first record deal with this little label in Oregon in 2000, I wanted him to produce it. We ended up doing my first record. He is clearly the best musician I've ever met and probably ever will meet."
Bucaro went to New Orleans and then was briefly in Los Angeles before moving to New York–he has lived in Brooklyn for four years. "[DUMBO is] such a cool little area," he says.  "It's always changing…I really like where it's at."
Bucaro will be performing around New York in the coming weeks, to promote the release of Walls of the World. Show dates include a concert at Rockwood Music Hall on the Lower East Side on April 4, followed by a residency at 68 Jay Street in Brooklyn starting April 28. "Honestly," he said, "it's just an album that I'm hoping causes reflection on some of the things that are happening in the world.