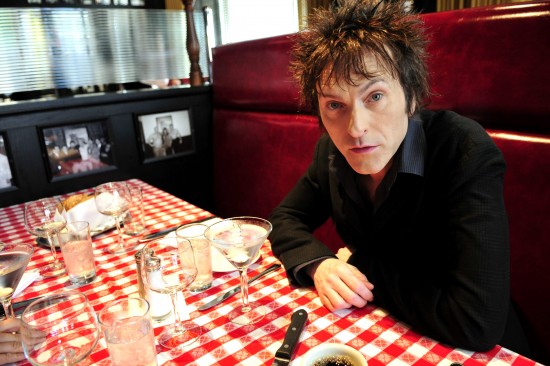 Even though he still in his mid-forties, bassist Tommy Stinson has accomplished much in a career that spans over 30 years. To rock and roll fans, he is most famous as a member of the legendary Minneapolis band the Replacements. After the demise of that group in 1991, Stinson went on to form Bash and Pop and then later Perfect before joining Guns N' Roses in 1998. Given his eclectic musical background, does he have preference for being a solo artist or a sideman?
"They all have a place for me and they're all important to me in different ways," says Stinson. "They all kind of feed into each other as well, which is a great thing. I don't have to spend a lot of time sitting back wondering what to do with myself. They're all good things."
Stinson continues to keep busy. Last August, he released his latest and excellent solo album, One Man Mutiny, which is the follow-up to 2004's Village Gorilla Head. This Sunday, Stinson and his own band will be performing at Union Hall in Park Slope.
MP3: "All This Way For Nothing" from One Man Mutiny
One Man Mutiny had been in the works for several years, says Stinson. "As time goes on, I kind of compiled songs and put them in the hard drive and let them ferment for a while. As soon as I had enough songs together, I decided to put it out. It's been a little difficult as of late because I've been touring with Guns and Soul Asylum in between all that stuff. I spread myself a little too thin sometimes…a little bit long between records."
The album has a rootsy, old-fashioned rock and roll sound that will be familiar to most Replacements fans. One of its songs is "All of This and Nothing," which he co-wrote with Guns N' Roses member Dizzy Reed over a decade ago.
"It kind of sat there for a while and it had another part in it that was [written by] another guy who's no longer in Guns N' Roses, Paul Tobias. It got to be too complicated to finish the song…so what I ended up doing was taking the part that Dizzy and I had written together and just going with that and turning that part into a song. It's worked out pretty good."
The album also contains a wonderful ballad, "Come and Hide," as well as a country-sounding track "Zero to Stupid." Referring to the latter song, Stinson says: "I don't know if country music has ever been in my daily musical playlist. It's always been lurking around. That song came from hanging out with my uncle-in-law Chip [Roberts] who's a country-rockabilly fan. [We] wrote it together just one crazy night at his great-uncle's house."
There's also a personal aspect tied to One Man Mutiny as some of the net proceeds from the album's sales will go to Haiti's Timkatec Schools. It was Stinson's response to the terrible 2010 earthquake in that country, which he also visited. "After the earthquake happened, I wanted to do something to help and I knew I had to do something more than just give money," he says. "I knew that after I had gone down there and seen the kids that I could effectively raise money for them that would directly go to the school. It's just became something that has taken on a life of its own."
What had been on my mind is how Stinson went from playing in the Replacements to Guns N' Roses.
"No I wasn't a fan of in the beginning," Stinson says of Guns N' Roses. "That's one of the funny things between Axl [Rose] and I–he wasn't a Mats fan either. The way we hooked up was Josh Freese was drumming for him at the time that they were looking for a bass player. He asked me on a lark if I would come and audition. So I did and it coincided with me wanting to just go and play bass for a little while. It's been a great gig to me since."
Even without Guns N' Roses, Stinson will always be forever synonymous with the Replacements and has appeared on every band album from 1981's Sorry Ma, Forgot to Take Out the Trash, to the final studio record All Shook Down in 1990. "I'm proud of what we've done and what we left behind and the mark we made," he says of the Replacements.  "I'm glad that people revere that as something special. We worked hard at it. I think it's a good thing."
The bassist doesn't seem to appear to be slowing down musically.  Aside from his contributions on the upcoming album from Soul Asylum, Stinson is working on a country music project. "It's my uncle-in-law, my wife and I having a fondness for country music," he says. "We're thinking about doing some different things. As it unfolds, we'll see where it goes. It'll be something."
Stinson plays Union Hall, 702 Union Street, Park Slope, this Sunday, April 15 at 10 pm. Tickets are $10, available here.