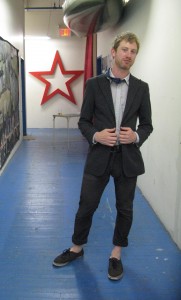 Name:
Paul Rome
Age:
29
Occupation:
Writer and manager of the Wyckoff Starr Coffee Shop
Neighborhood:
Bushwick
Relationship Status:
In a relationship as of very recently
Paul Rome
was one of the performers in
Oye!
, a show about gentrification I saw Sunday night at the
Bushwick Starr
theater. His witty readings of what it's like living in the neighborhood, which he recites to music played on an old-school boom box from the '80s, had the standing room only crowd in stitches, so after the show, I had to ask him, what'd you do this weekend?
FRIDAY: It already seems like a long time ago. I ventured out of the neighborhood. I saw The Broadmann Areas, which was this collaborative ballet done by Jason Andrew's Norte Maar. They had this ballet at a place called CPR [Center for Performance Reasearch in Williamsburg]. Then I went to No Name Bar, and it turns out one of my friends was the bartender working, so that night went. Really good DJ. Lots of good early 2000s hip hop.
SATURDAY: When I woke up on Saturday, these flyers had come in for my show that I'm doing at the Bushwick Starr in a couple of weeks called Calypso. My friend Rourke and I, who are doing the show, went around and passed out flyers to local joints. Normally, we do it on bike, but my sister left me a car. She's on tour. She's a classical musician. So I've got this little Honda, and I've just been driving because it's so rare to have a car. I've just been blasting HOT 97 and having fun. We stopped at Northeast Kingdom, and we really didn't make it out of there because my friend was bartending, yet again–service industry. I sort of know always that someone's going to be my friend bartending. We worked on the script for Calypso, so there was a little bit of work done. Then I did tech for this show.
SUNDAY: Today was kind of all-day, in-and-out of here. I listened to my boom box in front of the coffee shop and then would come here for tech. I just planted a garden out front of the shop. I know one is called a creeping phlox, there's some salvia–purple was kind of my theme–and then I got two strawberry plants.
RATING: I'm going to have to say, with the weather and the car and the great show, it's trending toward a 4.5.