"From Kodiak, Alaska, to Key West, Florida, in 6,000 towns and cities across America, 25,000 volunteers will give away half a million free books on one day: April 23, 2012." —from worldbooknight.org
If you (like me) missed the memo that there would be a massive book giveaway on Monday—aka World Book Night—here is a quick primer on how to catch up.
For starters, you cannot spend the day in Park Slope scouring stoops for copies of Everything is Illuminated and Fodor's Guide to Brazil 1997. There is a much more organized plan afoot. Two months ago, if you were in the know, you could have requested a free box of your favorite book from this list of 30 titles on the World Book Night site. (Titles that everyone who lives in Brooklyn is required to own, like Bel Canto, Just Kids , and The History of Love.) The publishers printed them for free, authors gave up their royalties, even UPS shipped them gratis, just for this event.
In return, all they–they being Carl Lennertz and one other benevolent person who miraculously engineered this nationwide event–ask is that "givers" hand out these free books to "new or light readers, reaching them especially in underserved places—and even some fun spots" starting on April 23, which is the UNESCO International Day of the Book, which coincides with the day Shakespeare and Cervantes both died: April 23, 1616. (#whoknew?)
This is the first year it's happening in the U.S., and clearly there was a bit of a PR hiccup. Stephanie Anderson, the manager at WORD, is the person who gave me the quick and dirty version, and most importantly told me that if anyone wants to join in on this book-giving frenzy, there is still time!
Both Word and Greenlight got a few extra cartons of books to give away–Community Bookstore in Park Slope and McNally Jackson in the city may have some spare copies too.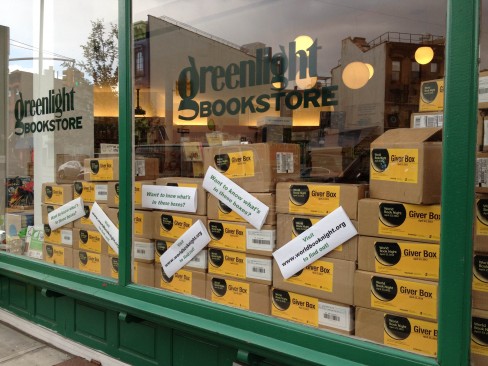 If you want copies from Greenlight, you need to email co-owner Jessica Stockton Bagnulo stat–BEFORE Saturday at the latest.
If you'd like to try to snatch some from WORD, email Stephanie to see what's available. They're  throwing a pre-World Book Night party at The Diamond on Sunday night at 7pm, where givers can collect their pre-ordered boxes, and last-minute types can get an extra carton. Even if you don't want to hand out books, you are still invited to come for free drinks (while they last) with the staff at WORD and authors/WBN givers including Sean Ferrell, Jim Hanas, Emily St. John Mandel, and Rachel Shukert. The suggested donation is $5, all of which benefits the Greenpoint Soup Kitchen and Food Pantry.
Despite the event's name, you have all day on Monday, and all next week to hand out books. Suggested places, in case you are stumped, include hospitals, diners, and mass transit. Stephanie and WORD's Events Coordinator Jenn Northington, for instance, are handing out copies to commuters on the East River Ferry. They've asked WBN givers to send in pictures and posts of where they hand out books–follow their Tumblr next week to see who got what.
pointed out WBN's other benefits: Namely, that while there are tons of literacy programs aimed at children, there are few for adults. And while it may seem like we are living in the most literary place on earth, there are many people who can use a good book.