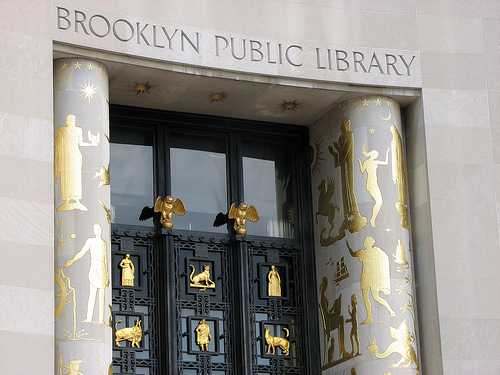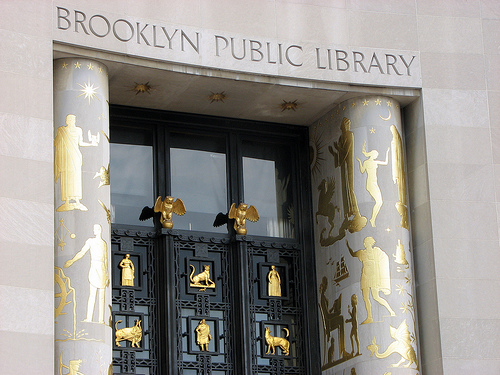 Hey lovers of Brooklyn and all of New York: For the next 3 weeks, we get to help divvy up funds for our favorite New York City landmarks!
There is $3 million up for grabs, and 40 sites competing for grant money to restore, refinish and preserve themselves. Vote for the ones you love often—up to one time per day here or on Facebook–and you can actually be a part of the preservation process.
These are the nine sites in Brooklyn vying for our love:
1. Brooklyn Public Library's Central Library, who'll use funds to replace their original 1937 main entry doors
2. Brown Memorial Baptist Church in Clinton Hill, whose museum-quality Tiffany stained glass windows need restoring
3. Coney Island B&B Carousel, which is being restored in Ohio, needs to cover its transportation costs and reassembly back in NYC, in a new carousel pavilion being constructed in Steeplechase Plaza
4. Congregation Beth Elohim in Park Slope needs to pay for the final phase in the restoration of its Sanctuary building: stained glass windows, estimated to cost $500,000
5. Erasmus Hall Campus High School in Flatbush—which surounds the original Erasmus Hall Academy where Alexander Hamilton and Aaron Burr studied way back in ye old 1700s—wants to restore four stained glass, site-specific artworks
6. Gateway National Recreation Area's WW II Flying Boat, housed at Floyd Bennett Field, needs major repairs and parts to bring the plane back to its 1942 condition
7. Greenpoint Manufacturing and Design Center wants to build the Greenpoint Boathouse, which will be both an environmental/historical education center and as a boat safety training/storage facility
8. The Tug Pegasus & Waterfront Museum Barge in Red Hook needs to make repairs to its deck, bow, and stern deckhouse, and to repair historical "graffiti" on its walls
9. Weeksville in Crown Heights wants to rehab its 1930 shed structure for an environmental and food-growing exhibition and program space and recreate a root cellar that was originally in the existing c. 1870 house known as 1698 Bergen Street
The other 31 sites throughout the five boroughs—including The High Line, Guggenheim, New York Botanical Garden, Queens County Farm Museum, and St. Mark's Church—will also tug at your nostalgic, I Love New York heart.
The group facilitating the City's first-ever crowd-sourced preservation effort is Partners in Preservation, a joint program between American Express + The National Trust for Historic Preservation. They've helped historic sites in other cities like New Orleans and San Francisco, but this is the first time they're channeling their resources to save New York's landmarks, all through social media and bloggers like us to get people who don't normally talk or think about landmark preservation, to start.
All you have to do is vote, preferably once a day. We'll be reminding you here and on Twitter/Facebook. Meanwhile you can vote and spread the word, too. Here's the site: partnersinpreservation.org and the hashtag is #preserveNYC. Now go show NYC some <3.
FULL Disclosure: BB partnered up with Partners in Preservation to spread the word about its preservation campaign for 40 landmarks around NYC, and in particular the sites in Brooklyn. We are getting paid to blog about the campaign (which is sweet for us since we like to write about historic Brooklyn anyway) but we haven't been told to express a particular point of view. The opinions expressed here are strictly our own.