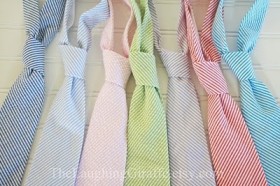 In a party-tastic convergence, this Saturday is Derby Day AND Cinco de Mayo. In case you're having trouble figuring out whether to go bourbon with the mint juleps or tequila with the margaritas, you should probably know that Seersucker in Carroll Gardens is throwing their first ever Derby Day party, starting at 4pm.
Here's what you can expect:

Seersucker Derby Day Menu
Local asparagus with Benedictine dressing
House-made pimento cheese & potato chips
Kentucky hot brown biscuits (riff on the Kentucky Hot Brown sandwich)
Roasted Hudson Valley pig w/grits
Turkey leg
Burgoo stew
Collard greens
Spring vegetable fricassee
Fried catfish
Grass-fed cheeseburgers
Bourbon pecan pie
Chess pie
Seasonal strawberry rhubarb juleps and classic mint juleps
Seersucker is using this as an opportunity to kick off julep season, Derby Day through Labor Day. All summer long they'll have a mint julep and a seasonal julep (as you can see from the strawberry rhubarb example above) on the menu. Mmmmm, ice-cold bourbon. A $250 Seersucker gift certificate hangs in the balance for the best-dressed man and woman so get out your seersucker, gloves, hats and other finery. Or, at least the finery you're willing to get gravy on.