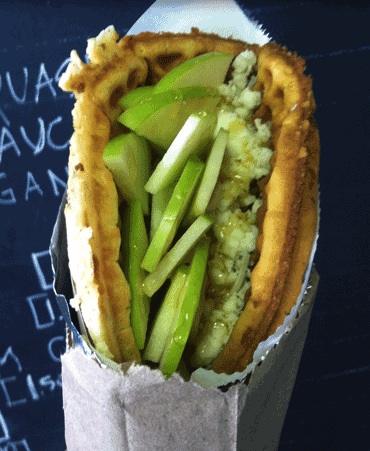 Old-fashioned waffles have been showing up on trendy menus with increasing regularity lately, from the classic Belgian varieties hawked by the Wafels & Dinges truck, to chicken and waffles meals at nearly every southern-tinged Brooklyn restaurant. So when I heard there was a new waffle sandwich shop in Brooklyn, my only reaction was surprise that we didn't already have one, or more.
Waffle & Wolf, which opened quietly in Williamsburg last summer, makes what now seems like such an obvious waffle progression: take a crispy, golden-brown waffle, fold it over some savory sandwich ingredients, and boom—you have a street-ready meal. Waffle and Wolf's sandwiches are served folded over in a cone-shape, falafel-style, so that they're easy to eat sans utensils. They come in options tailor-made for breakfast (walnut waffles topped with apples, honey and feta), lunch (olive waffles with hummus, arugula and cucumber); or dessert (banana pudding, dried cherry and dark chocolate ganache)–plus options that seem appropriate only post-pints at Beer Street next door (bacon, peanut butter, banana and caramel).
The waffles are thin and light, making the breakfast-y options, while rich, still suitable for early in the day. But really, most of the cracked-out combos here seem most suited to late-night, which makes it a shame that the somewhat off-the-beaten-path Graham Avenue shop only stays open until 11pm on weekdays and midnight on weekends. If this spot was on Bedford Ave., I'm pretty sure it would already be a popular drunken go-to. On the plus side, Waffle and Wolf also makes for a nicely unsuspecting coffice—with Dallas Bros. coffee, free wi-fi, and plenty of daytime space.
413 Graham Avenue; waffleandwolf.com