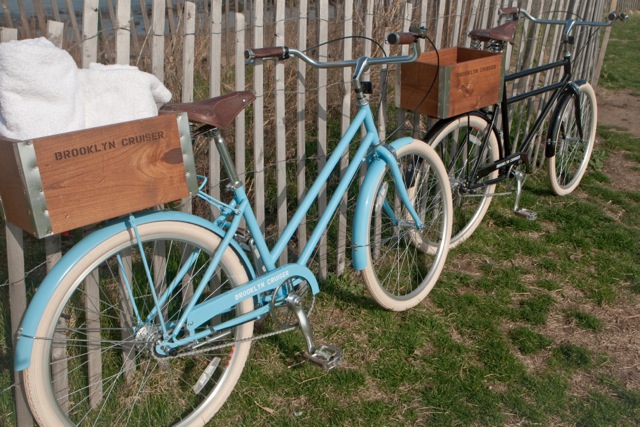 Check out our guide to summer bike rides, with suggestions for pedaling to the beach, to Manhattan and even all the way to New Jersey, here.
Ryan Patrick of Brooklyn Cruiser suggested this super mellow tour through Greenpoint and Williamsburg.
From wherever you start, get to Kent Avenue South 4th. If you're arriving from Manhattan across the Williamsburg Bridge, bear left on South 5th Place and then a left again on South 4th Street–you've immediately found yourself in the heart of South Williamsburg. Resist the urge to dismount your saddle and continue onward to Kent Avenue–what we like to call the Hipster Highway due to the brilliant and bi-directional bike lanes.  Hang in there for a few blocks and if you've opted to take this route on a Saturday or Sunday, you'll be richly rewarded if you take a left at North Sixth Street with arguably two of New York's most outstanding weekly events: Smorgasburg on Saturdays and The Brooklyn Flea on Sundays.

Spend a few minutes enjoying the tremendous Manhattan skyline views from East River State Park and then it's time to saddle up and continue the journey north on Kent Avenue into Greenpoint, where Kent turns into Franklin Avenue.  If your bike needs a tune up–or if you're keen on seeing a great bike shop–stop in and say hello to Brendon and his colleagues at Silk Road Cycles–they'll never steer you wrong.  Franklin Avenue is arguably one of Brooklyn's best kept secrets when it comes to the food and boutique shopping scenes, so it's not a bad idea to dismount and take in the sights.  Be sure to head one block west (toward the water) from Franklin on Noble as well to check out From the Source for some of the best reclaimed wood furniture New York has to offer.
Time to saddle back up and continue our journey–all the way to the end of Franklin Avenue– where you want to take a right on Commercial Street to reward yourself with some Brooklyn-made ice cream at Brooklyn Ice Cream Factory.  If you're not yet ready for sweets, but need some nourishment, don't go all the way to the end of Franklin; turn right on Eagle Street and ride one block up to Lobster Joint. They've somehow managed to bring the tastes of New England to Greenpoint with genius lobster rolls and some great beers on tap to boot, just saying. (ed. note–and pitchers of dark and stormys, yesssssss)
At this point, you're well fed and have seen some great sites. To head back, take a right on Eagle Street and continue back to Franklin; take a left on Franklin to get back to Williamsburg.  Take a left on North 11th and then a right on Wythe. At the corner of North 11th you're faced with a few difficult choices: you can stop and bowl a few games at Brooklyn Bowl or take the easy way out and grab a pint at Brooklyn Brewery.  Or, if you're looking to shop, continue south on Wythe and then take a left on North 7th.  If you need some fuel in the form of caffeine, Bakeri is not to be missed, and I'm also addicted to their lavender shortbread.
As a soon-to-be father, I'm finding it impossible to pass by Berry and North 7th without ducking off to Smoochie Baby for some of the best children's gear ever–your kid can be a rockstar too, with some of their super fun t-shirts.  Saddle back up for a block and continue east on North 7th, right into the commercial heart of Williamsburg.  Lock up your wheels and take this part of town by foot–you really can't go wrong in any direction.  Those who wander will be richly rewarded, but keep in mind that Bedford is the longest street in Brooklyn so don't wander too far.  When it's time to call it a day, continue one block further East on North 7th to Driggs–take a right and continue right back to where you started from.