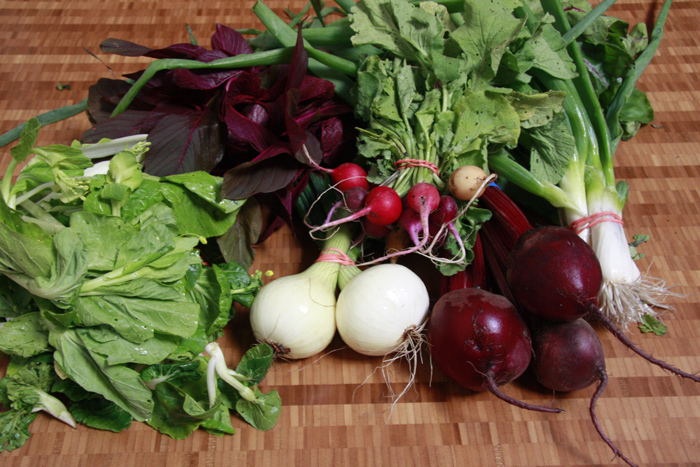 Local Roots NYC, the little CSA that could, just recently celebrated its first anniversary with a party at 61 Local, one of its pickup points. At the party, members (many of whom were bespectacled and/or wearing plaid) chatted about the upcoming summer season, ate mini-cupcakes provided by Ovenly, turned their local beers into micheladas and shandies, and whacked the shit out of a homemade carrot-shaped pinata filled with jerky, popcorn, and caramels. In the middle of it all, Local Roots founder Wen-Jay Ying made sure to stop and talk to all of the Local Roots members, all of whom she knew by name.
Wen-Jay founded Local Roots last year as an alternative to the traditional CSA model, focusing on shorter, more flexible seasons and shares. Besides the standard pick-up-your-veggies part of a CSA, Wen-Jay's also worked hard to encourage the community that's grown up around Local Roots (helped by the fact that the pick-up spots are some of the most fun/chill spots in Brooklyn: 61 Local, Brooklyn Farmacy, The Diamond, D.B.A., and Harefield Road.) Over the course of the past year, Local Roots has held cooking classes, trips upstate to Rogowski Farm (where it sources all of its produce), supper clubs, game nights, potlucks, and even the Good Festival, a fest at Bruar Falls that mashed up food and music before anyone had ever heard the word "GoogaMooga."
"Establishing CSAs in New York City, creating more awareness around local food, encouraging people to cook with the freshest ingredients through our cooking classes–all of these aspects of Local Roots NYC makes my job not a job, it's my passion and dream," says Wen-Jay.
Miriam Naumann, a CSA member who lives in Carroll Gardens, joined Local Roots for the first time in their winter season. "Joining Local Roots appealed to me on several levels: convenience, cost, variety, and community-support. I liked the flexibility offered by Local Roots in terms of which shares you wanted and the half-share size options. Cost-wise, it made sense since I was already buying most of my produce either at the Farmer's Market or trying to get organic stuff at my local grocery store. It also seemed like a fun way to meet people, guarantee that I'd see some of my friends every Tuesday, and simultaneously do half of my shopping for the week."
After a few months off, the summer season begins on June 5th (applications are due on May 21st), and includes all the standard shares you'd expect from a CSA–veggies from Rogowski Farm, fruit and juice from Red Jacket, eggs from Feather Ridge Farm–as well as meat shares from Arcadian Pastures, cheese shares from Consider Bardwell, and grain shares from Cayuga Pure Organics.
Lukas Volger, a CSA member and cookbook author from Fort Greene, appreciates the diversity of the shares, saying that "the Local Roots model makes it so that I hardly ever need to go to the grocery store. I pick up my share early in the week, then stop by the farmer's market over the weekend, and I'm all set."
This summer also marks the first time Local Roots will be offering a Brooklyn share (which obviously we love), featuring products from Rick's Picks, SlantShack jerky, Ovenly, and Liddabit.
For Local Roots' members, both old and new, June can't come soon enough. "It's currently the off-season for Local Roots, and I really miss it! I became accustomed to Wen-Jay choosing a balanced spread of vegetables every week, allowing me to try new things and stretch my creativity in the kitchen. I'm definitely in a cooking/produce-buying rut right now!" says Miriam.
But, as much as Local Roots members are total foodies, it's the twist on the standard CSA that keeps them coming back. "I always love an excuse to hang out at 61 Local, too," she admits.