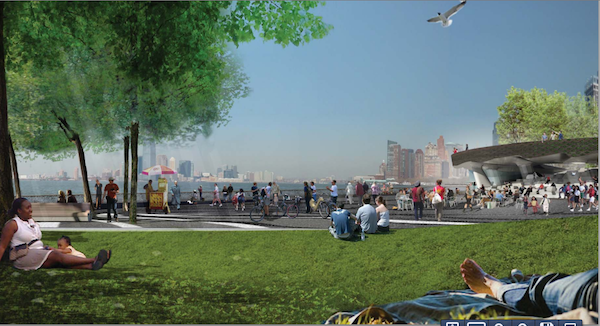 Day drinkers, take note. Starting this weekend, when you take the FREE ferry from Brooklyn or Manhattan to Governors Island and bike to the southwestern tip called Picnic Point, there will be a beer garden named Little Eva's waiting for you.
Kevin Moore and Caroline Parker, the husband-and-wife team behind Kevin's in Red Hook, which just got a liquor license after years of being BYOB, won the bid for a concession on the grassy patch of land beside Added Value's farm. Right now the location has direct views of the Statue of Liberty, but the city is in the process of tearing down buildings on the island that will widen the view to include Lower Manhattan, too.
The two, who are both native New Yorkers, poured over the plans by design firm West 8 for Governors Island before coming up with their concept. "The vision they have is so exciting and inspiring," said Packer, citing the "incredible vistas, gorgeous landscaping and fields of goldenrod" that inspired their own vision.
"What really suits an island that doesn't have any cars," Parker said by phone, "is something natural made of wood, something that seems like it's been there for a while."
Instead of driving a food truck onto the island, they've built a little shack that they will be re-assembling at Picnic Point with a 16×16 fenced-in area, where red and white wine, Sixpoint's Sweet Action and Brooklyn Lager will be served alongside simple fare. To the other side will be an open area featuring cafe tables and chairs for families. Moore and Parker have a two-year-old daughter themselves–the Eva of Little Eva's–so they know what it's like to try to keep a toddler still throughout a meal.
The menu, like Kevin's, is seafood focused. There will be oysters, clams, and shrimp cocktail (when you order one of the three with a beer, it's called a Shuck and a Beer); food from the grill like sausages and corn, and vegetarian items like a pita sandwich with greens from Added Value. Hours are from 10am to 6pm Saturdays and Sundays throughout the summer, and it's also open during the same times on the Mondays of holiday weekends, as it will be this Memorial Day. If you go, send us a photo @OutdoorDrinks.